Any doubts about gold's new bull run should now be put to rest.
It's true the price of gold started out 2018 just above $1,300 and ended the year just below that level for a small 1.7% annual loss. That has some of the most ardent bulls abandoning the asset.
But looking at gold's action since mid-August and especially since mid-October (when equity markets began a serious global sell-off) shows a new bull has begun.
Gold and its related equities have started climbing a wall of worry, boosted in part by the Fed's new dovish demeanor.
As much as the Fed wants us to think it ignores stock market vagaries, there's little doubt that equity performance influences policy.
With all major U.S. indexes turning in a negative annual performance for 2018, their worst in a decade, retail and institutional investors alike are going to be on the hunt for alternatives.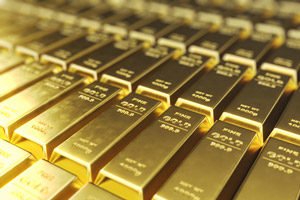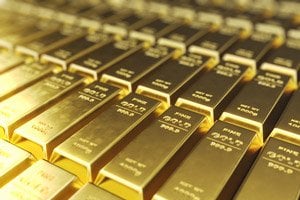 I strongly believe the gold price will be one of the biggest beneficiaries, even if stocks manage to recover. That's because volatility will almost certainly be a big part of 2019's investing landscape.
Before I give you my newest target for the price of gold, here's how the metal is trending to start the New Year...
How the Price of Gold Is Moving in 2019
In 2018, the Dow fell 5.6%, the S&P 500 dropped 6.2%, and the Nasdaq dipped 4%.
Although gold prices posted a 1.7% loss for the year, overall action for the metal paints the clearer picture.
Must See: This method may be the only way in history to turn a small sum of money into $100,000 without batting an eye. Read more...
Stocks got off to a rough start in 2018 between January and March, but went on to rally steadily all the way through early October.
That's when the correction started, taking the S&P 500 down a whopping 19.76% by Christmas Eve. And that's a hair away from the textbook 20% drop that's considered a bear market.
After rallying late in 2017, gold prices spent the first four months of 2018 between $1,300 and $1,360. But by then, a hawkish Fed and consistent rate hikes beat gold back, launching a correction phase which took the metal down to $1,180 in early August.
From there, gold moved mainly sideways, with a slight upward bias. But when equities began their global slump in early October, gold returned to bull mode, quickly regaining the $1,220 level, then rallied strongly when the Fed began sounding dovish once again.
Once the Fed's December rate hike became a fact, gold rallied by nearly $50, or 4% from mid-December until now.
Since my last update just before the Christmas holidays, the dollar has been struggling, unable to get back above 97.
Here's how that's looked over the past month: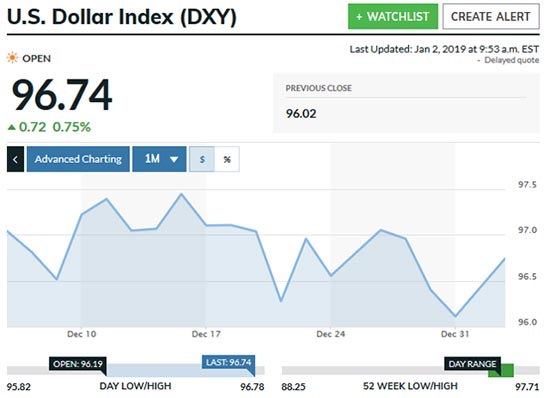 As for stocks, after a dramatic sell-off leading up to Dec. 24, they've since bounced back to regain their pre-holiday levels.
For its part, gold has risen nearly every single trading day since. The precious metal started out on Dec. 24 at $1,262 and ended comfortably at $1,269. A breathtaking stock rally on Wednesday, Dec. 26 saw gold run up to $1,278 by mid-morning, only to retreat back to close at $1,269.
Then on Thursday and Friday, post-Christmas, gold rallied to close at $1,275 then $1,280, respectively.
New Year's Eve pulled gold up a couple dollars more to $1,282, and by late morning on Jan. 2, the metal was changing hands at a six-month high, near $1,286.
Now that we've seen the rally in gold price continue, here's what I predict for 2019...
Here's What's Next for the Price of Gold in 2019
Join the conversation. Click here to jump to comments…
About the Author
Peter Krauth is the Resource Specialist for Money Map Press and has contributed some of the most popular and highly regarded investing articles on Money Morning. Peter is headquartered in resource-rich Canada, but he travels around the world to dig up the very best profit opportunity, whether it's in gold, silver, oil, coal, or even potash.