Savvy shoppers know the best retail deals of the year happen after the holiday spending spree.
This year, that appears to be true in the stock market as well.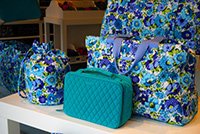 Today, we've got a small-cap retail stock that could return as much as five times your money.
This stock's been pushed down by the stock market sell-off of the last few months, and in part by the "Amazon Effect" that has been hurting traditional retailers.
That sell-off has pushed this stock far below its fair value, making it ready to rebound in a big way. That's according to virtually every valuation metric you can imagine, which suggest a rise of as much as 400%.
No wonder this small cap just got upgraded to a top score by our Money Morning Stock VQScore™ system.
Now, let's not sugarcoat it: The Retail Ice Age hasn't left this company unscathed. It has definitely had some struggles with its sales numbers in recent years.
But the market has wildly overreacted to those struggles. In fact, it's such an overreaction that the company's annual sales are more than 40% higher than its market cap.
More importantly, the company has recently made a series of important adjustments to raise its bottom line. Thanks to those changes, FactSet projects earnings to rise a solid 10.5% next year.
The $10 Company at the Center of a Revolution: It's inked four deals with huge players in its sector, and it's holding the keys to a potential global product. Click here to learn more...
This company is also one of the few that have the ingredients to survive the "Amazon Effect."
That's because it offers niche products that are as much fun to shop for as to buy. And it has a strong base of loyal customers who will return again and again no matter what.
So the market can keep biting its nails over every slightly negative indicator it can find. But it's only a matter of time before investors realize how much value has been left off the table with this stock.
That's why now is the time to snatch up your shares...
Timeless Fashion, Not Fads, Has Been the Key to Success for This Small-Cap Stock
Vera Bradley Inc. (NASDAQ: VRA) was founded in 1982 by two neighbors in Indiana who were depressed by the sea of drab-looking luggage they saw during an airport layover. Soon after they got home, they began making bags with their signature bright colors and patterns. They had just $500 in seed money and were using a ping-pong table as a workstation.
Today, the company has over 2,700 employees and more than 150 retail and factory outlet locations. Products range from the handbags and suitcases that made the brand famous, to kitchenware, bedding, and swimsuits.
Click here to see all of our top-rated stocks, and you'll automatically get free updates on our top stocks, based on our proprietary rating system, the Money Morning Stock VQScore™.
Although it's considered a luxury brand by some, Vera Bradley's products are still easily affordable for middle class consumers. Most of its handbags sell for less than $100.
That combination of standout products and a great price point has earned the company a wide base of loyal customers and annual sales of over $400 million.
Now, critics will be quick to point out here that those sales have dropped off recently, from a peak of $541 million in FY2013 to $455 million in FY2018.
There's no question Vera Bradley has been hurt by the Amazon effect. For several years, the company generated an outsized portion of its sales at clearance prices, as the company tried to keep up with retail industry changes. Sales and earnings suffered accordingly.
For a while, it looked as if this iconic brand would not survive the Retail Ice Age.
Fortunately, management stepped in to right the ship and avoid the fate of so many other retailers in the age of e-commerce.
Have 28 Seconds? You could make $2,353 - and you won't need to buy a single share of stock up front to collect this cash, or spend a nickel on anything. Click here to learn more...
Instead of trying to copy every other seller on the block, Vera Bradley's management brought the company back to what made it special in the first place. In 2017, CEO Rob Wallstrom announced the company would be reducing expenses, trimming inventory, and limiting clearance sales.
As a result, the company's online sales have gone down. But profits have gone up. Net income in its most recent quarter was $4.2 million, up from just $356,000 the year before.
Management realized that the company's customer base is willing to spend full price on Vera Bradley products. There was no need to undercut itself as it had been doing in years past.
Of course, critics fixated on the fact that earnings - in spite of the rise - were slightly lower than expectations.
But with the company back on track and its new vision in place, it's only a matter of time before institutional investors notice how oversold Vera Bradley has become.
This Is the Perfect Time to Buy VRA
Vera Bradley shares are now sitting around $8, less than half their price in September.
That drop has pushed the stock's market cap down to $280 million. That's for a company that is on pace to bring in over $400 million in sales this year.
Now, a market cap below annual sales doesn't always mean the stock is undervalued. But one metric after another confirms that VRA's share price is completely out of whack with the company's real value.
The stock's price/earnings (P/E) ratio for the next 12 months is 30% lower than the industry average at 18.37. Looking back at the last 12 months, VRA's P/E ratio comes in at a 60% discount.
The price/earnings-to-growth (PEG) ratio, at 0.90, is just 69% of the industry average of 1.31. The price-to-sales and price-to-cash-flow ratios come in at 36% and 37% of the industry average, respectively.
And Vera Bradley's price-to-book ratio of 0.96 is less than a fifth of the industry average of 5.34.
That means this stock could quintuple just to reach its fair market value.
So, did Vera Bradley shares deserve to get hit over the last several years? Of course they did. But Wall Street has gotten so accustomed to discounting this stock that it can't see the obvious value on the table.
Don't make the same mistake. Pick up your shares now and enjoy the ride as the market realizes its mistake.
Chris Johnson's New Trading System Unveiled
The stock market recently experienced its worst October since 2008.
But since late September, Chris Johnson has delivered a perfect 20-0 record in closed trades with the help of his brand-new Infrared Index.
And it's expected to continue to produce massive profit opportunities, like 157% in total returns in just 24 hours.
In fact, Chris has a new trade opportunity coming out tonight.
Click here to learn how you can take part...
Follow Money Morning on Facebook, Twitter, and LinkedIn.
Join the conversation. Click here to jump to comments…
About the Author
Stephen Mack has been writing about economics and finance since 2011. He contributed material for the best-selling books Aftershock and The Aftershock Investor. He lives in Baltimore, Maryland.