We've been talking about a marijuana stock gold rush in this space for years.
But what we're looking at in 2019 is unprecedented. We're expecting an initial public offering (IPO) rush in marijuana stocks.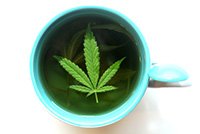 The marijuana IPO rush is likely to be precipitated by two events in the next 12 months.
These two events are happening because more than 60% of the United States has legalized medical cannabis.
This means that the marijuana is less taboo than it once was, and the IPO rush will bring even more opportunities to profit in the legal cannabis sector.
Alexander Topchishvili, a member of the advisory board for The Blinc Group, sees the first major event fostering the IPO pipeline for marijuana companies being the embrace of big banks.
Banks have largely kept away from the marijuana industry. Cannabis is, of course, still illegal on the federal level, despite the many states legalizing it.
And banks are regulated by the U.S. government.
Big banks don't like risk, so they never wanted to lend money or open business accounts for marijuana companies.
That was bad news for the cannabis business. Start-ups of all types depend on loans to grow and to survive.
LEGAL WAVE: Barriers to marijuana could be tumbling in Mexico and Thailand, but it's here in the U.S. where legalization could spark a "Green Rush" in certain stocks. Click here to learn about three of them...
Marijuana businesses are no exception.
The hesitation on the part of big banks to serve marijuana businesses also meant that big banks never wanted to underwrite a marijuana IPO. Without the ability to do an IPO, it became harder for the companies to go public. Underwriters promote the IPO to potential investors in exchange for a fee. The interest garnered helps IPO underwriters determine a good offering price for the IPO.
But times are changing between the big banks and the pot industry...
Big Banks Will Help Lead the Marijuana IPO Charge
The more financial institutions get on the marijuana train, the more IPOs are likely to occur.
As Topchishvili points out, many banks don't publicize their marijuana clients, but many may be working quietly with some legal cannabis companies.
The more banks that work with cannabis companies, the more legitimate the business grows. The more legitimate the business grows, the more opportunities for major underwriters blossom.
But outside of banks and cannabis companies working together, there is yet another event that might really get the marijuana IPO party started.
And it could lead to a massive windfall in profits...