If it feels like you see a bank on every corner when you're driving around, you're right. The United States has roughly had 6,799 FDIC-insured commercial banks as of 2014. For comparison, Taco Bell had 5,604 locations as of 2014.
With so much competition, it's nearly impossible for larger banks to grow organically.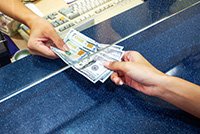 Instead, they have to expand their operations through acquisitions of smaller firms.
And when I hear about bank consolidations, I get excited, because savvy investors get a big payday when they happen...
For example, WSFS Financial Corp. (NASDAQ: WSFS) announced on Aug. 8, 2018, that it was acquiring Beneficial Bancorp Inc. (NASDAQ: BNCL) for $1.5 billion.
The BNCL stock price jumped 13% from $16.35 on Aug. 7, 2018, to an intra-day high of $18.60 on the day of the announcement.
With the volatility in today's market, no one would complain about a nice 13% pop in a day.
But there are even bigger potential gains when the big banks buy the smaller firms.
Because of acquisitions like BNCL, the WSFS Financial Corp. stock price is expected to skyrocket 41% in the next 12 months from $37.65 per share to $53.42, according to average analyst consensus from Yahoo Finance.
And bank consolidation is only expected to accelerate in the next two decades.
Most observers think that there will eventually be just 1,500 banks across the United States.
Today, I am going to show you two ways to tap into this consolidation trend.
We're talking about a story that is going to unlock trillions in value in the future.
And we're going to be first to get those juicy returns...
Turning to a Banking Expert to Find the Biggest Gains
Money Morning Special Situation Strategist Tim Melvin specializes in evaluating these companies, picking out the best ones, and waiting for the consolidation to happen.
He has done very well identifying those banks that are likely targets over the years and has made tons of money for himself and his readers along the way.
Here's how it works...
There's a bank across the street from you. It has no debt. It owns the building in which it operates. It owns the land. There is $1 million in the bank - right there in the vaults.
But the market is entirely irrational. Either people don't think there's any way to make a lot of money on bank stocks, they haven't heard of this company, or they don't understand how banks are valued.
So, the market says the bank is worth just $800,000.
That's absurdly cheap. Scaling down the numbers shows how you can buy something that should be worth $1 for just $0.80.
Want to Make Money? Here's how to make over $100,000 starting with a small amount of money... rolling stocks over and over again. Click here for more about this proven investing method...
And then... you wait.
Eventually, the market will correct and value your bank at its true worth, or another bank that's looking to grow will come along and buy it out.
To make sure the deal goes through, they are likely willing to pay more than it's worth.
And that's how you cash in.
Banks have a lot of reasons to consider selling out, and the list of reasons is longer today than it ever has been.
For smaller banks, the cost of keeping up with the ever-growing list of regulatory reports is making it difficult to turn a profit.
On top of that, to compete, you have to offer mobile and digital banking products.
The technology is not cheap.
Neither is keeping all that data and money safe from cyber thieves.
The costs of technology and regulatory compliance are a huge drag on profits, and it often makes sense to sell out to a larger bank that can spread the costs over a much bigger asset base.
This is what Melvin has focused on for more than two decades.
He finds these little tiny financial companies, buys them up, and waits for the market to realize that there has been 50% or more upside in these companies.
After chatting with Melvin, he cued readers in on two companies that tie perfectly into this trend...
A Big Banking Winner Out of the Steel City
Join the conversation. Click here to jump to comments…
About the Author
Garrett Baldwin is a globally recognized research economist, financial writer, and consultant with degrees from Northwestern, Johns Hopkins, Purdue, and Indiana University. He is a seasoned financial and political risk analyst, with a focus on stocks, hedge funds, private equity, blockchain, and housing policy. He has conducted risk assessment projects for clients in 27 countries, and consulted on policy and financial operations for some of the nation's largest financial institutions, including a $1.5 trillion credit fund, a $43 billion credit and auto loan giant, as well as two of the largest Wall Street banks by assets under management.
Garrett joined Money Map Press as an economist and researcher in 2011, specializing in alternative strategies with an emphasis on fundamental and technical analysis.