2018 was a banner year for cannabis legalization, and that's making marijuana penny stocks an exciting new way to make money.
In the last 12 months, governments across North America passed sweeping legalization laws, setting the stage for full legalization - and massive returns from marijuana penny stocks.
On Oct. 31, Mexico's incoming government announced plans to pursue full legalization.
Less than a week later, both Missouri and Utah voted to allow medical marijuana use while Michigan voted for full recreational legalization.
That's not even mentioning Canada's nationwide legalization on Oct. 17.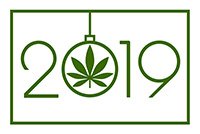 With legalization gaining steam, marijuana penny stocks have the chance to skyrocket.
However, not every marijuana penny stock is worth owning.
Today, we're looking at three marijuana penny stocks on the verge of soaring as the legalization trend powers into 2019.
These three companies are on the cutting edge of the marijuana industry and are developing innovative methods to generate profits - for both themselves and their shareholders.
In fact, the top marijuana penny stock on our list could deliver a return of over 300%...
Top Marijuana Penny Stocks for 2019, No. 3: Easton Pharmaceuticals Inc.
Easton Pharmaceuticals Inc. (OTCMKTS: EAPH) makes Nauseasol, a gel for the treatment of motion sickness, and Skin Renou HA, a cream to fight skin fatigue caused by aging.
In 2017, Benzinga reported that Easton was finalizing a marijuana business deal worth $1.3 million with the Alliance Group, a company based in Canada.
THREE STOCKS: Any one of these cannabis companies could potentially deliver a 1,000% windfall. Click here to learn more...
Easton has already put $575,000 behind the deal. Once the deal is finalized, Easton will control 45 acres for direct use in marijuana production and cultivation.
And until these acres produce a marketable yield, EAPH will get 50% of Alliance's revenue.
Easton may use the marijuana from this deal for its own products or simply sell it to other companies engaged in pharmaceutical cannabis.
In the wake of 2018's legalization efforts, both recreational and pharmaceutical uses of pot are seeing increased demand - demand that will fuel EAPH's bottom line for years to come.
Top Marijuana Penny Stocks for 2019, No. 2: 22nd Century Group Inc.
22nd Century Group Inc. (NYSE: XXII) is a New York--based plant-biotech firm that uses advanced-engineering technology to regulate the levels of nicotine in plants.
XXII is currently growing tobacco with up to 97% less nicotine content than its natural counterparts. As a result, a smoker looking to reduce their risk of addiction now has a viable alternative.
This breakthrough will allow XXII to join a growing industry of tobacco alternatives that generated $2.9 billion in revenue last year.
Pot Stocks Are Skyrocketing: This man is showing readers a near-perfect cannabis portfolio. Learn more.
22nd Century is also using this advanced technology in the legal cannabis market. 22nd Century is using its technology to help hemp farmers meet federal requirements for THC content. According to U.S. law, hemp crops with THC levels above 0.3% must be destroyed.
Grand View Research Inc. reports that the global hemp market is expected to be worth $10.6 billion by 2025.
XXII is currently trading at $2.65 per share. But the 12-month price target issued by global investment bank Chardan is $11.50 per share - a potential gain of 333% in just one year.
That's a tremendous gain. But if you're looking for real opportunities in the marijuana industry, then you have to check out our top marijuana penny stock to buy in 2019.
It's a cannabis supply firm innovating the cannabis cultivation process. That could make the company essential as more and more states legalize cannabis.
In fact, the stock could jump as much as 354%...