How many times have you read something like, "If you bought Amazon at the initial public offering, you'd have $24 gazillion today"?
(In fact, Amazon went public at $18 per share and gained well over 8,200% since then.)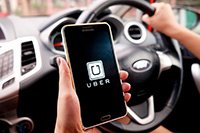 And it isn't just behemoths like Amazon.com Inc. (NASDAQ: AMZN) that have rewarded IPO investors with big gains.
Square Inc. (NYSE: SQ) offered peak gains of 670% for IPO investors in just three years of trading.
Even Twitter Inc. (NYSE: TWTR) surged nearly 70% in just over a month after its Nov. 2014 IPO.
With those sorts of opportunities, it's no wonder why people get really excited over IPOs.
Fast forward to today, and the hot company people want to buy is the ride-sharing company Uber. The Uber IPO may end up raising over $20 billion in new capital and bring its market value to as much as $120 billion.
Let's put that into perspective.
A $20 billion IPO by Uber would put it between Chinese retail super giant Alibaba Group Holding Ltd. (NYSE: BABA), which scored the largest U.S. IPO ever at $21.8 billion in September 2014, and credit card company Visa Inc. (NYSE: V), which raised $17.9 billion in March 2008.
Facebook Inc. (NASDAQ: FB) is currently a lowly No. 4 with its $16.0 billion IPO in May 2012.
You can see why people are so eager to get a piece of the Uber IPO.
Not only that, Uber is one of those disrupter companies that changed the face of an entire industry.
[Trending] Why 2019 Could Be the Biggest Year for Cannabis IPOs Yet
And its name is synonymous with its business, the same way you say you'll "Google" something instead of "web search," or say "Xerox" instead of "make a facsimile." Most likely, you also say you'll "Uber" to the airport or home from the bar, even if it's through a different service.
With IPOs now more accessible to individual investors, you now have the chance to get in close to the ground floor with this revolutionary company. It is really no more complicated than telling your broker you want in. It's not a guarantee you will get shares, but that's the way to do it.
But before you dial up your broker, we have to caution you about why the Uber IPO may not be the cash machine many investors think it will be.
And we won't leave you hanging either – there are even better IPO opportunities on our radar. In fact, four could happen as early as Jan. 31…
Why the Uber IPO Could Be Toxic
The biggest red flag with Uber is it's not yet profitable. In reality, it lost $1 billion in its last quarter alone. In fact, these losses have been piling up for the past nine years.
Uber is also losing its competitive edge from being the first ride-share firm. Its model has been copied in transportation and even in pizza delivery. Direct competition from Lyft is getting stronger. Lyft now boasts 35% of the U.S. ride-share market, while it had just 20% last year.
Now that Lyft is expanding internationally, Uber is losing its edge there too.
And there are even localized competitors, such as the non-profit RideAustin, serving Austin, Texas, and its surrounding areas.
Between a lack of profitability and a declining market share, Uber is a riskier bet than the hype would leave investors to believe. That's not to mention how much the hype will inflate the IPO price, making it dangerously expensive.
Plus, Uber is lagging behind in its efforts in the self-driving car arena. These autonomous ride services (ARS) eliminate labor costs to become more profitable, even at lower revenue per ride. This advantage in margin will push the ride industry to ARS and leave Uber behind if it does not get more aggressive.
With all of those potential problems, waiting for the Uber IPO could be a costly mistake.
Instead, the IPO market is about to heat up in a way most investors have yet to realize.
And that means more profit potential for you…
[Critical] These 4 Companies Could Unleash Up to $12 Billion in New Wealth by Jan. 31
Within the next five weeks, we could see as many as 10 private cannabis companies go public.
According to our research, four of them could set new opening day records.
In fact, each of these companies is capable of generating between $500 million and $3 billion for investors the day they go public.
That's a potential $12 billion in new wealth created before Jan. 31.
To find out all of the details on each of these four IPOs – and how you can get in on them even if you've never invested a dollar in your life, simply click here.
Follow Money Morning on Facebook, Twitter, and LinkedIn.