Even just a quick glance at the price of silver is enough to alert any investor that this metal has begun a new rally.
As much as gold may have struggled in 2018, silver's performance was even bleaker. After starting out last year at $17, silver would close out 2018 at $15.47, for a sizeable 9% annual loss.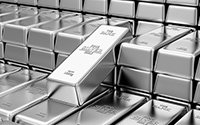 However, if we look at silver's action since early November, there's a lot for bulls to be excited about.
Silver prices and silver stocks have blasted higher. While gold is up about 6.7%, silver has nearly doubled that, up by 11.2%, all while major stock indexes have struggled and continue to do so in these early days of 2019.
Last year was the worst in the past decade for stocks, a fact that's unlikely to be lost on investors as they begin scrambling for true alternatives.
Billions Are Now in Play: Millions of Americans could collect "Federal Rent Checks" - to learn how to claim your portion of an $11.1 billion money pool using this backdoor investment, click here now...
Silver's performance will stand out, likely drawing in increasing numbers of investors, helping to quickly push the metal's price higher.
As professional managers look to catch up on late 2018 losses, I expect many will turn their attention to silver as a way to boost returns while volatility continues to plague equity markets this year.
Let's take a look at what the silver market has been doing over the last week - and why that's great news for silver prices in 2019...
The Price of Silver Rose as Stocks Slumped
In 2018, silver zigged when stocks zagged.
Here's a vey simple chart that shows exactly what I mean. It's a single-view comparison of silver versus the S&P 500.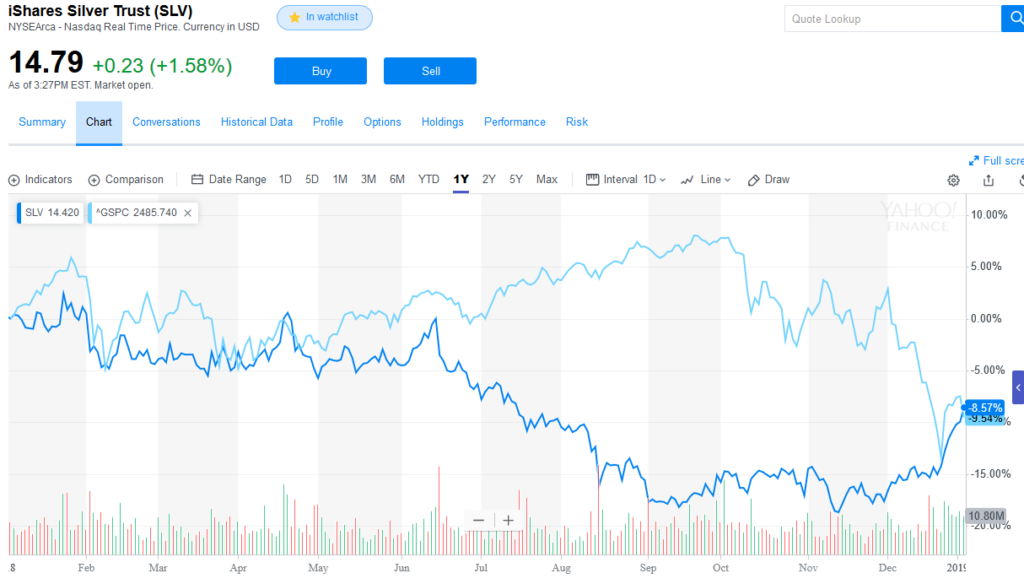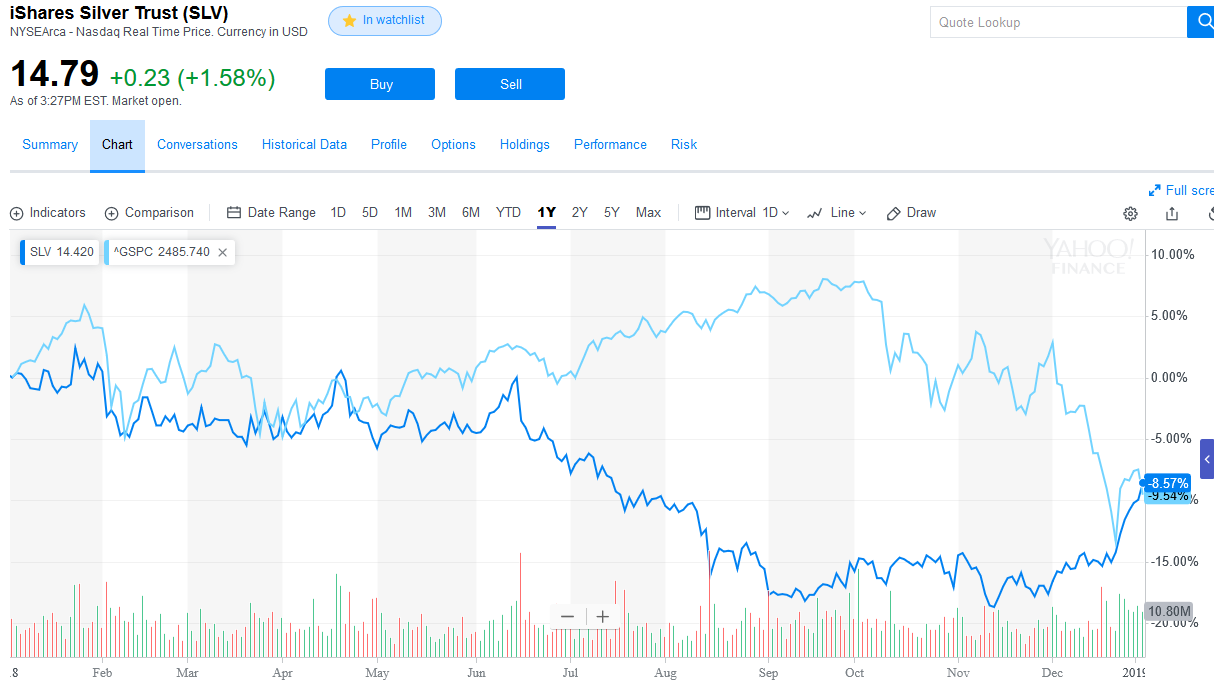 It's certainly not a perfect inverse correlation, but it's pretty close.
And if we look at just the last three months, it gets even more interesting.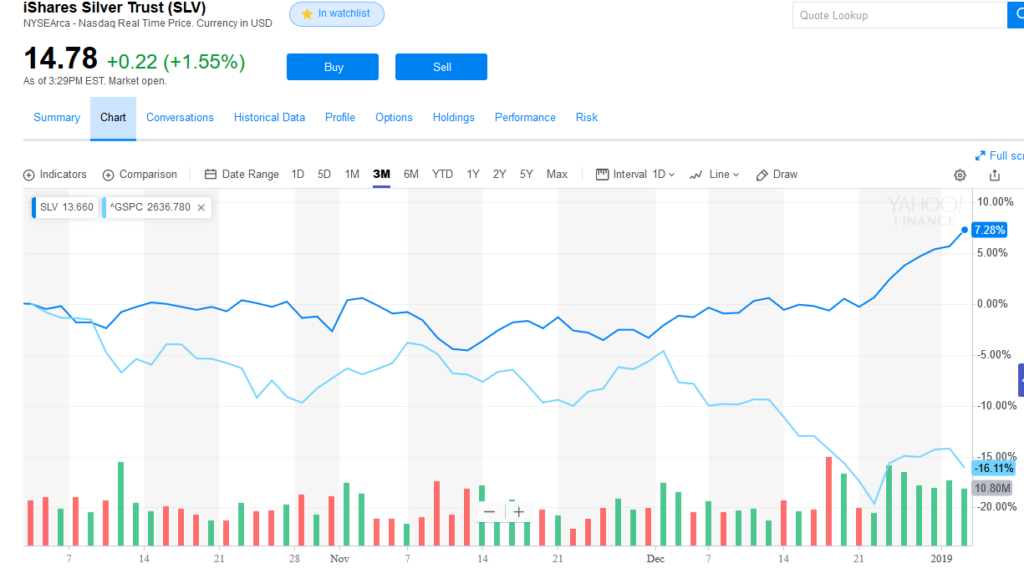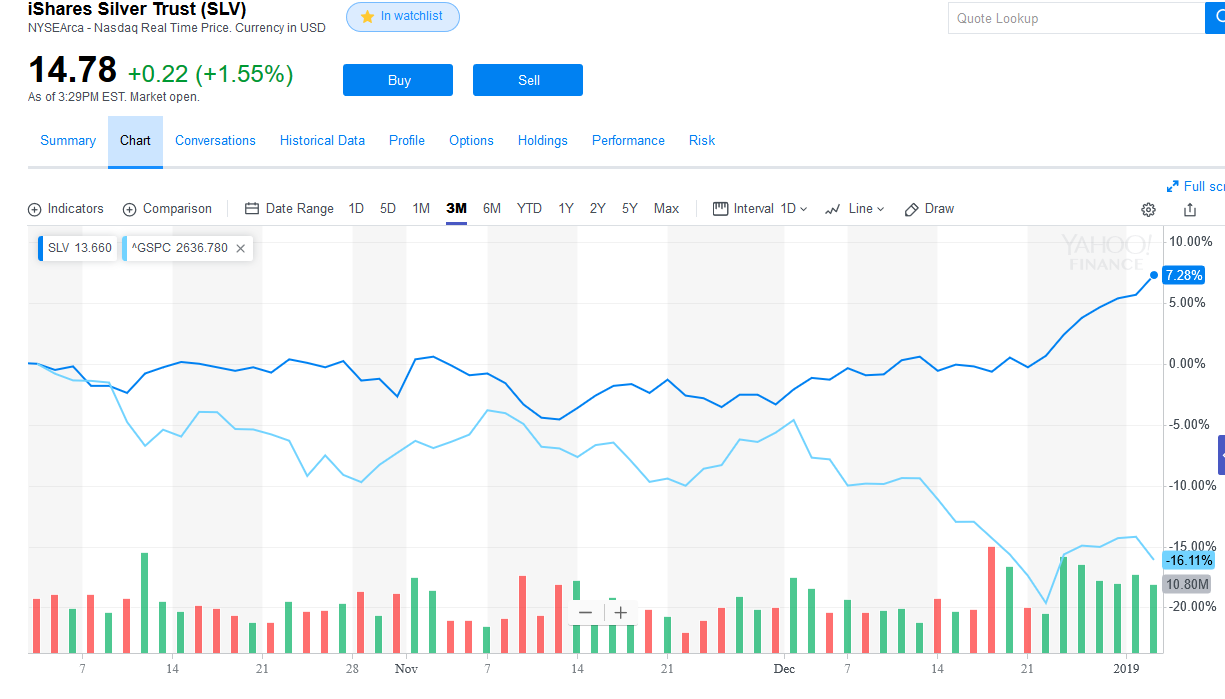 For nearly the entire first half of 2018, silver moved in a range between $16.30 and $17.50.
By mid-year, hawkish tones from the Fed backed up by regular rate hikes supported the dollar, pushing it consistently higher.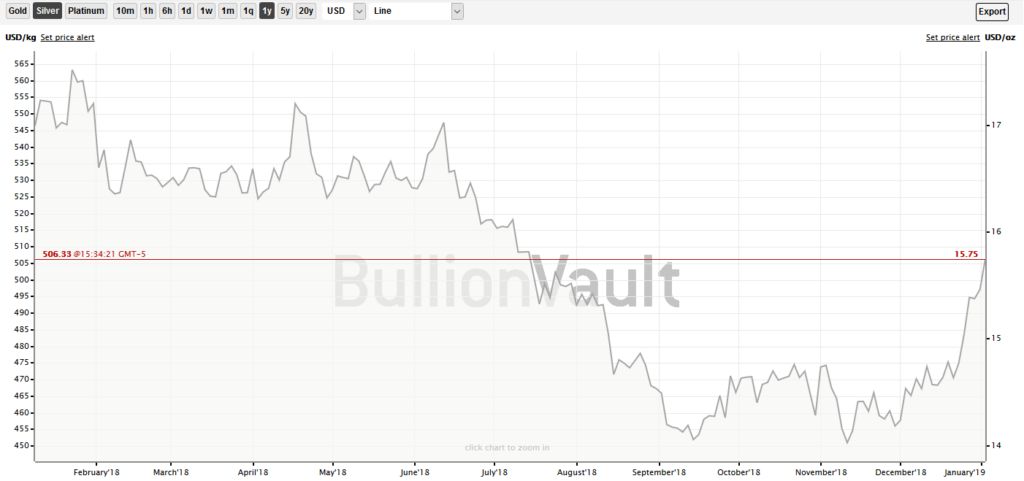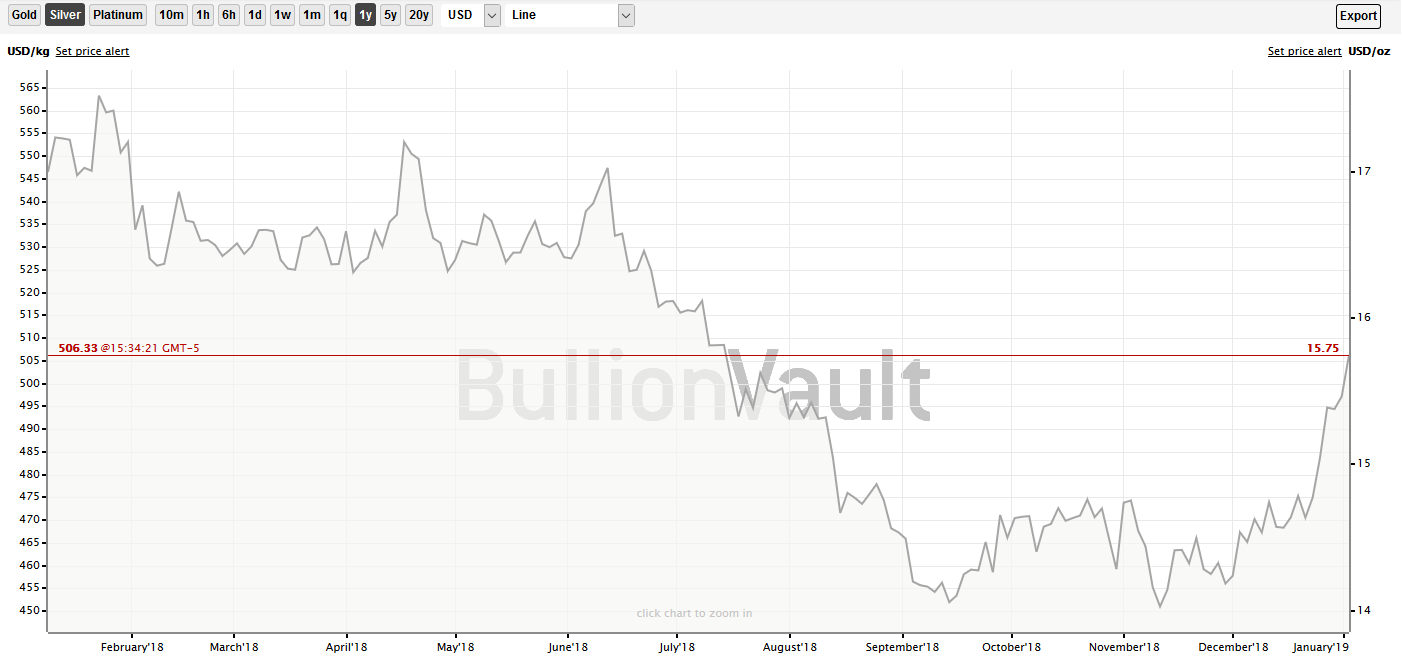 The price collapse over the summer would crush any bullish sentiment left in silver, launching a correction that took the metal way down to $14 by mid-September. Silver then rallied back to $14.75 before correcting once again in early November, back to $14 support.
But since then, the metal has embarked on a tremendous rally that lifted silver all the way to $15.72 this week. That's a 12.3% rally in less than two months, compared to gold's respectable 7.5% performance in the same time.
And since the mid-December Fed rate hike alone, silver has jumped by $1.10 per ounce, or 7.5% in a mere two weeks.
Post-Fed rate hike, the dollar's continued to soften, providing growing support for silver prices, which have enjoyed nearly straight daily gains since then. Silver's been above $15 and climbing steadily since Boxing Day.
By late afternoon Thursday (Jan. 3), silver was changing hands at $15.70, a level it hadn't enjoyed since mid-July.
That bodes extremely well for silver prices in 2019.
Now, let's dig a little deeper and get to my next silver price target for January 2019...
Join the conversation. Click here to jump to comments…
About the Author
Peter Krauth is the Resource Specialist for Money Map Press and has contributed some of the most popular and highly regarded investing articles on Money Morning. Peter is headquartered in resource-rich Canada, but he travels around the world to dig up the very best profit opportunity, whether it's in gold, silver, oil, coal, or even potash.