Fear not, the U.S. Federal Reserve knows all.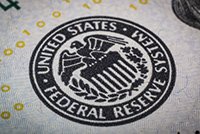 When it comes to interest rates and the state of the economy, there is no better source of information.
When I began my career in the securities business in the late 1980's, the brightest candidates migrated to the bond side of the business.
Wanting to be considered the best and the brightest, I naturally took my first job calculating bond yields and arbitrage rebates (don't ask) for municipal securities underwritten by the largest investment banks in the country.
Since that time, I've always stated that the bond market knew all… way more than those in the stock market. That is, until now. In fact, the bond market is lost at the moment.
Interest rates on the long end of the curve are plummeting, ever since the central bank disappointed the market with a rate hike and hawkish statement for 2019.
These plunges in rates come despite a few key inconvenient facts that irrational bond market participants ignore.
For starters, economic data is robust and will be for some time.
Yields on the long end are falling as participants bet on negative gross domestic product (GDP) at some point in the near future.
The Gains on This One $10 Stock Alone Could Earn You Enough to Retire – Click Here Now for Details
That's not happening.
You don't go from 3% GDP to negative GDP in a quarter or two.
The U.S. economy is like the titanic right now. It will take some time turning negative if indeed it goes negative at all.
The Federal Reserve knows this and smartly did not adjust its strategy with respect to short-term rates.
Ultimately, the bond market will result in long-term rates going higher from here.
Another important clue to how the bond market has things entirely wrong relates to the central bank reducing the size of its balance sheet.
No longer is the Federal Reserve out buying securities. And the absence of that buying power is hugely bearish for bonds.
Rates are going higher. So how do we prepare for that as investors?
More importantly, what do we buy to make the most money in our portfolios right now?
One of the best things to buy in a period of rising rates is bank stocks.
And naturally, the Money Morning Stock VQScore™ system is confirming this thesis.
This week, three banking stocks just received our highest VQScore for the first time.
Here are the three best bank stocks to buy today…