If your home isn't already equipped with smart home features, it will be soon.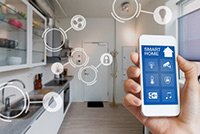 The ability to control lights, locks, thermostats, and entertainment from your smartphone or dedicated touchscreen interface is now a reality.
And investing in the companies that make it possible could make you rich.
According to a report by Market Research Engine last summer, the global smart home market will grow from $4.41 billion in 2013 to $25 billion in 2021.
That's a 467% rise in just eight years.
Recognizing that profit potential, plenty of companies have rushed into this sector in recent years. That includes a lot of the big tech names you already know.
But if you really want a piece of this exploding industry, you'll want to grab a "pure play" on smart home technology. That is, a company that focuses entirely on connected home equipment and installation. The company we have for you today is going to get the lion's share of the benefits as this sector takes off.
In fact, our pick today was the first smart home pure play ever to go public.
Learn How to Turn $500 into $1 Million: This Sunday School teacher's "retirement career" made him a millionaire. This book will teach you how you can do it too. Claim your FREE copy...
This company is an industry leader in each and every subcategory of home automation and can provide turnkey installation to homeowners at any price point, from starter packages to luxury setups.
In spite of consistent earnings beats, solid growth in both revenue and earnings, plenty of cash on hand, and not a penny of debt, the stock price took a hit during the market shakeup in late 2018.
That means it's a great deal if you grab it right now.
That's not just a subjective assessment. This stock also has a top score from our Money Morning Stock VQScore™ system.
Between industry growth, rock-solid fundamentals, and a bargain price, this stock is a perfect storm of profits you'll want to get a piece of as soon as you can.
This Industry Leader Is Set to Become the Most Recognized Name Brand in Smart Home Technology
Join the conversation. Click here to jump to comments…
About the Author
Stephen Mack has been writing about economics and finance since 2011. He contributed material for the best-selling books Aftershock and The Aftershock Investor. He lives in Baltimore, Maryland.