With a potential bear market looming on the horizon, too many investors are overlooking an excellent defensive play against falling stocks: REITS. That's why we're bring you the best REITs to buy in 2019 to add some extra income to any portfolio.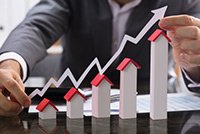 Real Estate Investment Trusts (REITs) have produced annualized returns equal to 11.61% since 1980 compared to returns from the S&P 500 of just 8.39%.
Plus, that disparity could be even more dramatic in the future.
The truth is, the S&P 500 is projected to do even worse for the next several years. Jack Bogle is projecting a mere 4% annualized growth for the S&P 500 while all the major indexes are now in correction territory.
It gets even worse for many publicly traded companies, too. Roughly 90% of the S&P 500 stocks represent companies that don't have sufficient income to cover their debts. They've used cheap money to finance their growth, and now that interest rates are rising, they're faced with debt-laden balance sheets.
This might seem like a warning to avoid stocks, but there are other ways to make money over the short and long term.
Even if we, as predicted, enter a bear market, some real estate stocks are going to continue to perform well.
Instead of just choosing one or two real estate companies for your portfolio, a better choice is to invest in the top REITs.
Today, you get the benefit of three highly rated REITs, courtesy of the Money Morning Stock VQScore™ system.
Here are the three best REITs to buy in 2019...
The Best REITs to Buy in 2019, No. 3: Apartment Investment and Management Co.
The stock market and even the housing sector might be feeling some pressure from rising interest rates, but the apartment business is booming.
The best real estate stocks won't all necessarily deal with residential sales. As mortgage rates go up, more people are looking for affordable rentals.
"Federal Rent Checks": Thanks to an obscure law, over 100 government agencies are required to pay rent. By following a simple investment strategy, you could receive checks of up to $1,795 every month. Read more...
One of the largest REITs that deals with apartments is the Apartment Investment and Management Co. (NYSE: AIV), which represents 133 communities across 17 U.S. states.
This Denver-based REIT focuses on the ownership and management of quality apartment communities across the United States.
Just over the last six months, AIV stock has gained nearly 10%. It also pays investors a dividend yield of over 3%, which will be a significant boost to your portfolio.
AIV bested earnings estimates in Q3 by a stunning $3.24 earnings per share - and there is other good news.
The company had a pending suit against Airbnb, claiming that illegitimate rentals were hurting its business. The two companies announced in December that they had settled their differences and were even working on future opportunities in the multi-housing market.
Another plus is that this stock doesn't dip in tune with the broader market. In other words, a massive drop in the overall market might translate to just a small dip in AIV.
A real estate stock like this can not only provide solid returns but also give your portfolio some protection in trying times.
The Best REITs to Buy in 2019, No. 2: Sunstone Hotel Investors Inc.
There are always profit plays in any market, but the trick is locating them.
Our current market is a mix of contradictions. The economy is strong, but there are growing fears of deflation and a recession. Even still, consumer confidence remains strong, which means that people still want to take some time off and travel.
This is excellent news for the hospitality industry and any of the top real estate stocks that deal with hotels.
This brings us to Sunstone Hotel Investors Inc. (NYSE: SHO), which is a REIT representing 22 hotels under major brands such as Hilton, Marriott, and Hyatt. Collectively, this REIT has over 10,000 rooms under its umbrella.
These are major brands that will continue to attract travelers even if the country slides into another recession.
Even so, short-term worries about the future of the economy have caused shares of SHO to take a slight step backward. This only presents a buying opportunity for new investors, and the losses are nothing close to other market segments.
But we aren't worried about that. With a VQScore of 4, this REIT is poised to grow in value.
And it gets even better.
Our top REIT to buy not only pays a generous dividend yield of 5.3%, but it could grow by 33% in just a year.
With a high VQScore, this REIT could be a big winner no matter what the rest of the stock market does in 2019...