If you believe the hype on Wall Street, the trade war with China is about to end, unleashing a renewed bull market and another year of prosperity.
But Wall Street is naïve, and the worst is still yet to come.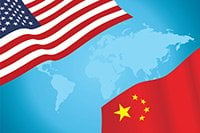 On Monday (Jan. 7), American and Chinese trade delegates met in Beijing to discuss the year-long trade war that ravaged global markets over the last year.
The Dow Jones Industrial Average extended its longest winning streak since November on Wednesday (Jan. 9) as optimism over the talks continued to rise.
Meanwhile, both the Nasdaq and S&P 500 have risen over 2% in just the last three days on rumors China is ready to give into U.S. trade demands.
However, the big picture suggests that Wall Street is grasping at straws when it comes to a concrete end to trade conflict between the world's two largest economies.
In fact, there's ample evidence that China has more than enough reason to drag this trade conflict out for as long as possible...
China Is Far from Down and Out in the Trade War Fight   
Wall Street's bullish attitude toward this week's trade negotiations comes from the seemingly fragile state of China's economy.
According to a November report from China's National Bureau of Statistics, the nation's retail sales have slowed significantly in the face of aggressive trade headwinds.
And just last week, reports came out stating that the Caixin/Markit Manufacturing Purchasing Managers' index (PMI), China's central measure of industrial output, fell from 50.2 in November to 49.7 in December.
Urgent: This catastrophe could bring the U.S. economy to its knees - and make the Great Recession seem like a day at the beach. Read more...
Sign up for SMS so you never miss special events, exclusive offers, and weekly bonus trades.
Any PMI figure under 50 signals that China's manufacturing sector is contracting. December's decline is the first contraction in Chinese manufacturing in 19 months.
It's a clear sign that the nation's economy is under strain.
However, China has an ace up its sleeve...
You see, Chinese President Xi Jinping and the ruling communist party is deeply entrenched in China's political and economic system - they simply cannot be easily voted out.
As a result, China's politicians are unlikely to face repercussions from dissatisfied Chinese citizens - even if they continue to damage the Chinese economy through a trade war with the United States.
This is a far more secure position than the one currently held by the Trump-led Republican coalition.
As trade war of attrition continues, Republican trade war advocates will face increasing pressure from economically stressed constituencies to end hostilities with the Chinese government.
With votes on the line, American politicians are likely to fold long before the Chinese government considers giving in.
This puts China in an incredibly advantageous position - one it's now trying to leverage by targeting Republican constituencies that make a living off of the export of raw materials.
China is in the midst of cutting American raw materials suppliers out of China's global resource chain.
In November, China imported zero American-produced soybeans for the first time since imports began.
China's soybean imports, which are critical for China's animal-feed industry, have traditionally amounted to $12.7 billion in annual profits for American farmers.
Instead, China purchased 5.07 million tons of soybeans for Brazil in November in an effort to starve out American producers - a move it's likely to repeat with a range of American suppliers.
China is backing American government officials responsible for the trade war into a corner - one that China will be happy to keep them in until they fold.
With the Trump administration arguing that it will not cease hostilities until China fully capitulates, we can expect this week's trade negotiations be little more than hot air.
In fact, they're likely to set the stage for a far more dramatic fallout in the two nations' trade relations than anything we've seen so far.
If no trade deal is in place by March 1, the United States will increase tariffs on $200 billion worth of Chinese exports by 15%.
If past tariff hikes are any indication, January's 15% jump is likely to damage the bottom lines of major American firms that rely on raw materials from China for production.
This has been the case with Apple Inc. (NASDAQ: AAPL), whose manufacturing prices have risen in the face of increased tariffs.
These higher prices have hammered Apple's bottom line, leading to the company's largest one-day stock loss ever just last week.
Apple's losses are only the beginning. In fact, this year's steady trade attrition will make 2018's trade war volatility seem smooth in comparison.
While we can't yet know the severity of the downturn, you can start preparing right now...
How to Survive - and Profit - from the Greatest Economic Crisis in 75 Years