Certain marijuana stocks in 2019 could skyrocket thanks to the potential for exports from the next powerhouse in the legal cannabis industry.
T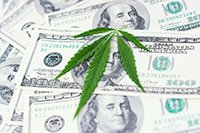 here has been a massive shift overseas that will be a catalyst for certain marijuana stocks in 2019. This new move will serve as a giant leap forward in the legal cannabis industry.
As you're about to see, events are unfolding in other countries this year, and one change in particular could be big news for investors of cannabis stocks.
Specifically, we're talking about the creation of the first cannabis-exporting superpower.
This is a country that already leads the globe in marijuana research activity, and now it's going to turn that knowledge into profits…
A Massive Market That Requires a Major Player as a Leader
The marijuana export market is starting to heat up thanks to the wave of legalization sweeping the globe.
Already, Canada has been a trailblazer when it comes to legal marijuana, and other countries, states, and cities have been doing everything possible to follow that country's example.
This generally plays out the same everywhere.
First, there is a total and complete prohibition of pot, which then loosens to allow limited medical use.
More widespread medical use gets the go-ahead, and policymakers begin to see the potential for tax revenue and other economic stimulation through new businesses.
THREE STOCKS: Any one of these cannabis companies could potentially deliver a 1,000% windfall. Click here to learn more…
Finally, full legalization for adults becomes a reality, and everyone profits.
Taking this a step further, the next frontier in the legal cannabis market is exporting.
In December 2018, Aurora Cannabis Inc. (NYSE: ACB) announced it was going to supply legal pot to Mexico.
This is always one of the top pot stocks to watch, but there is an even bigger catalyst on the horizon.
It is something that is going to transform the industry while creating billions of dollars' worth of opportunities.
The best news is that few investors know about it yet.
This Will Be the Top Exporter of Cannabis in 2019