If you want a preview of what's coming with respect to the solar revolution, look no further than this past fall.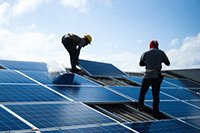 If you recall, oil prices soared for much of 2018 and then peaked in November near $70. Most of that increase came thanks to the strong dollar and the U.S. Federal Reserve lifting interest rates.
Along with the climb in crude prices came the obligatory bump in the prices of solar stocks.
Well, it wasn't exactly a bump.
It was more like a rocket ship igniting.
In a few short months, many of the top solar stocks jumped 50% or more in value.
Unfortunately, the rally didn't last.
One rate hike too many at the end of the year, and a market rally in bonds ensued. That caused the long bond to collapse, which took the dollar down too.
THREE STOCKS: Any one of these cannabis companies could potentially deliver a 1,000% windfall. Click here to learn more...
As the dollar fell, crude oil prices dropped, and traders locked in their profits on solar stocks.
Add in a little extra bear market selling, and those 50% gains quickly became 20% losses.
Of course, we've seen this act in solar stocks before.
A few years back, there was a big rally in solar stocks as oil prices traded above $100 per barrel.
At that time, the solar industry was in the earlier stages of development. As with any new technology, that can mean a lot of investment followed by a lot of losses.
Still, investors were unconcerned.
Prices on solar stocks traded for three to four times where they trade today.
Since then, there have been major developments in the solar industry.
For starters, green initiatives have been a huge boost for solar businesses.
And those initiatives will only continue in 2019.
For example, solar is now the most inexpensive way to power a home according to Solar Estimate.
In the middle of 2018, industry estimates said there would be 2 million solar instillations in U.S. homes. That number is expected to double in the next four years.
That type of growth is just what's needed to propel solar stocks higher in 2019 and beyond.
When combined with a macroeconomic environment of rising interest rates and a stronger dollar, what do you think is going to happen to solar stocks?
They are going to move higher, if history is to be repeated.
Over the long term, that appreciation could be two or three times an investment made today.
So just what solar stocks should we be looking to buy?
The market is off to a great start in 2019, but is it a dead cat bounce?
That's where the macro story comes into play.
The economy is doing quite well, as evidenced by the blowout jobs number last week.
Thanks to inflationary pressures with wages and higher commodity prices, the yield curve will steepen.
King dollar will roar in 2019.
When it comes to solar stock, the best investment will be with those stocks best positioned to profit from green initiatives. For me, that looks like companies focused on solar installations. In addition, higher oil prices will provide additional propellant to lift these stocks higher.
It is clear to me that investing in a pure play solar installation name is the way to go.
Here's our top small-cap solar stock to buy now for massive gains...
This Is the Best Small-Cap Solar Stock to Buy in 2019