These are truly exciting times for precious metals.
The price of silver has been performing exceptionally well, especially since late December.
That's when silver prices embarked on a string of higher closes for seven consecutive days. In the past, moves like this have proven themselves to be a strong signal that further rallies lie ahead.
Remember, trends in motion tend to stay in motion. So this can be significant for the silver price going forward.
Last week, I said I think silver has embarked on a short-term consolidation. Since then, the price of silver has in fact moved sideways.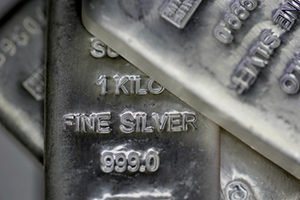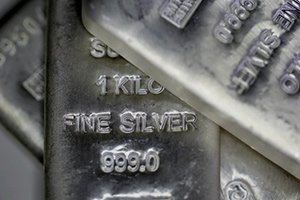 But given its recent price action and momentum, silver actually looks like it's building energy before its next rally higher.
I'll explain to you why I'm quite certain silver is back in bull mode, and I'll give you three ways you can play its upside from here.
Sign up for SMS so you never miss special events, exclusive offers, and weekly bonus trades.
Here's How the Price of Silver Is Moving Now
Silver has spent the better part of the past week and a half consolidating. It's been digesting the hefty gains it made in the last week of 2018 and first week of 2019.
"Federal Rent Checks": Thanks to an obscure law, over 100 government agencies are required to pay rent. By following a simple investment strategy, you could receive checks of up to $1,795 every month. Read more...
The precious metal labored against stocks, which managed to climb on balance last week, helped by a decline in fear which has translated into lower volatility.
Its other challenge was the dollar.
The DXY consolidated high on Tuesday, Jan. 8, around 95.9. But by 9:45 a.m. on Wednesday, the DXY dropped as traders began weighing odds that December Fed minutes would show a dovish stance. That was confirmed, pushing the DXY to 95.2, then lower to a "test" of 95 late that evening.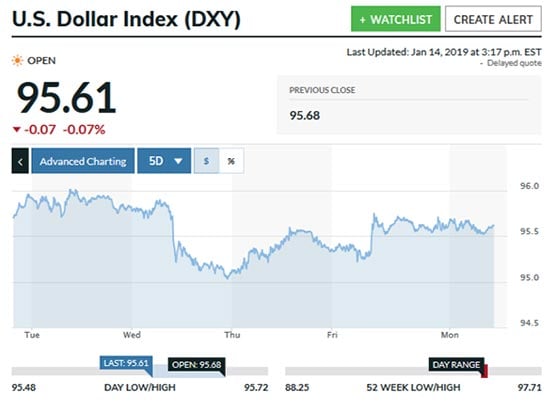 By Thursday, the dollar index clawed back some of those losses to regain 95.5, then on Friday enjoyed another slight bounce to 95.6, where it spent most of Monday as well.
Through this time, spot silver traded between $15.55 and $15.77. It managed to end up mostly flat, and by late afternoon on Monday, silver was trading at $15.62.
Now, here's where I see the price of silver heading from here in 2019...
Here's Where the Price of Silver Is Headed Next