Smart investors are always on the lookout for an investment class that will produce market-beating gains over the course of the year.
That's why we're showing you the 3 best REITs to buy in 2019.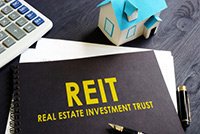 You see, real estate investment trusts (REITs) have outpaced returns from the stock market for more than 35 years.
Since 1980, REITs have produced annualized returns of 11.61%.
In the same time, the S&P 500 has managed to produce an annual average return of just 8.39%.
Looking at these numbers, it's clear that REITs have a greater chance of rewarding shareholders.
Critically, REITs are likely to provide the kind of stability that will protect your returns as markets grow increasingly volatile in 2019.
But with thousands of REITs on the market, finding the best REITs to buy can be a challenge.
Fortunately, we've found three top REITs to buy in 2019 to grow your wealth and protect your returns...
Best REITs to Buy in 2019, No. 3: Apartment Investment and Management Co.
Interest rates have jumped nearly a full percentage point over the last year, rocking stocks and sending major indexes into the red.
However, the jump has been good news for rent-based REITs.
Higher interest rates translate to higher rates on mortgages. This decreases the affordability of homes, pushing more people to rent their homes rather than buy.
Life-Changing Profit Potential: One tiny firm is rapidly developing the parts for a game-changing technology - and the gains from its stock, trading for less than $10, could turn every $1,000 invested into $4,719. Learn more...
This means more people will be looking to rent, increasing revenue for rental property management companies.
One of the largest apartment REITs is Apartment Investment and Management Co. (NYSE: AIV). It covers over 130 communities across 17 U.S. states.
Covering 17 U.S. states gives AVI a diversified portfolio that can protect the company from falling property rates in different areas of the nation.
Another reason this is one of the best REITs right now is that it also gives investors a dividend yield of over 3%.
A 3% return beats 2019 forecasts for the S&P 500 given by Bank of American (NYSE: BAC) and Morgan Stanley (NYSE: MS). Both banks have stated that S&P 500 returns will be stagnant this year.
As a result, a return like this is not only a safe haven for your wealth - but it's also rare.
Plus, with a VQScore of 4, shares of AIV could surge this year too.
However, our next REIT has even better returns during this volatile market...
Best REITs to Buy in 2019, No. 2: Sunstone Hotel Investors Inc.
Even when a market is tumbling, there are safe and even profitable places to invest. You just have to know where to look.
Despite growing economic uncertainty, the American job market remains historically tight, reaching the lowest levels of unemployment in 40 years.
As a result, consumers are confident, employed, and have greater amounts of discretionary spending.
And one of the main things Americans are spending money on is travel. In fact, the 2018 holiday travel season was the nation's busiest since 2004.
Because of this, it will pay off handsomely to take a close look at one of the best hotel REITs, which is Sunstone Hotel Investors Inc. (NYSE: SHO).
This mid-cap investment holds major hotel brands such as Hilton, Marriott, and Hyatt, with more than 10,000 rooms and 22 hotels under its umbrella.
With the labor market showing no signs contracting, travel spending is likely to remain strong in 2019 - ensuring that SHO will deliver investors strong returns in the months ahead.
While we can lock in strong profits from travel spending and rising interest rates, our top REIT is on track to make significant gains this year.
In fact, profits could jump as much as 25% in the first half of 2019...
[mmpazkzone name="in-story" network="9794" site="307044" id="137008" type="4"]
Best REITs to Buy in 2019, No. 1: City Office REIT Inc.
City Office REIT Inc. (NYSE: CIO), focuses on the acquisition and operation of upper-end real estate in the United States and Canada.
The company's recent earnings report exceeded analyst expectations by $0.02, with earnings per share of $0.28. And its quarterly revenue rose over 24% from the year-ago quarter, hitting $31.5 million.
Meanwhile, CIO's gross profits have risen consecutively for the last three years, doubling its bottom line since 2014.
And it doesn't look like it's going to slow down anytime soon.
The company's management projected earnings of $7.23 million in the future, a 25% climb from current levels.
The shares currently sell for $12.57. And analysts on Wall Street believe the price target should be $15.50, a 23% rise from current levels.
However, that price target is small change compared to our profit opportunities for 2019...
If You Want Proof You Can Make Over $100,000 by Rolling Stocks Over and Over Again... Pay Close Attention
Right now, even with all the market uncertainty, there's truly a ridiculous amount of money to be made from stocks if you follow this secret.
It's a secret that, as you'll see, is unique in the entire history of investing.
It's a method that gives you a real chance to ONLY buy well-positioned stocks expected to go up.
And because nobody understands your financial needs and time horizons for retirement better than you do, it's also a method that gives you the opportunity to make as much money as you see fit.