H.R. 420 is a new bill from Rep. Earl Blumenauer (D-OR), and it could be a game changer for the cannabis industry.
If passed, it would remove cannabis from the Controlled Substances Act. Marijuana would then be regulated just like alcohol at the federal level, opening up a new frontier of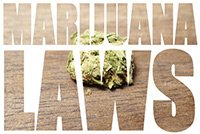 possibilities at the state level.
And that could bring a flood of institutional investors to the market.
Some investors have been sitting on the sidelines, still worried about buying cannabis stocks because marijuana is still illegal under federal law.
The passing of this bill would end those concerns.
To see just how big of an impact this could make, we reached out to five experts to give you the best insight on what this bill means for the cannabis industry...
Why the H.R. 420 Bill Is a Game Changer
As always, we wanted to share exclusive insight with Money Morning readers from some of the top minds in the cannabis space.
Sam D'arcangelo is the Project Manager of HeadCount's Cannabis Voter Project, a non-partisan voter engagement organization.
Sam says we're at a tipping point for cannabis thanks to the most pro-cannabis Congress in history...
"The new Congress is the most pro-cannabis reform in history, and for the first time ever, a majority of the House of Representatives supports allowing states to legalize if they wish. Legislation like H.R. 420 will probably be taken more seriously than it ever has been in the past, though bills that take a more state rights approach have a better chance of actually making it through Congress. Still, it's become increasingly clear that more and more legislators are realizing cannabis reform is good politics, and something many voters care about deeply."
The next cannabis expert we spoke with believes the federal government needs to decriminalize marijuana and stop wasting taxpayer dollars...
Perfect Pot Stock Portfolio: Every single stock is in the black. Learn more.
Charlie Finnie is the Chief Strategy Officer of MariMed Inc. (OTCMKTS: MRMD), a multi-state cannabis organization that develops, owns, and manages cannabis facilities and manufactures, licenses, and distributes top brands and innovative products.
He thinks the change is long overdue.
"We applaud Rep. Blumenauer's bill, which seeks to decriminalize cannabis at the federal level. With two thirds of U.S. voters now supporting legalization, the federal government needs to stop wasting taxpayer dollars to incarcerate citizens for using cannabis. The details of the legislation should be weighed and worked out thoughtfully. The alcohol regulation model is a useful starting point. Most would agree that it has generally worked."
While our next expert believes this bill will have a tough time making it through Congress, they do believe it will help politicians have a better understanding of the cannabis industry.
Erik Knutson is the president of Keef Brands, the creator and manufacturer of cannabis-infused products such as Keef Cola, Keef Sparkling, OilStix, and VitaCanna.
"Rep. Blumenauer has been an amazing proponent of the cannabis industry for many years. This bill, which our new Colorado Governor, Jared Polis, first introduced to Congress several years ago, would effectively end prohibition immediately. Although it will probably have a tough time making it through this Congress, every piece of legislation that is introduced helps legislators better understand the industry and the issues we currently face under prohibition."
David Ehrlich is the COO of Zodaka, the safest, most reliable cannabis industry payment system on the market. Its software provides 100% domestic payment processing without reserves, chargebacks, high fees, or risk of shutdown.
David reasons this could also help bring in more investments to the marijuana space, as it will make large institutions feel more comfortable with the industry.
"Representative Blumenauer's recently introduced H.R. 420 Bill is a simple (yet significant) step towards the mass legalization of cannabis in the United States. Over the last six months, we have seen large companies invest in marijuana, such as Constellation Brands $2 billion investment in Canopy Growth. Major corporations are investing in cannabis because they knew legalization was inevitable far before this bill was introduced. The introduction of H.R. 420 (and other bills like it) at the federal level means companies will be more confident that cannabis is a smart investment and begin getting involved in the industry in a major way."
Finally, the last expert we spoke with believes this bill shows just how out of touch Washington is with marijuana laws.
Derek Riedle is the publisher of Civilized, a premium media and lifestyle brand that expands modern cannabis culture, reflecting the millions of motivated, productive adults who choose to have cannabis as a part of their lives.
"The federal cannabis laws in the U.S. are outdated and out of touch. Americans want to see an end to prohibition, and it's about time the government take action to remove cannabis from the federal controlled substances list."
We want to thank all the experts for speaking with us.
But before you go, we also had to make sure you were fully aware of the biggest and best cannabis investment opportunities.
This bill is coming along at just the right time...
This IPO Explosion Could Mint a New Generation of Millionaires
We're about to see an explosion of new cannabis IPOs hit the market. And for smart investors who get in on IPO day, the gains can be incredible.
We're talking about the potential for each of these stocks to soar 200%, 500%, 1,000% or more, practically overnight.
And today, we've uncovered four potentially high-flying companies set to go public before Jan. 31 that you can't afford to miss out on.
Just click here to find out more.