After peaking twice just south of $16, the price of silver has started to back off.
The precious metal put in a stellar performance in the two months between early November and early January, climbing from $14 to almost $16.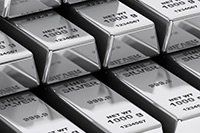 That was a powerful 14.3% move. Now, we're starting to see some traders take profits and even rotate back into stocks which have turned higher in the last three weeks.
But even the rally in stocks has likely been overdone, and a near-term sell-off in the broader markets could lie ahead.
With silver prices holding near their 200-day moving average and possible renewed weakness in the U.S. dollar, we could well see this precious metal return to rally mode before long.
And that could propel it to take out a key psychological level in the process.
Here's how the price of silver is moving now, plus three different ways to profit from this silver rally in 2019...
Sign up for SMS so you never miss special events, exclusive offers, and weekly bonus trades.
Here's How the Price of Silver Is Trending Now
The price of silver drifted lower in the last few trading days after hovering steadily near the $15.60 level.
The metal was fighting not only a relief rally in the U.S. dollar, but also a steady climb in the broader markets. That culminated on Friday with the S&P 500 hitting levels not seen since early December.
"Federal Rent Checks": Thanks to an obscure law, over 100 government agencies are required to pay rent. By following a simple investment strategy, you could receive checks of up to $1,795 every month. Read more...
The excitement of that rally sucked capital away from precious metals.
Silver managed to hold above $15.50 until Friday, then sold off as the DXY rallied from near 96 to 96.4 that morning.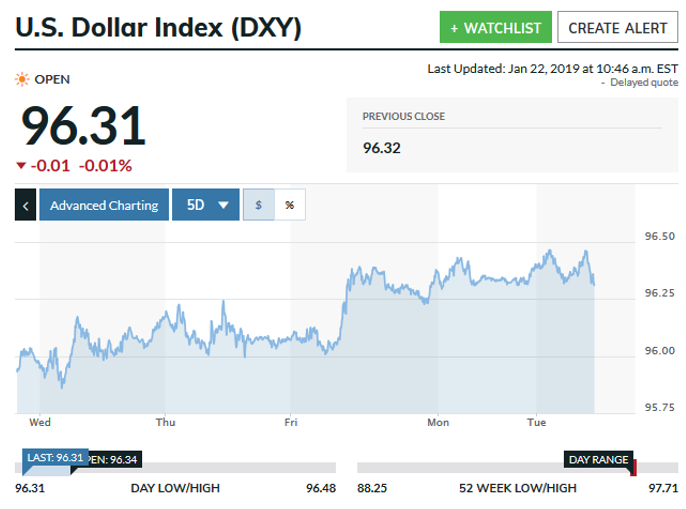 Here's a look at the DXY chart:
That was enough to beat silver prices back from $15.50 to Friday's close at $15.31.
Then on Monday, the silver price drifted lower to close the shortened trading day at $15.15. But dollar volatility and a host of warnings emanating from the Davos World Economic Forum pushed stocks back, allowing for a small reprieve in silver to the $15.30 level.
Here's where I see the price of silver heading next...
What's Next for the Price of Silver in 2019?