Last year was one of the best yet for marijuana stocks, but 2019 is shaping up to be the biggest year ever for cannabis.
While the industry still conjures up thoughts of recreational smokers getting high, this year the focus will shift to healing and wellness, thanks to the growing uses for CBD.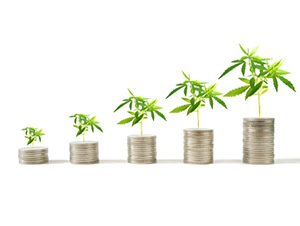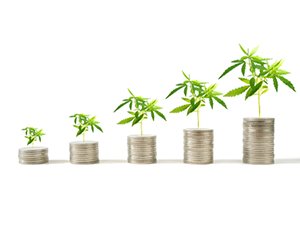 CBD is short for cannabidiol, one of many compounds found in the marijuana plant. Unlike its more well-known cousin THC, CBD does not get you high. Instead, it promotes wellness, pain relief, and easing of the symptoms of disease.
It's basically nature's pharmacy wrapped up in one compound.
And CBD shows enormous promise for treating a variety of symptoms, including post-traumatic stress disorder, autism, schizophrenia, and more. It is also rapidly gaining popularity as a general health treatment, with people taking it for everything from keeping energy up to arthritis. It even helps treat your cats and dogs.
That's why 2019 will be the "year of CBD," and it could mean another huge year for cannabis stocks...
Another Big Step Along the Legalization Road
The passage of the Farm Bill in December effectively "normalized" CBD across the country by making industrial hemp - another form of the marijuana plant and a major source for CBD - legal at the federal level.
Hemp farmers can now access banking services, crop insurance, and even federal grants for research that were previously unavailable. For manufacturers and distributors, it is now crystal clear that it is 100% legal to transport hemp and hemp products - including CBD - across state lines.
[Trending] Four of the Hottest IPOs Set to Hit in 2019 - Find Out How to Profit as Demand for New Cannabis Stocks Heats Up - Click Here...
Moreover, retailers can now sell CBD without fear of enforcement action by the government. Hemp and CBD will be worth about $2 billion this year and as much as $22 billion by 2022, according to cannabis research firm Brightfield Group.
Money Morning Director of Cannabis Investing Research Greg Miller went as far as predicting that 2019 will be remembered as "the year of CBD."
And for good reason.
In March, the United Nations is set to de-schedule CBD, whether sourced from marijuana or hemp, giving CBD products the green light around the globe.
In 2018, the website Marijuana Moment tracked 915 bills in state legislatures and Congress concerning cannabis, medical marijuana, and hemp. A significant percentage of filed marijuana legislation moved forward, with at least 147 bills being signed or enacted in 35 states and the District of Columbia. This year, legislators in state capitols and on Capitol Hill have already filed more than 350 cannabis-related proposals.
All of these catalysts will combine to create a market unlike anything we've ever seen before.
Legalization will unleash the pent-up demand of the public and open the floodgates of supply from companies that have been planning and waiting for this to happen.
Within a few months, CBD will be available in a much larger variety of products. You will be able to choose among tinctures (currently the primary form of consumption), gummies, energy shots, nutrition bars, skin moisturizers, and CBD-infused products like honey, coffee, and beer.
And with the rapidly increasing acceptance of cannabis in general and CBD in particular - these products - old and new - will be available in everyday stores across the nation. Ask your friends if they use CBD products already as a supplement or calming skin lotion. The number of positive answers will likely surprise you.
With that sort of pent-up demand brewing just below the surface, jumping into the cannabis market right now - before it goes completely mainstream - could be the profit opportunity of a lifetime.
Here's exactly how to do it...
The Marijuana Stocks We Are Watching Right Now
[mmpazkzone name="in-story" network="9794" site="307044" id="137008" type="4"]
There are many companies in the marijuana and hemp industry with the potential to make some serious money over the next few years.
And there are many wannabes that will flame out well before they turn a profit. That's why it's important to have access to insiders plugged into the industry - the experts who can separate the players from the pretenders.
Greg Miller is exactly the type of expert you'll want to rely on.
One of Miller's favorite stocks in this space has been and still is Aurora Cannabis Inc. (NYSE: ACB). Last December, the company announced it had entered into a deal to supply cannabis products to Mexico, which recently legalized medical cannabis.
Plus, Aurora is in talks to work with Molson Coors Brewing Co. (NYSE: TAP) to develop cannabis-infused beverages. Coca-Cola Co. (NYSE: KO), has also shown an interest in moving into the marijuana business and partnering with Aurora to create a CBD-based health drink.
With massive potential catalysts like these, Aurora has plenty of room to run in 2019. Wall Street analysts are already projecting a potential 80% surge in Aurora share price, and these analysts are still underestimating the explosive potential of cannabis.
Our expert research is uncovering even more - and bigger - profit opportunities for 2019, and you can find out all about them right here...
These 3 Stocks Are the Key to 2018's Greatest Profits
The 2018 midterm election was a turning point for the cannabis industry.
We expect nothing short of historic profits by the end of the year.
But not all pot stocks will hand you life-changing wins. In fact, often the companies making headlines are least likely to see the biggest gains.
These three stocks, on the other hand, are flying under the radar… for now. Each of them could see exponential stock price acceleration at any moment, and if you get in before that happens, you could turn a token stake into a lifetime of wealth.
I don't know of any other sector providing anywhere near this level of growth now.