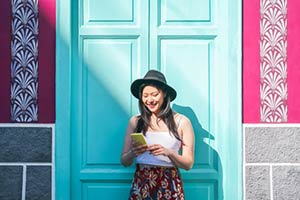 If you bought Google stock - now Alphabet Inc. (NASDAQ: GOOGL) - back in 2010, you're undoubtedly pleased with your decision.
Every thousand dollars invested in GOOGL at that time is worth over $4,300 today.
For those who didn't make that investment, though, there's no need to kick yourselves over it. We've got an opportunity to reap gains of more than 300% from the next up-and-coming Internet search giant.
To do that, we don't have to travel back in time. We just have to travel across the ocean... to China.
Over the last eight years, U.S. Internet users grew about 23.7% to 275 million, according to Statista.
But with over 75% of the country's population online, there isn't much room left for growth. Our total user base is only expected to grow about 6% between 2015 and 2022.
China is another story, though. You might have heard recently about the country's economic slowdown, but GDP is still expanding at a 6.6% annual pace - a figure more than double the United States' 3%.
More importantly, China's 802 million Internet users only represent 57.7% of the country's total population.
There's still plenty of untapped potential there. Statista projects China's Internet user base to grow by 22% between 2015 and 2022 - almost quadruple the pace of the United States.
That means a couple hundred million more Chinese users in the next few years.
Just Revealed: The Secret to Potentially Growing Incredibly Wealthy Buying Straight-Up Stocks
Maybe you can see why Money Morning Chief Investment Strategist Keith Fitz-Gerald says it's time to forget the "FANGs" - that handful of American tech giants, including Alphabet (whose old name is represented by the "G" in "FANG").
Instead, Keith says we need to start looking at their Chinese equivalents, which have major growth spurts ahead of them.
But a number of indicators - including China's growth in Internet users - suggest one company in particular is headed for the biggest growth of all.
That's probably why it just received a top score from our Money Morning Stock VQScore™ system.
And you can get it for a small fraction of the price of Alphabet stock... for now, anyway.
Why the "Google of China" Is a Better Bet Than Alphabet
Join the conversation. Click here to jump to comments…
About the Author
Stephen Mack has been writing about economics and finance since 2011. He contributed material for the best-selling books Aftershock and The Aftershock Investor. He lives in Baltimore, Maryland.