In a society increasingly interconnected and data becoming more valuable, it should come as no surprise that our top tech stock to buy is poised for 100% growth.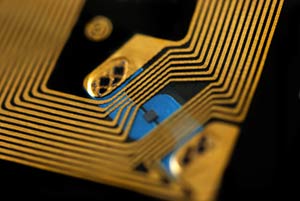 The news is packed with stories about major companies mining data and tracking customers, like the Facebook Inc. (NASDAQ: FB) scandal that dogged the company last year. But data mining is exactly what makes tech companies like Facebook and Alphabet Inc. (NASDAQ: GOOGL) so valuable.
But while these companies dominate the news thanks to their extraordinary profits, a smaller, lesser-known company is at the heart of the technology that makes it possible.
This technology includes smart card readers, magnetic stripe readers, optical card recognition, and biometrics. There are also state-of-the-art systems to analyze, store, and report on this massive amount of data.
A perfect example of this tech in use is the new Amazon Go stores, where customers can walk into a brick and mortar store and "grab and go" without having to visit a cash register. This is possible with radio frequency identification (RFID) technology. Every product in the store is tagged with an RFID sensor, and the store will know when a particular customer walks out the door, charging them accordingly.
Urgent: Renowned Author of Best-Selling Investment "Bible" Just Released His Newest Pick
RFID has even more mind-blowing potential. One of these chips, when embedded just beneath the skin, can allow a homeowner to wave their hand to unlock their front door. The technology can also be used to track livestock or pets. While there are still some privacy concerns about its use in humans, the technology can help medical professionals identify and monitor serious medical conditions in patients, potentially saving lives.
These are just a few examples of the way this technology can be used, which explains why an explosion in the Automatic Identification and Data Capture (AIDC) market is expected in the coming years. Market research firm Meticulous Research reports that this space could produce revenue of $71.75 billion by 2022.
This is why we want to clue you in on a top tech stock to buy today.
This is a firm that produces the chips necessary for the automatic ID technology. And they also develop the software to make the systems work.
And that's giving them 100% growth potential, which might be too conservative…
Data Tracking Makes This Is a Top Tech Stock to Buy