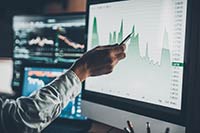 The markets have largely recovered from the December 2018 downturn. Year to date, the S&P 500 is up more than 5% in just one month.
However, ongoing geopolitical concerns about weakness in China have weighed on many solid companies with strong upside. Big-name financial and technology stocks are well off their 52-week highs.
The question is how to determine whether these stocks are "cheap" right now. Anytime an entire sector experiences a sell-off, it's almost a guarantee that strong stocks have been undeservedly pulled down with the rest of the market.
One of the top tools to identify cheap stocks with high upside is the Money Morning Stock VQScore™ system. As Money Morning economist Garrett Baldwin explained this week, the VQ Score system is the first tool he uses to find investment ideas.
A "Blueprint to Financial Freedom": This guy used this secret to become a millionaire. Now he's sharing it live on camera – and you could learn how to set up a series of $822… $1,190… $2,830 payouts every single week.
Today, we're scanning through the thousands of stocks on the market and identifying the most inexpensive stocks with the highest upside.
These three stocks not only trade below a price-to-tangible-book value of 1, but they also have perfect VQScore ratings.
That means you're paying for strong assets at less than their book value and buying stocks that are ready to break out in the next 12 months.
These are the three most undervalued stocks to buy now…
Undervalued Stocks to Buy Now, No. 3: Goldman Sachs Group Inc.
Goldman Sachs Group Inc. (NYSE: GS) stock is trading under $200 per share, well below the 52-week high of $275 per share.
The financial institution has been exposed to the broader macroeconomic woes that have rattled sentiment. Today, the company has a VQScore of 4, which places it squarely in our "Buy Zone".
At some point, a stock with big long-term upside like GS gets so oversold it becomes cheap. Goldman Sachs is trading at very cheap levels right now. Its price/earnings ratio of 7.91 is interesting, but even more so is the fact that it's trading at a price-to-tangible-book value of just 0.87. If you were to liquidate Goldman Sachs, the value of the stock would be 14.9% higher from Monday's closing price.
Goldman's one-year price target is $229 per share, which also represents about 14.9% upside from today's price level.
That upside is roughly double the historical annual return of the S&P 500.
Undervalued Stocks to Buy Now, No. 2: Speedway Motorsports Inc.
Speedway Motorsports Inc. (NYSE: TRK) owns eight of the premier tracks on the NASCAR circuit, including Charlotte Motor Speedway and the famed Bristol Motor Speedway.
With 24 sanctioned races a year, the company represents one of the cheapest ways to tap into the growth of U.S. sports entertainment.
It also has our highest VQScore right now.
As we noted in the fall, Speedway Motorsports is an attractive takeover target. With sports gaming one of the hottest areas of M&A today, the owner of several key racetracks around the country could provide a solid complement to the growing legalized gambling movement. The stock trades at an Enterprise-Value-to-EBIT ratio of 10.7, which is an attractive level for would-be buyers.
The stock is also incredibly cheap. Shares are trading at a price-to-book value of 0.75.
Its price-to-tangible book value of 1.17 is nearly 80% lower than the industry average of 6.55x.
Finally, the stock offers cheap cash flow, with a price-to-cash-flow value of 6.63 times.
Now, here's the most undervalued stock you can buy right now…