Lombard Odier, one of the most prestigious banks in the world, says it is finding the most interesting investment opportunities in the "Far East."
If you've been paying attention to the financial news lately, that might come as a surprise.
The trade war with China has hung over the stock market like the sword of Damocles since the beginning of last year.
And a slew of companies - from Apple Inc. (NASDAQ: AAPL) to Nvidia Corp. (NASDAQ: NVDA) - have blamed poor earnings growth on a slowdown in China.
In fact, China's latest gross domestic product (GDP) numbers showed its economy growing the slowest it has in 28 years.
So why is one of the most prestigious private investment banks in the world pivoting toward Asia, including Chinese stocks?
You'll know exactly why when you see this chart...
China and India Are Fueling Global Growth
Despite the hand wringing over China's alleged slowdown, the BRIC powerhouses of China and India offer the most explosive growth potential of anywhere in the world over the next decade.
Take a look at the staggering potential in the chart below. China's potential growth is nearly double that of North America. Plus, India pushes the rest of Asia to nearly double Europe's expected growth...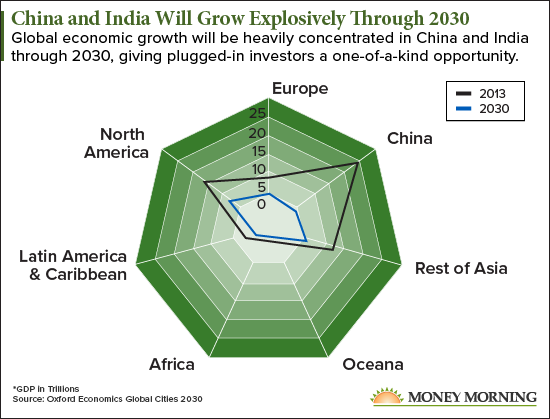 It's no wonder Patrick Odier, the Senior Managing Partner of Bank Lombard Odier, calls this one of the "privileged regions" and says his firm is scooping up Asian equities.
THREE STATES just legalized marijuana, and these three stocks could potentially see a 1,000% boost. Click here to learn more...
And if you're worried about China's so-called "slowdown," consider this: China's GDP growth in Q4 of 2018 dropped to 6.4%, down from 6.7% a year earlier. That's what got the financial press so worked up. To put that in context, the U.S. GDP growth averaged roughly 2% per quarter over the last decade, fueling stocks nearly 200% higher.
If a mere 2% GDP growth could power the longest bull market in history, then imagine what over 6% growth will do.
Money Morning Chief Investment Strategist Keith Fitz-Gerald doesn't pull any punches about what that means for you: "The Red Dragon has every ingredient needed when it comes to building the kind of wealth most investors crave but very few will ever achieve."
And India's economy is no slouch either.
India's GDP growth is projected to jump from 6.68% in 2017 to a staggering 7.73% by 2022. China's economy is larger, but India's is growing even faster.
In fact, in a new research report from Oxford Economics, the top 10 fastest-growing cities by GDP over the next decade will all be in India.
This level of growth is simply too incredible to ignore, especially when American stocks are sitting near record-high valuations. No one knows this better than Warren Buffett, who warned shareholders last year that he couldn't find many deals in this overpriced environment.
Buffett told Berkshire Hathaway (NYSE: BRK.B) shareholders last year that "sensible purchase price" was an obstacle in nearly all deals he reviewed in 2017.
But in August 2018, Berkshire found a deal they liked in India.
Berkshire took a $360 million stake in Paytm, a digital payment company and Berkshire's first Indian investment. While you won't be able to follow Buffett's footsteps by buying into a private company, it's another sign of the massive potential in India's market.
Take Tata Motors Ltd. (NYSE: TTM) for example. The Indian carmaker has nearly tripled its profits since 2010 and has grown sales for nine of the last 10 years. Plus, it sports a price/earnings ratio of just 12.6, about half of the S&P 500 average, so you're not overpaying to access those profits.
Wall Street is bullish on the firm's growth too, with analysts giving Tata stock price targets as high as $31 a share, nearly 150% higher than its current $12.58 a share.
You're not getting that sort of growth potential with General Motors Co. (NYSE: GM). Its earnings hang by the thread of a 0.24% profit margin as the company overhauls its lineup to keep up with changing consumer demand. It's no wonder the consensus projection for GM stock is a mere 16% gain in 2019.
However, Tata only gives you exposure to India's market, when all of Asia is booming.
We think it's better to tap into both China and India's incredible growth rate, and the broader region all at once.
That's why the company we're going to show you is what Keith calls the "best buy you can make today."
Not to mention, this company is investing all over Asia as we speak, including a $4 billion investment in Southeast Asia's e-commerce leader.
This is our "one-stock wealth machine."
The One Stock to Own in Asia