Money Morning Global Energy Strategist Dr. Kent Moors recently shared his 2019 crude oil price prediction with his readers.
While paid-up Energy Advantage subscribers also received insight into LNG and renewables, we're making the oil price forecast public today because it's simply too important for you to miss.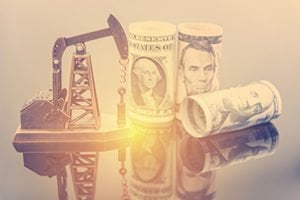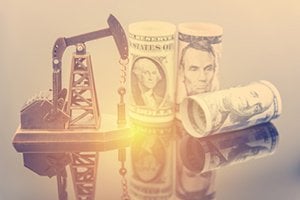 Crude oil had a wild fourth quarter to close out 2018, but it left oil investors scratching their heads about what's coming next.
Both WTI and Brent crude peaked on Oct. 3 and then went into a sharp decline through the close of trading on Dec. 27. Brent crude oil, the primary global yardstick out of London that is set daily, lost 39.8%. West Texas Intermediate (WTI), which is the American benchmark, dropped 41.6% over the same period.
But prices swung back up in short order. On Dec. 26, oil prices surged 8% in a single session.
Since then, oil prices have steadily climbed, rising above their 50-day moving average in mid-January for the first time since October.
But Dr. Moors says the whipsaw movement of oil prices makes sense when you look at the big picture.
How to Profit Off This $11.1 Billion Money Pool: By following a few simple steps, one IRS directive could help set you up to receive checks of up to $1,795 every single month thanks to a genius investment. Learn more...
We tend to see a combination of institutional investors re-balancing portfolios, loss-taking for tax purposes, and lowered liquidity during the end-of-the-year cycle. Oil's price drop wasn't totally unpredictable.
That's also why investors shouldn't read too much into it. In reality, oil's rally since the start of the year is much more important...
The Real Price of Oil Isn't Obvious
Dr. Moors has written extensively about the nuances of assigning a dollar value to a barrel of oil, whether it be an actual physical barrel of oil or a futures contract. It's a process rife with manipulation.
In short, he's found the "true" price of oil isn't necessarily where it sits today.
According to Kent's proprietary algorithm, oil prices are currently sitting at about 21% (Brent) and 18% (WTI) lower than the effective crude price should be. This indicates that the market is oversold and has been driven by hype instead of fundamentals.
This is the case for both the commodity and the companies that scout, drill, produce, refine, and transport the oil.
There are at least five factors that continue to hold back oil prices artificially:
Renewing sanctions on Iran.
The collapse of production in Venezuela.
Crippled exports out of Libya due to civil war.
Canada withholding 300,000 or more barrels daily due to pricing concerns.
An escalating debt burden from U.S. producers that are becoming cash-strapped while production cuts kick in from Russia and OPEC.
This Russia-OPEC move could result in over 1.4 million barrels per day being pulled from the market.
But Dr. Moors is convinced these factors will be short-lived.
In his latest crude oil price forecast - one we are giving to you simply for reading on - Dr. Moors shows us exactly how high oil prices can go in 2019.
That includes two ways to turn his prediction into profits...
Our Complete 2019 Crude Oil Price Prediction