The best penny stocks to buy today offer investors an affordable entry point into today's market without sacrificing a bit of growth potential.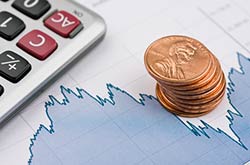 The U.S. Securities and Exchange Commission (SEC) defines penny stocks as stocks trading for $5 or less per share. That means share price changes of a few pennies could send these stocks soaring.
Now, penny stocks are a speculative asset class and can be volatile. It's best to budget a small amount of your portfolio for penny stocks to mitigate the risk. That way you can afford a potential loss, but will be rewarded with a stock that triples in value.
Plus, investors searching for the best penny stocks should do careful research and stick to stocks traded on the major exchanges, like the New York Stock Exchange or the Nasdaq. Buying a pink sheet stock is much riskier since these stocks don't meet the financial reporting standards of major exchanges.
But diligent penny stock investors can be rewarded, and we're here to help you find the penny stocks with breakout potential.
We've used the Money Morning Stock VQScore™ - our proprietary stock ranking system - to find only the best penny stocks.
The VQScore system ranks the 1,500 most profitable companies based on growth potential. Then we screen again for the companies trading for less than $5 per share.
That's left us with three top penny stocks to buy right now, including one that could skyrocket more than 250%...
Best Penny Stocks to Buy Today, No. 3: Southwestern Energy Co.
Sign up for SMS so you never miss special events, exclusive offers, and weekly bonus trades.
Southwestern Energy Co. (NYSE: SWN) specializes in the extraction of natural gas in areas spread throughout North America.
Southwestern has rights to drill in more than 918,000 acres across Pennsylvania and West Virginia, the energy-rich area of the Appalachian Basin.
See Now: Our founder just released his No. 1 pick for 2019. Don't miss this. See the urgent briefing here...
Both demand and volatility have risen in the energy sector last year, leading to SWN's gross profits climbing an impressive 58% during the past two years. That's a sign the company is well managed enough to capitalize on rising demand while navigating an uncertain climate.
Smart management is also how SWN's return on equity (ROE) has risen to an equally impressive 29%, far above the average ROE of 1.97% in the oil business.
Currently, SWN trades at $3.78 per share. But Wall Street analysts believe that the share price could soar to $7.25 in the coming year, a potential 92% gain.
Best Penny Stocks to Buy Today, No. 2: Just Energy Group Inc.
Canada-based Just Energy Group Inc. (NYSE: JE) is an energy firm serving global clients. About 4.5 million customers are with such well-known affiliates as Commerce Energy, Hudson Energy, and Tara Energy.
JE is a supplier of natural gas and electricity to six Canadian provinces and 13 U.S. states.
The company has grown its profits for three straight years. Its profits are now over eight times higher than they were in 2016.
And it's grown its profits all while slashing its debt. JE's debt is less than half of what it was in 2013. That's a great sign for the company's growth, since it hasn't paid for its growing bottom line by ballooning debt.
Even better, this stock is flying under the radar.
Just Energy trades at an unheard-of price/earnings (P/E) ratio of just 1.66. The S&P 500 average P/E ratio is over 25.
With these numbers, it's no wonder JE is a breakout candidate. The stock trades for $3.52 a share, but analysts are predicting its share price could surge to $9.99 a share, a 184% gain.
But the best penny stock on our radar has the potential to blow these out of the water.
It could nearly quadruple your investment...