Investing in biotech stocks can be a dicey proposition in the current environment. It's a volatile industry to invest in, but the gains can be spectacular.
Thankfully the Money Morning Stock VQScore™ system can take the risk out of the equation.
Our proprietary stock picking system analyzes thousands of stocks every single day and shows us the picks that are priced for maximized returns.
And this week, three biotech stocks earned our highest score.
In fact, I would make the argument that now is the perfect time to buy biotech stocks.
The entire industry is in the crosshairs as the government refocuses its attention on drug prices.
In his State of the Union address, U.S. President Donald Trump touted his administration's ability to lower drug prices, citing December 2018 numbers that showed the largest decline in drug prices in 46 years.
A "Blueprint to Financial Freedom": This guy used this secret to become a millionaire. Now he's sharing it live on camera - and you could learn how to set up a series of $822... $1,190... $2,830 payouts every single week.
That statement was a full frontal assault on those in Congress who wish to limit profits for those biotech companies investing in research and development.
You can't have progress without profit.
We can expect Congress to keep the lions at the door in terms of limiting what companies can charge for their medicines.
On the flip side, we have a market that has punished biotech stocks in anticipation of Democratic efforts to change the current paradigm.
That is the opportunity the VQScore is identifying today.
Going further, the companies we have today also have the added benefit of an industry ripe for consolidation.
Bristol-Myers Squib Co. (NYSE: BMY) made a gigantic offer to buy Celgene Corp. (NASDAQ: CELG) in late 2018.
With Celgene trading for approximately $60 per share, Bristol came swooping in to buy the company in a deal valued at approximately $100 per share. Who would argue with a quick 66% gain like that?
Now, each of the biotech stocks identified by our system have both breakout potential and are also desirable takeover targets.
Here are my three favorite biotech stocks to buy today...
[mmpazkzone name="in-story" network="9794" site="307044" id="137008" type="4"]
Best Biotech Stocks to Buy Now, No. 3
Having enough cash on your balance sheet to fund research and development is critical for biotech stocks. In the case of Enanta Pharmaceuticals Inc. (NASDAQ: ENTA) the company is armed with $325 million in cash according to its last earnings report in 2018.
That's approximately 20% of its current market capitalization.
More importantly, the company has a number of drugs in trial stage that would be attractive to any potential acquirers.
Shares of Enanta traded for over $100 per share six months ago prior to the last election that saw Democrats - perceived foes of drug companies - make significant gains in Congress. They've pulled back slightly, trading just over $92 per share.
Analysts have a high price target of $130 for this stock, which would represent a 41% jump from here.
We also love this stock because it trades at 20 times earnings compared to an average of 27 for the industry.
Enanta is poised for a breakout.
Best Biotech Stocks to Buy Now, No. 2
When I'm looking for a breakout stock, the single most reliable indicator of forthcoming gains can be found in analyst estimates for earnings.
Specifically, if earnings are expected to grow by a large percentage in the current fiscal year, the odds favor fast gains.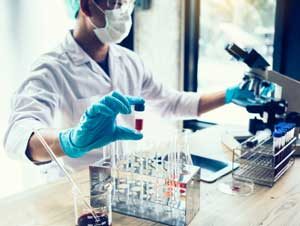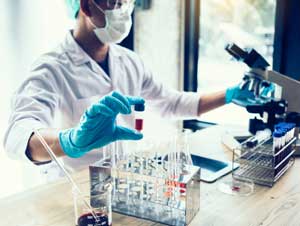 For 2019, analysts expect Corcept Therapeutics Inc. (NASDAQ: CORT) to grow profits by 66%.
Trading for 20 times earnings, Corcept is quite the bargain relative to expected growth.
After a tepid profit forecast released by the company in January, shares of Corcept fell dramatically. Since mid-December, this stock has pulled back 35%.
That selling provides an entry point for what should be a breakout stock the remainder of the year.
In fact, analysts have a high price target of $29 for this stock. That would be a gain of more than 150% from today's price...
Best Biotech Stocks to Buy Now, No. 1
The Celgene acquisition opens the door for other companies to complete their own takeovers.
Leading the way as a potential buyout stock has to be Bio-Rad Laboratories Inc. (NYSE: BIO).
Bio-Rad is a biotech research and diagnostic powerhouse.
Don't be fooled by the high-dollar stock price of approximately $250 per share.
Bio-Rad has a market cap of only $7 billion, compared to a market cap of $30 billion-plus for Celgene before its buyout offer from Bristol Myers.
At that size, a company like Merck & Co. Inc. (NYSE: MRK) with a market cap of almost $200 billion could easily make an acquisition bid.
On a fundamental basis, Bio-Rad is compelling as well.
Analysts expect the company to grow profits in the next year by 24%.
Investors are willing to pay a premium for that growth. The same is true of a company like Merck looking to expand its biotech capabilities.
Any acquisition of Bio-Rad would surely pop the stock another 30% to 50%.
That's a breakout I would want to own now.
This Easy-to-Follow Blueprint Could Make You $15,000 Richer
America's No. 1 Pattern Trader used to be an average Joe scraping to get by. He never graduated from college, and he spent most of his career as a Home Depot customer service rep.
He didn't want to be stuck at a job he didn't like until he was 80 - so he taught himself how to trade. He found he had a knack for it, and he became richer than he ever thought possible.
Then he invented his patent-pending Money Calendar, and he knew it could change people's lives.
Now, for the first time ever, he's revealing all his trading secrets and strategies - so you can amass a fast fortune for yourself.
Step by step, click by click, he'll guide you through setting up your account - and show you how to set up a series of take-it-to-the-bank payouts of $605... $822... $1,190... $2,830 every single week.
There's no guesswork involved, and the best part is - it'll only take you 10 minutes per day! Click here now to start this once-in-a-lifetime journey...