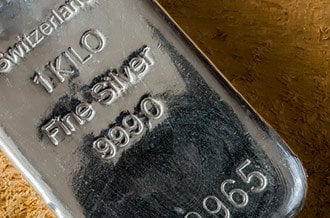 Since peaking just above $16 in late January, the price of silver has moved into consolidation mode.
In fact, in last week's update, I told you not to be surprised about any pullback going forward.
So far it's been a pretty mild correction in silver prices, which have dropped from a $16.07 peak to their current level near $15.65.
Still, the precious metal is up 12% since November and has held up well despite recent strength in the U.S. dollar.
That suggests both silver and the dollar are being bought as a safe haven against geopolitical uncertainty, anticipated inflation, or both.
The price of silver and the dollar tend to move in opposite directions, but there are exceptions. Here's how similar situations have played out before - and what to expect next from silver prices in 2019...
Sign up for SMS so you never miss special events, exclusive offers, and weekly bonus trades.
Here's Why the Price of Silver Is Consolidating This Week
The silver price spent the first part of last week in a weakness mode as the dollar climbed steadily.
That took silver from $15.90 on Tuesday morning all the way down to $15.65 by early Thursday.
A "Blueprint to Financial Freedom": This guy used this secret to become a millionaire. Now he's sharing it live on camera - and you could learn how to set up a series of $822... $1,190... $2,830 payouts every single week.
Meanwhile, the dollar continued to climb as investors and traders alike sought it out as a safe haven.
As Thursday progressed, silver bounced back, closing at $15.74. And the metal was then able to follow through on Friday, closing at $15.82.
But Monday's action in the DXY pulled the index back above 97, a level it hasn't seen since late December. That did weigh on silver prices, but they managed to consolidate sideways with the metal closing at $15.68.
Now, here's where I see the price of silver heading next...
What's Next for the Price of Silver in 2019