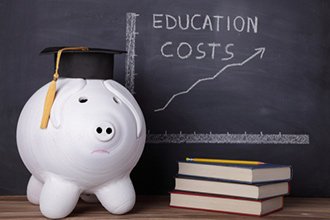 Last Tuesday, U.S. President Donald Trump discussed the numerous challenges facing the United States. From immigration reform to Chinese trade disputes, from nuclear treaties to U.S. economic growth, the president touched on a steep road ahead.
But one topic that didn't receive any attention was the rising cost of college and post-graduate education.
According to the personal finance website Make Lemonade, 44 million Americans now own roughly $1.5 trillion in school debt. This is the second highest level of consumer debt in America after mortgages. That debt has reduced Americans' ability to buy homes, start families, and more.
And the crisis is about to get a lot worse with little relief on the horizon.
Today, I want to discuss the broader economic trend, several innovations to address the crisis, and one stock to buy to start profiting from this growing debt pile...
The Harsh Reality of the Student Loan Crisis
Make no mistake. The student loan "crisis" is entirely manmade.
The U.S. government will write a check for anyone who wants to go to college - no questions asked. All you need to do is sign up and fill out a few papers, and you can get access to hundreds of thousands of dollars in loans for an education you might not have needed in the first place.
Breaking: Tom Gentile just recorded all of his most lucrative trading income secrets for you in America's No. 1 Pattern Trader Cash Course. It's packed with his most lucrative secrets to potentially start collecting anywhere from $1,190, $1,313, and even $2,830 in consistent income - each and every week. And today, it can be yours for only $1...
Solutions to the crisis haven't presented themselves in bulk. The federal government has provided forgiveness to students who work in the public sector. Democrats are pressing for greater levels of student loan forgiveness ahead of the 2020 election.
But for any of that to happen, it would require Democratic control (a supermajority) in Congress and the White House. Plus, you can expect a jammed-up court system over such legislation.
The reality is that we would be at least four to six years away from that possibility. In the meantime, innovation in the private sector will take precedent on how to address the student loan crisis.
One idea came recently from Purdue University. The school will allow students to get an education - and then sign over a part of their salary for the next 10 years. It's a start, but it's unclear if the school will aim to promote higher-paying STEM degrees or not.
That means the status quo could remain in place for the broader sector.
And if you want to make money trading on the ever-growing demand for college capital, we have the perfect stock for you to buy today.
This Dirt-Cheap Stock Can Help You Profit from the Student Loan Crisis