The price of silver started consolidating in late January and continued through the past week.
We knew to expect this, as I had pointed out the metal's fantastic rise from early November was due for a breather.
While silver prices dropped a little lower late last week to the $15.55 level, they quickly reversed and have already come close to the recent $16 ceiling.
And all of this has happened while the U.S. dollar index tacked on as much as 150 basis points.
Despite recent dollar strength, a dovish tone from the Fed may have capped rate hikes this year. That may limit the dollar's rally and boost the silver price as we move further into 2019.
Although the gold/silver ratio is stagnating, silver equities are soaring, and they're rallying at a faster pace than silver prices. This is a great sign for silver stocks and silver itself.
What's more, we've recently gotten a very bullish technical development in silver prices that also points to higher silver before long.
Sign up for SMS so you never miss special events, exclusive offers, and weekly bonus trades.
Here's what I'm watching...
How the Price of Silver Is Trending Now
Silver started out last week on a more neutral note, hovering around the $15.70 level, while the DXY managed to climb again toward 97.
Powerful Investment Income Stream: The Treasury is sitting on an $11.1 billion money pool. By adding your name to a special distribution list, you could begin collecting $1,795 or more every month. Get the details...
By midweek, the dollar index was trading back above 97. That did manage to dent silver prices, which dropped to an intraday low early on Thursday. At $15.53, silver wasn't getting much Valentine's loving. But a mild turnaround in silver pulled it back up to close at $15.62.
Here's a look at the DXY for the past five trading days...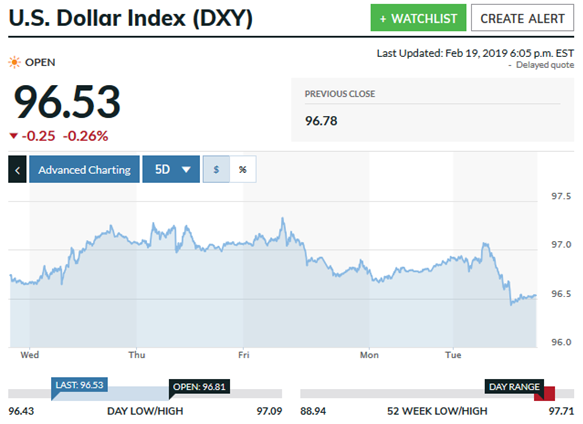 The dollar took another run higher on Friday, peaking at 97.29 near 8:30 a.m. But by 2 p.m., it was back below 97 at 96.86. That was silver's cue to rally, which it did. The metal rallied quite strongly, heading into the long Presidents Day weekend at $15.79.
On Monday, silver consolidated a little higher at $15.81 as the DXY moved sideways near 96.77. But as investors and traders returned on Tuesday, gold powered higher to close at $1,340 while silver rallied to end near $16 at $15.96.
Now, here are the technical factors that could drive the price of silver even higher from here...
Here's Where I Expect the Price of Silver to Head Now