Peloton's stock (NASDAQ: PTON) was one of the most-anticipated IPOs of 2019. How did the public offering go? And should you buy Peloton stock?
We're going to answer your questions today. This piece breaks down everything you need to know about Peloton's IPO, including whether buying shares of Peloton stock makes sense for you.
First, let's recap Peloton's IPO…
BONUS:
Spot the IPOs that can actually make you money – and leave the flops to the masses – by asking these 5 simple questions. Click here.
Why the Peloton IPO Got So Much Hype
You've probably seen commercials and advertisements for Peloton's stationary bicycles. And you may have also seen their price tags. A basic bike package starts at $2,245, with Peleton treadmills starting at $4,295.  Compare that to the under $200 offerings on Amazon, and you might wonder how this company is raking in money.
But Peloton is much more than a stationary bike maker. It's also a streaming and digital content company.
Peloton subscribers are customers who pay $39 a month to access the company's classes. Some people spend an additional $12.99 for the Peloton mobile app.
"We stream 24 hours of live television content around the world every day. We have 10,000 classes on demand. It's a media company akin to a Netflix," according to Peloton co-founder and chief executive John Foley.
While comparing his company to Netflix Inc. (NASDAQ: NFLX) may seem bold, the numbers speak for themselves. Peloton announced in February 2020 that they had 712,000 subscribers.
That's up 96%, or about 362,000 more subscribers than the year before.
Peloton won't release specific figures for its user base, but an analysis of credit card activity in Peloton's online store shows the company has doubled its subscriber base in just the last year.
The data suggests Peloton has overtaken Soulcycle, its main stationary bike competitor, as the nation's fastest-growing fitness company.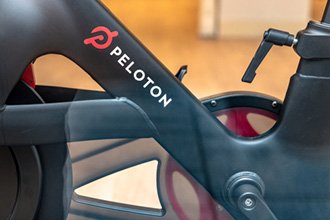 And that's translated into revenue growth for the five-year-old startup.
In 2020, the company is expected to have more than $1.5 billion in revenue. By 2021, that's expected to jump 47% to $2.3 billion.
It's also earning the company an eye-popping valuation...
Is Peleton Profitable?
As of its last annual report in 2019, Peleton was not profitable. At the time, the company reported a net income loss of $195 million.
This is not uncommon for newly public companies, but it is also not something to ignore.
Revenue is growing at an impressive clip (110% from 2018 to 2019). But so too are losses. The net income loss in 2018 was just under $48 million in 2018. That means losses grew 306% in that time period.
Profitability will remain one of the most important metrics to watch going forward.
How Much Is Peloton Worth?
Venture capitalists have piled more than $550 million into Peloton already, but the actual valuation of the company will be determined by the market.
Those financiers valued Peloton at $1.4 billion.
But last year's funding round left Peloton with a valuation of $4.15 billion.
Just Revealed: The Secret to Potentially Growing Incredibly Wealthy Buying Straight-Up Stocks
Now that the IPO is gaining steam, the latest valuation projections are for more than $8 billion.
Again, we simply won't know what the company is truly worth until the market decides. But these valuation numbers are coming from some of the world's largest banks with skin in the game.
In fact, the involvement of Goldman Sachs Group Inc. (NYSE: GS) and JPMorgan Chase & Co. (NYSE: JPM) is a major sign the IPO could be coming this year...
When Was the Peloton IPO?
Peloton started trading on the Nasdaq stock exchange on September 26, 2019.
Peloton hired Goldman Sachs and JPMorgan to lead the IPO. These banks valued the company at $8.1 billion and priced its stock offering at $29.
Many investors didn't agree with that valuation on opening day, though. Peloton's stock ended its first day on the Nasdaq 11.2% lower than its IPO list price.
Should I Buy the Peloton Stock?
[mmpazkzone name="in-story" network="9794" site="307044" id="137008" type="4"]
Deciding whether an IPO is a good deal or not completely depends on the price and value of the stock.
Without knowing how many shares will be issued and at what price, we can't determine whether Peloton is a good buy yet.
But while buying in on the IPO date could work out great, it can also cost you money. Unless you're getting access to shares from your broker before the IPO date, you're buying when someone with access is selling. That could be risky since well-connected insiders might know something about the company that you don't. It could also mean you're paying much more than the shares are worth just to pry them out of the insiders' hands.
There are two ways to get around this.
First, you can buy the First Trust US Equity Opportunities ETF Fund (NYSE: FPX).
FPX gets you access to all the hottest IPOS and spin-offs while mitigating the risk. Since they hold newly public companies, you'll get access to the latest tech unicorn's stock, as well as more established brands like Verizon Communications Inc. (NYSE: VZ) and PayPal Holdings Inc. (NASDAQ: PYPL).
That diversity helps stabilize your holdings while giving you exposure to newly public companies with the potential to soar.
Consider this - since Snap Inc. (NYSE: SNAP) went public in 2017, FPX is up roughly 25% while shares of SNAP plummeted 64%.
But the second way to profit from IPOs has even more upside potential. You can get insider insight from one of the most well connected authorities in one of the hottest markets in the world.
Danny Brody quit his job at one of the world's largest investment banks a few years ago to start his own venture capital fund.
And in the last 18 months, the IPOs he's run have made billions for investors.
Now, he's here with four new opportunities for investors like you...
An Explosion of Cannabis IPOs Is Headed Our Way
2019 is gearing up to see a record number of high-flying cannabis IPOs hit the market - each capable of unleashing millions of dollars into the market.
It's a true investing phenomenon.
Right now, there's a real chance to get in on a once-in-a-lifetime IPO one... two... even three times a MONTH for the next year.
All you have to do is click here to learn how you can profit from the world's most exciting investment opportunity.