The Peloton IPO could be one the first major IPOs of 2019, but investors might not be familiar with the exercise company.
We're going to change that today. Our guide will break down everything you need to know about the Peloton public offering, including whether buying shares of Peloton stock makes sense for you.
But before we get to that, here's exactly what Peloton does and why Wall Street is so excited for its IPO…
BONUS:
Spot the IPOs that can actually make you money – and leave the flops to the masses – by asking these 5 simple questions. Click here.
Why the Peloton IPO Is Getting So Much Hype
You may have already seen commercials and advertisements for Peloton's stationary bicycles. And you may have also seen their price tags. A basic bike package starts at $2,245. Compare that to the $145 offerings on Amazon, and you might wonder how this company is raking in money.
But Peloton is much more than a stationary bike maker. It's also a streaming and digital content company.
"We stream 24 hours of live television content around the world every day. We have 10,000 classes on demand. It's a media company akin to a Netflix," according to Peloton co-founder and chief executive John Foley.
While comparing his company to Netflix Inc. (NASDAQ: NFLX) may seem bold, the numbers speak for themselves.
Peloton won't release specific figures for its user base, but an analysis of credit card activity in Peloton's online store shows the company has doubled its subscriber base in just the last year.
The same data also suggests that Peloton has overtaken Soulcycle, its main stationary bike competitor, as the nation's fastest-growing fitness company.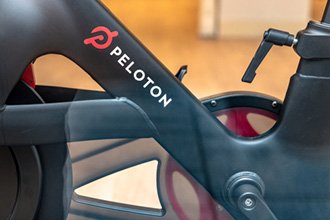 And that's translated into profitability for the four-year-old startup.
In 2017, the company brought in over $400 million in sales, 135% more sales than 2016. Peloton is expected to nearly double that figure in 2019, with analysts suggesting the company may make as much as $700 million in sales.
That's an excellent sign that the company's business model is working, and Wall Street is salivating over the chance to own a slice of those profits.
It's also earning the company an eye-popping valuation…
How Much Is Peloton Worth?
Venture capitalists have piled more than $550 million into Peloton already, but the actual valuation of the company will be determined by the market.
Those financiers valued Peloton at $1.4 billion.
But last year's funding round left Peloton with a valuation of $4.15 billion.
Just Revealed: The Secret to Potentially Growing Incredibly Wealthy Buying Straight-Up Stocks
Now that the IPO is gaining steam, the latest valuation projections are for more than $8 billion.
Again, we simply won't know what the company is truly worth until the market decides. But these valuation numbers are coming from some of the world's largest banks with skin in the game.
In fact, the involvement of Goldman Sachs Group Inc. (NYSE: GS) and JPMorgan Chase & Co. (NYSE: JPM) is a major sign the IPO could be coming this year…
When Is the Peloton IPO Date?
According to an interview given late last year, Chief Executive John Foley believes that 2019 is the year for a Peloton IPO.
According to Foley, it "makes a lot of sense" for Peloton to go public this year.
And now the company is taking its first big step toward a public offering by hiring bankers for the IPO.
Peloton hired Goldman Sachs and JPMorgan to lead the IPO. These banks are the source of the massive $8 billion valuation.
While there isn't an IPO date for Peloton just yet, everything is shaping up for a 2019 debut. Based on the company's current progress, we expect the Peloton IPO to be in the second half of the year.
What Is the Peloton Stock Ticker?
Unfortunately, we won't know the Peloton stock ticker until its IPO date.
It's one of the surprises companies don't have to reveal until the last minute. But we can still speculate.
The tickers "PELO" and "PTON" are both available. Alternatively, the company could go for a cleverer ticker, like "BIKE," which is also available.
Make sure you sign up for our IPO Watch Profit Alert, and you'll be among the first to find out when the company's IPO date nears.
But what investors really want to know is if they should buy Peloton stock on the IPO date…
Should I Buy the Peloton Stock?