Since the earliest civilizations, copper has had a central role in daily life.
It was used in currency coins as well as cookware and brassware like locks and keys. Then, as society and technology evolved, the need for copper grew exponentially.
Today, copper is a ubiquitous part of our electrical grid system, and it's essential to transportation for motors, wiring, radiators, and brakes.
In fact, after iron and aluminum, copper is the most used metal worldwide.
Now, with technology progressing at a breakneck pace, we've come to increasingly rely on this irreplaceable metal.
Demand for copper is set to grow steadily higher for years to come, but the supply side faces major headwinds.
And that has created the perfect setup as the natural resources complex enters a new bull phase. Let's take a look...
[mmpazkzone name="in-story" network="9794" site="307044" id="137008" type="4"]
Copper's Global Demand
According to the International Wrought Copper Council and International Copper Association, here are the major users of copper by region and end-use sectors at the end of 2017: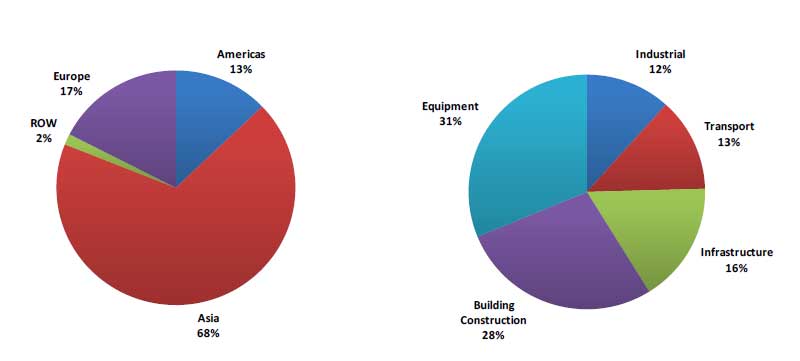 The first thing that stands out is just how important copper is in Asia.
Stunning: This new innovation will be like "adding twin turbos to the Bitcoin engine" - and could send its price to $100,000. Learn more...
Naturally, a large part of that is China, thanks to its immense manufacturing base. But we can't ignore China's own modernization over the past several decades, as well as the rest of Asia, whose transformation is in full swing.
For those economies, the buildout of infrastructure is not only necessary to improve living standards, but it's a prerequisite for them to produce many of the things they export.
Appliances, electronics, new construction and renovations, electric vehicles, and renewable energy are all sectors of the economy that demand copper.
The average internal combustion engine requires 50 lbs. of the metal, and a typical luxury car has about 1 mile worth of copper wire. As for EVs (electric vehicles), electric chargers need 1.5 pounds of copper, while fast chargers require as much as 17.6 lbs.
Modern wind turbines need huge amounts as well. The Vesta V80 1.8 MW model contains a stunning 6,600 to 7,700 pounds of copper.
Commercial and residential building wiring uses copper throughout. It's also widely used in electrical and telephone wire infrastructure as well as mobile phone networks and personal computers.
More recently, semiconductor manufacturers have developed a "copper chip." Used for circuitry in silicon chips, copper allows for better heat dissipation, lower energy demands, and higher operating speeds.
A Look at Copper's Demand and Supply
Thanks to China's huge copper demand profile, the nation largely drives this side of the equation as the largest consumer of the metal in refined, concentrate, and ore forms.
So China's growth plays a key role in copper demand from all facets of its economy, like consumer spending, urban growth, infrastructure, and manufacturing.
Most People Don't Know This About Bitcoin: A systems upgrade expected any day now could send Bitcoin to $100,000. Go here to see why Bitcoin's not dead... and how it could make you millions.
By all accounts, emerging markets - at all stages of development - will continue to grow their demand for copper along with the expanding market for EVs.
Supply, however, will struggle to keep up and is likely to move into deficit this year.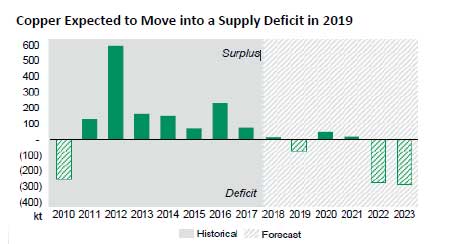 World copper mine production was down 1.5% in 2017 thanks to important supply disruptions as well as a lack of output from new projects or mine expansions. It grew about 2% in 2018, mainly as 2017's constraints were overcome.
For 2019, growth is expected to be a modest 1.2%, taking into account the International Copper Study Group's forecast for a sizeable drop in Indonesian output.
Morgan Stanley actually expects a 2.4% drop in global mine supply this year. The investment bank therefore sees, according to its team of analysts, "14% upside to copper from a supply-driven deficit by year-end."
Weak and falling copper grades, coupled with a dearth of new projects from the large miners, suggests supply will actually fall, according to Morgan Stanley.
And that's why, as they expect Chinese demand to tick up, copper prices could run 14% higher to $3.12 or beyond by year's end.
Of course, the wild card right now is the status of U.S.-China trade relations. I believe Trump and Chinese President Xi both want a deal. Trump needs to show he can pull it off, while Xi needs it to protect economic stability.
The Perfect Way to Play the Pending Copper Shortage
Freeport-McMoRan Inc. (NYSE: FCX) is the world's largest publicly traded copper producer, but is also the world's biggest producer of molybdenum. In 2019, the company forecasts mine output of 3.3 billion pounds of copper, 800,000 ounces of gold, and 94 million pounds of molybdenum.
The company operates around the globe, with mining operations in North and South America, Europe, Africa, and Indonesia. Its Grasberg mine in Indonesia is the world's largest gold mine and second largest copper mine. It's a super-pit that measures two and a half miles across.
Management forecasts that 2019 copper production will cost just $1.73/lb after by-product credits. With copper selling around $2.75/lb right now, cash flow should be about $1.8 billion.
Revenue has grown considerably over the last three years and profits have followed. The market simply doesn't recognize the huge upside as copper demand outstrips supply over the next few years.
This is probably why Freeport-McMoRan shares dropped through most of 2018 after climbing steadily in 2016 and 2017.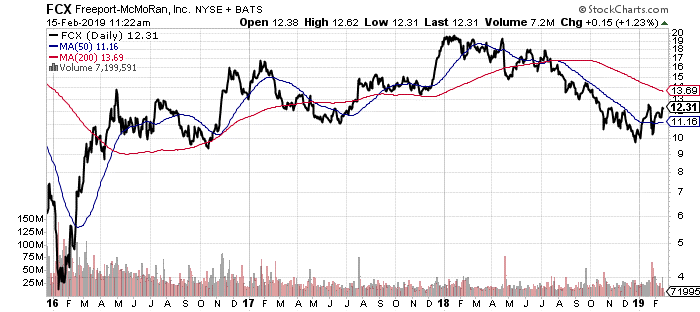 Freeport-McMoRan looks to have bottomed along with the broader market in December near $10 per share and is already up over 20%.
FCX shares could retake their high near $20 within the next 12 months, which represents over 60% gains from here - but use a hard stop at $9.78, the December low, just in case.
Meanwhile, you have the opportunity to buy one of the world's premiere base metals miners at a price/earnings ratio of just 6.9, plus a dividend of 1.6%.
Remember, the copper bull is just getting started.
A Famous Wall Street Firm Paid This Guy $20 Million to Share His Secrets (but He Kept THIS ONE Under Wraps)
He never worked at a fancy investment bank. And he never graduated from college. In fact, he spent much of his career as a customer service rep at an Atlanta Home Depot.
But he became so good at beating the stock market's top traders, he was paid $20 million to divulge almost all of his secrets.
However, he kept his most powerful secret quiet. And today, live on camera, he's agreed to share it.
Watch him officially become $1,050 richer in 15 seconds! And then $940 richer in 11 seconds... $1,260 richer in eight seconds... and $988 richer in seven seconds!
Even better, you'll discover how you can do this all yourself. It's easy!
Click here to get the details...