On Monday, on the eve of the "round two" denuclearization talks between U.S. President Donald Trump and North Korean leader Kim Jong Un, a news story broke that Pyongyang's main nuclear reactor for making weapons-grade plutonium may still be operating.
I wasn't at all surprised.
The fact is, whenever people ask me if I think we'll be able to get North Korea to give up its nukes, I don't offer a direct response.
Instead, I send them to the "Bamboo Lounge."
That's right - I tell those folks to watch the one-minute, 40-second "introduction" scene in Martin Scorsese's classic gangster movie, "Goodfellas."
You know the scene I'm talking about.
It starts just outside the Bamboo Lounge; from there, the camera takes us inside and then through the bar and restaurant. In a voiceover, Ray Liotta's "Henry Hill" character introduces us to all the "players" in this crime drama.
The scene is critical because Henry Hill imperiously details the "Goodfellas Mentality" - and explains why he and his thug cohorts consistently run roughshod over the rule-following, law-abiding side of society.
"For us to live any other way was nuts," Henry tells us. "To us, those goody-good people who worked [crummy] jobs for bum paychecks and took the subway to work every day and worried about their bills were dead. I mean, they were suckers. They had no balls. If we wanted something - we just took it. If anyone complained twice they got hit so bad, believe me, they never complained again. It was just all routine, and you didn't even think about it."
That's powerful stuff.
Criminals know that "regular" folks are going to follow the rules, will observe all the "niceties" of civilized society, and probably won't fight back - they're too scared of the possible consequences.
In fact, the mobsters count on that.
Rogue nations - like North Korea - operate in just the same way. They have that same "Goodfellas Mentality." They push the line. And they keep pushing it - banking on a belief that "civilized" societies, like the United States, will succumb to "diplomatic realities" - and back down.
And when I look at the latest headlines and think back over the history of denuclearization talks with Pyongyang, that "Goodfellas" scene keeps playing over and over in my mind like it's on an infinite loop.
Indeed - despite the almost giddy repartee between the two leaders over the last two weeks ahead of the start of "Trump/Kim 2.0" today in Hanoi, Vietnam - these newest developments combined with past events lead to only one conclusion.
North Korean President Kim is still more "Goodfella" than a "good fella." And Washington better be careful.
Let me show you what I mean. Then let me show you what to do ...
[mmpazkzone name="in-story" network="9794" site="307044" id="137008" type="4"]
What's the Real Game Here?
On its face, the "walk-up" to the DPRK-USA Hanoi Summit Vietnam has sounded super positive.
Comments from Washington and Pyongyang have led to reports of President Kim complimenting President Trump on his "positive way of thinking."
Just Revealed: The Secret to Potentially Growing Incredibly Wealthy Buying Straight-Up Stocks
President Trump, for his part, effusively praised Kim: "I have gotten to know him & fully understand how capable he is," the U.S. president wrote.
The president has even walked back his earlier derisive references to Kim as "Little Rocket Man." Under the "leadership" of an authoritarian ruler that has no qualms about killing, torturing, and starving his country's people, North Korea, he says, "will become a different kind of Rocket - an Economic one!"
Rhetoric is one thing. But meaningful progress is quite another.
Consider the U.S.-North Korea Singapore Summit of last June: Given the massive expectations, the actual achievements were miniscule. Indeed, the tagline "denuclearization of the Korean Peninsula" is one that the Kim family has been tossing out like Mardi Gras beads for years - since well before Kim Jong Un assumed power. The Inter-Korean Joint Declaration of the Denuclearization of the Korean Peninsula of 1992 uses that same phrasing.
And here's where it starts to get dicey.
"When the term reappeared on June 12, 2018, Pyongyang knew it could simply preach, but not practice, to 'denuclearize,'" writes Edward Howell, an ESRC scholar in international relations and Korean Peninsula specialist at the University of Oxford. "In a KCNA commentary in December, Pyongyang clarified that denuclearization meant 'removing all elements of nuclear threats from the areas of both the north and the south of Korea and also from surrounding areas from where the Korean peninsula is targeted.' For Washington, it is still complete, verifiable, irreversible, dismantlement."
Let's look at what's happened since the last summit - starting with the reactor headlines of just this week.
Welcome to My Nuclear Nightmare
Commercial satellite images of the Yongbyon Nuclear Scientific Research Center seem to show that the site's main reactor is operating, Jeffrey Lewis, a scholar at the Middlebury Institute of International Studies at Monterey, Calif., told National Public Radio.
"It's really business as usual at Yongbyon at the moment," he told the broadcaster. "People show up for work, and material comes in, and it looks pretty much like it's looked for the last 10 or 15 years."
THREE STOCKS: Any one of these cannabis companies could potentially deliver a 1,000% windfall. Click here to learn more...
That's a big deal - and here's why: Yongbyon is a linchpin of the country's weapons program, with multiple reactors, a plutonium extraction-and-purification facility, and a new centrifuge operation for enriching uranium. The 5 MWe plutonium production reactor produced the "fissile material" for the six nuclear weapons tests Pyongyang conducted from 2006 to 2017.
That's obviously troublesome - especially since it's not the only worry point.
In recent months - while Pyongyang is supposedly interested in "denuclearization" - satellite imagery and other intelligence shows that North Korea has:
Been significantly expanding a key missile base at Yeongjeo-dong - a facility in the mountains near the North Korea/China border that would be a great place to house and launch Hwasong-12 IRBMs and Hwasong-14/15 ICBMs, says Lewis and his Middlebury Institute research colleague David Schmerler. This would be one of the better spots to deploy nuclear-tipped missiles targeting the United States. The reason: The proximity to China would make it really tough for the Pentagon to launch a pre-emptive strike.
Created or expanded another well-camouflaged base a short distance from the Yeongjeo-dong site.
Started construction of a massive underground facility (UGF) at the Hoejung-ni site - which, again, is a good candidate for housing nuclear-tipped missiles that target the United States.
And there's still more.
Folks at the Center for Strategic and International Studies identified a network of 13 undeclared missile bases across North Korea - and experts believe some or all could house intercontinental ballistic missiles (ICBMs).
Since the summit in Singapore back in June, "the North Koreans have refrained from doing any missile and nuclear testing, so that's good," Jung Pak, a former Central Intelligence Agency North Korea specialist who's now a senior fellow at the Brookings Institution, told NPR. Yet there are plenty of hints that Pyongyang continues "to produce ballistic missile parts and produce fissile materials."
When it comes to North Korea, this "smile publicly, deceive behind the scenes" maneuvering isn't new.
It's just more of the same.
Distrust... but Verify
I want to make one point clear here - one that I've made repeatedly through my years as the top editor at Money Map Press: I'm politically agnostic.
I'm here to make you folks money - and one way I do that is by helping you understand the key global events in a meaningful way.
Can't-Miss Opportunity: Renowned Author of Best-Selling Investment "Bible" Just Released His Newest Pick
And with North Korea, part of that understanding includes the fact that there's plenty of blame to go around.
You've probably heard the phrase "trust - but verify" - but may not remember where you heard it.
Well, it's actually a Russian proverb - one that U.S. President Ronald Reagan adopted as a kind of "signature phrase" during the nuclear disarmament talks between him and Soviet General Secretary Mikhail Gorbachev during the late 1980s.
And with the Trump administration talking about engaging Pyongyang in denuclearization negotiations, that Cold War disarmament phrase is now being popularized again.
Here's the problem.
For "trust - but verify" to work, both parties have to be on the same page.
And when it comes to Washington's North Korea policy, that's not been the case - not by a long shot.
And not for years.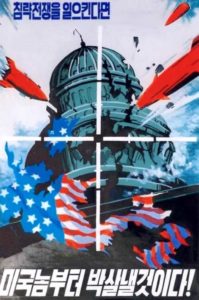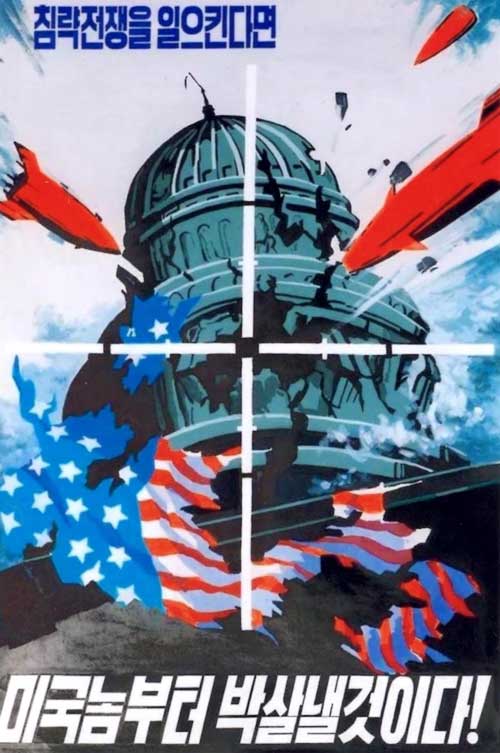 Pyongyang has long held a virulent anti-American mindset. Indeed, in my collection of pictures, books, and files I keep in my office is a photo of an anti-Americas propaganda poster - which shows the U.S. Capitol being devastated by North Korean missiles.
And that haughtiness was emboldened by a series of U.S. missteps, including some major miscues committed back when North Korea first went nuclear - and, ironically, when it would have been the easiest to stop it.
STAKE YOUR CLAIM: Three pot stocks in particular could be poised for rare, wild gains of up to 1,000%. Click here to learn how you could see a $2 million "pot payday"...
In 1980, a spy satellite spotted construction taking place at Yongbyon. It was North Korea's nuclear reactor. Just four years later, more satellite imagery suggested Pyongyang was working with the types of "detonators" used in nukes.
North Korea's 1985 signing of the Nuclear Non-Proliferation Treaty (NPT) was viewed with some relief.
But it should not have been.
The Soviet Union had made a deal, promising Pyongyang four nuclear plants in return for accepting the NPT. Former Pentagon official Michael Rubin said the NPT allowed North Korea to import "dual-use" gear.
That would have been okay, had Pyongyang signed the required safeguards agreement with the International Atomic Energy Agency (IAEA). With that, North Korea would have promised to limit its nuclear materials and technology for peaceful purposes - and to allow for verification by the IAEA. But Pyongyang "rebuffed" that part of the deal, Rubin said.
Once again, the "Goodfellas mindset" meant North Korea just "took what it wanted." Did what it pleased.
By early 1987, it was obvious Pyongyang intended to produce plutonium, the key ingredient for a nuke.
And the administration that came next - the 1989 to 1993 administration of President George H.W. Bush - opted for diplomacy. President Bush agreed to yank U.S. nukes out of South Korea to get talks started. And U.S. Secretary of State James Baker believed real progress could be made.
The two Koreas signed the North-South Denuclearization Declaration, in which both countries vowed to avoid uranium enrichment and plutonium reprocessing - and to not create, test, or use nukes.
"But while Baker congratulated himself, the Dear Leader recognized Baker was desperate and concluded he could outlast the Americans," wrote Rubin, the former Pentagon official. "In order to get the deal done, Baker acquiesced to a clause which limited inspections to sites 'agreed upon between the two sides,' in effect giving North Korea a veto."
From that point on, the errors made by North Korea's opponents compounded at an alarming rate. Pyongyang broke one promise after another. And U.S. President Bill Clinton - wanting to avoid military action and to keep North Korea in the nuclear pact at all costs - flinched time and again, watering down requirements and failing to understand the true long-term costs.
The administrations of presidents George W. Bush and Barack Obama repeated and exacerbated earlier mistakes.
The true costs of these miscues aren't yet known. But you can bet those costs are huge.
"It is easy to play the partisan blame game, but North Korea's development of nuclear weapons and its relentless push to create the missiles needed to target to U.S. territories like Guam if not to Hawaii, Alaska, and the U.S. West Coast, is a testament to decades of diplomatic and strategic failure on the part of almost every U.S. administration, regardless of party," Rubin says. "The cost of this failure is grave and growing, and may be counted not only in billions of dollars but also in millions of lives."
Nothing Up My Sleeve... Pow!
All along we've been telling you that Kim is up to his same old tricks.
And events have borne us out.
See Now: Our founder just released his No. 1 pick for 2019. Don't miss this. See the urgent briefing here...
The hope is that, in pursuit of the "ideal" deal, President Trump doesn't repeat - or worse, compound - the errors of the past.
Although it's been eight months since America's president decreed Pyongyang was "no longer a nuclear threat," we've already detailed the "Goodfellas' mentality" moves that Kim has made. He's continued to build his country's nuclear arsenal and has refused any kind of accounting of what that arsenal holds.
That's what National Intelligence Director Dan Coats warned Congress about last month, when he said that the aggressive moves Kim continues to make are "inconsistent with full denuclearization."
"North Korea will seek to retain its WMD capabilities, and is unlikely to completely give up its nuclear weapons and production capabilities," Coats told Congress, according to a report by NBC News. And that's because Pyongyang's leaders "view nuclear weapons as critical to regime survival."
We'll watch this summit carefully. And after we see what transpires, we'll be back to tell you which companies to watch - and which moves to make.
We want you to protect yourself against the "Goodfellas' mindset."
These 3 Stocks Are the Key to 2019's Greatest Profits
The 2018 midterm election was a turning point for the cannabis industry.
We expect nothing short of historic profits by the end of the year.
But not all pot stocks will hand you life-changing wins. In fact, often the companies making headlines are least likely to see the biggest gains.
These three stocks, on the other hand, are flying under the radar... for now. Each of them could see exponential stock price acceleration at any moment, and if you get in before that happens, you could turn a token stake into a lifetime of wealth.
I don't know of any other sector providing anywhere near this level of growth now.
Follow Money Morning on Facebook, Twitter, and LinkedIn.
About the Author
Before he moved into the investment-research business in 2005, William (Bill) Patalon III spent 22 years as an award-winning financial reporter, columnist, and editor. Today he is the Executive Editor and Senior Research Analyst for Money Morning at Money Map Press.