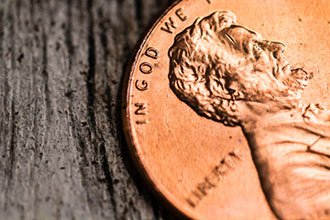 We're off to a hot start to 2019, with the S&P 500 already climbing 11% in under two months.
There's just one problem. Stocks are becoming very expensive.
That's where the top penny stocks to watch in March 2019 come into play...
Some stocks are priced in the hundreds of dollars. But penny stocks, as defined by the U.S. Securities and Exchange Commission, sell for $5 per share or less.
That means investors can bring in large percentage gains without having to lay out a ton of capital.
You only have to review the one-week gains of some of the top penny stocks to see how much investors can benefit. The top performer recently, OncoCyte Corp. (NYSE: OCX), skyrocketed almost 160% on the week. Yet it can still be purchased at only $4.98 per share.
But how can you find the top penny stocks before they double or triple in value?
We've done it for you. Our proprietary Money Morning Stock VQScore™ combs through thousands of stocks every single day to find those with the maximum profit potential. Then, we screen those for the top penny stocks to watch this week.
In fact, one of the stocks we'll show you today could skyrocket more than 250%.
THREE STOCKS: Any one of these cannabis companies could potentially deliver a 1,000% windfall. Click here to learn more...
Now, not all of these stocks are buys. In fact, only one of them is worthy of your portfolio. However, they all bear watching because of their recent performance.
After OCX, another outperforming penny stock has been healthcare company Fortress Biotech Inc. (NASDAQ: FBIO), which soared a bit more than 133% to end the week at $2.47.
The third-highest penny stock performer was also in healthcare. It was Trevena Inc. (NASDAQ: TRVN), which rose nearly 87% to stand at $1.01. The fourth penny stock to watch this week is another healthcare stock, Celldex Therapeutics (NASDAQ: CLDX), which climbed nearly 67% to close at $0.58.
Rounding out the top five is a financial services stock, Wheeler Real Estate Investment Trust Inc. (NASDAQ: WHLR), which advanced more than 63% to end the week at $1.80 per share.
If you're ever worried about the market running out of steam, returns like this provide reassurance. There's a lot of upside remaining.
And the penny stock we're recommending today has the potential to soar more than 250%...
And it can be yours for only $3.62.
This Is the Top Penny Stock for March 2019