Remember last year, when Elon Musk launched his red Tesla roadster into space on a SpaceX Falcon Heavy rocket?
He's quite the showman, and it was quite a show.
Musk even went so far as to put a mannequin in a fancy spacesuit in the drivers' seat, next to a screen that said "DON'T PANIC!" – a cosmic inside joke for all the "Hitchhiker's Guide to the Galaxy" fans watching.
For a couple hours, us Earthlings and other ground-dwelling types could watch the space Tesla and its spaceman passenger on a live streaming feed, up there hurtling through the heavens.
The Tesla will be up there forever, "they" say, circling the Sun, out beyond the orbit of Mars, though CNBC quoted a couple of Canadian astronomers as saying there's a 6% chance the Tesla will crash back to Earth sometime in the next 1 million years.
Back here on Earth, Tesla Inc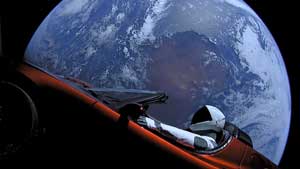 . (NASDAQ: TSLA) has done a pretty good job of defying gravity, too…
… but I don't need to be an astronomer to predict this space rock is going to come down hard to leave a big, smoking crater in the ground.
Now, I recommended a very special, specific position for my elite Zenith Trading Circle Members – one with stratospheric profit potential.
But the impact from this catastrophic reentry is going to be so big, anyone can make some money…
Join the conversation. Click here to jump to comments…
About the Author
Shah Gilani boasts a financial pedigree unlike any other. He ran his first hedge fund in 1982 from his seat on the floor of the Chicago Board of Options Exchange. When options on the Standard & Poor's 100 began trading on March 11, 1983, Shah worked in "the pit" as a market maker.
He helped develop what has become known as the Volatility Index (VIX) - to this day one of the most widely used indicators worldwide. After leaving Chicago to run the futures and options division of the British banking giant Lloyd's TSB, Shah moved up to Roosevelt & Cross Inc., an old-line New York boutique firm. There he originated and ran a packaged fixed-income trading desk, and established that company's "listed" and OTC trading desks.
Shah founded a second hedge fund in 1999, which he ran until 2003.
Shah's vast network of contacts includes the biggest players on Wall Street and in international finance. These contacts give him the real story - when others only get what the investment banks want them to see.
Today, as editor of 10X Trader, Shah presents his legion of subscribers with the chance to earn ten times their money on trade after trade.
Shah is also the proud founding editor of The Money Zone, where after eight years of development and 11 years of backtesting he has found the edge over stocks, giving his members the opportunity to rake in potential double, triple, or even quadruple-digit profits weekly with just a few quick steps.
Shah is a frequent guest on CNBC, Forbes, and Marketwatch, and you can catch him every week on Fox Business's "Varney & Co."
He also writes our most talked-about publication, Wall Street Insights & Indictments, where he reveals how Wall Street's high-stakes game is really played.