It's hard to be the "little guy" in business.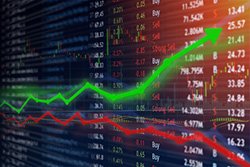 The "big guy" has all the advantages from pricing power, lower cost structure, and an ability to acquire the best and the brightest workers.
Really, it's just not fair.
That is, unless the Federal Reserve is on your side. When the central bank is in your corner, it's far better to be the "small guy."
The same applies to the market, where right now, the small are significantly outperforming the large.
As you can see from the chart below, there is a direct correlation to the January Federal Reserve dovish statements on rates and the performance of small-cap stocks.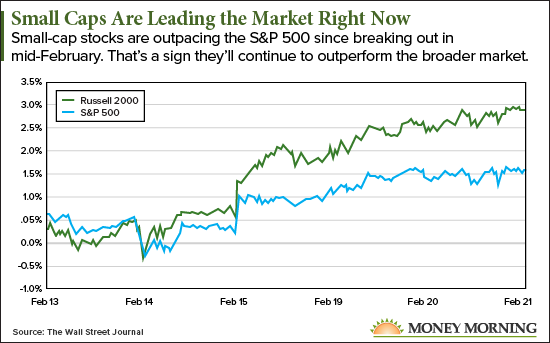 Now, small-cap stocks aren't just great investments because of those few percentage points. When you identify the best small caps, you can land windfall profits. I'm talking 100%, 200%, or more in very short order.
In fact, I made one of the best small-cap stock recommendations of my career in very similar market conditions back in 2016. That's when the Federal Reserve was firmly ensconced on the side of small companies with its aggressive quantitative easing campaign.
$1 Cash Course: Tom Gentile is offering a rare opportunity to learn how to amass a constant stream of extra cash – year after year. And he's going to teach you how to do it entirely on your own. Learn more…
With easy money flowing into the economy, the nimble small company truly has enormous potential and upside.
Consumers are flush with cash during these times of easy money. That's all small-cap companies need to thrive.
At the end of 2016, one such company with great prospects was diet business Weight Watchers International Inc. (NYSE: WTW).
Shares of this small-cap stock were trading for just over $10 at the time.
Hints of future success were already present.
The company had a huge profile with its star endorser, Oprah Winfrey.
The analyst community noticed, expecting the company to grow profits at a rate well above the market multiple on earnings that investors had assigned to the company.
Buying growth at a cheap price is the key to owning the best small-cap stocks.
With Weight Watchers, the disparity between the current valuation and expected was too rich to pass up.
I made the company my stock of the year for 2017, offering up the view that shares would double in value in one to three years.
I was wrong.
Weight Watchers didn't just double, it rose by more than 700% when I advised investors sell shares. The stock had crossed $100 a mere 18 months after I recommended buying shares.
That is the potential of owning the best small-cap stocks.
Today, with the Federal Reserve in our corner again, it is a great time to buy small-cap stocks.
Our VQScore™ system has found what could be the next Weight Watchers. Here are the details…
This Is One of the Best Small-Cap Stocks to Buy Today