Apple (NASDAQ: AAPL) and Samsung are synonymous with the smartphone market, but their foothold isn't quite what it used to be. And a veteran competitor is releasing two new phones that could be game changers for the $355 billion industry...
Four of the five best-selling phones of all time are made by Apple or Samsung. This doesn't change the fact that the companies together own only 37% of the market. We say "only" when, ordinarily, this would be a gigantic market share.
Considering how ubiquitous iPhone and Samsung have been in the United States and the UK, you might not believe an entire 60% of the market was left for the taking.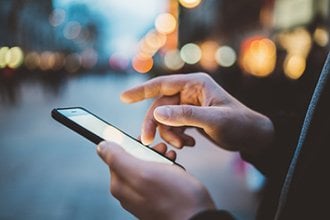 What's really going to disrupt the market is something Apple and Samsung simply can't tap into: affordability.
We've entered a period where both companies are relying all too much on customer loyalty to sell phones. IPhone revenue for Q4 2018 was 15% less than the year before. Sales fell by 20% in China for the same period, as the surging Chinese Huawei phones bumped up 23%.
Samsung's mobile devices once made up the majority of their overall sales and profit. They dropped 33% from Q3 2017-18 and continued sinking into Q4.
According to Business Insider, one in three iPhone users have reported price as a factor in their hesitance to upgrade, indicating price is a barrier to access for a large chunk of the smartphone-buying population. Some consumers just aren't willing to put down a grand for an additional meter of water resistance or 100 more pixels on their cameras.
To make up for declining phone sales, Apple has shifted its focus to healthcare and smart home technology. Those services earned an all-time high of $10 billion in Q4 2018 - a sizable change from the $7.9 billion earned at the same time last year. Samsung's attention is also drawn elsewhere in 2019, planning to invest trillions in production facilities that will expand their chip production operations.
Don't Miss: This Is a $12.3 TRILLION Opportunity
All of that said, a combination of price conscious consumers and ho-hum upgrades could give life to one of the other smartphone makers that make up 60% of the market. The affordable smartphone market would be safe in an economic slump - if not more profitable - when a company can offer something near the quality of their luxury, front-running counterparts.
See what this China-based company has been up to - and what it could mean for your money...
How Motorola Can Compete with Apple and Samsung
Motorola, a wholly-owned subsidiary of the China-based Lenovo Group Ltd. (OTCMKTS: LNVGY), just released its most impressive phone yet in February.
The Moto G7 is an affordable and comparable alternative to the Apple and Samsung phones, both costing upward of $1,000. With many of the same features and capabilities as its luxury competitors, the G7 goes for only $200 to $300, depending on which four versions you opt for. G7 is a line of four phones ranging from a stripped-down version called the Moto G7 Play to the premium Moto G7 Plus.
It's expected give Lenovo a foothold in the "affordable smartphone" market and possibly even the mainstream market.
Saying the Moto G7 is "not far behind" the latest iPhone X and Samsung Galaxy S10 might even be stingy. You find almost identical specifications for the three benchmark phones when viewing them side by side: 64 GB storage, 12-16MP cameras, 8MP front cameras, digital zoom, face detection, quick-charging, all at relatively the same size and weight.
They all take the same sim card. They all have screen resolutions over 1,000 x 2,000 pixels, with nominal differences (unless you are truly a purist or super-fan), and image resolution is in the 4,000 x 3,000 range across the board.
The Moto G7 has a slightly bigger screen than both phones. It has a stronger battery (3,000mAh) and records clearer video than the iPhone.
The Galaxy's 3,400 mAh battery is more powerful than the G7's baseline, but the G7 Plus comes with a massive 5,000mAh battery
The Plus outshines the competition with its image resolution of 4,616 x 3,464 pixels and still costs only about $350.
It would only be fair to mention that the iPhone X and Galaxy S10 are both listed as "dustproof" while the Moto G7 is not.
What about the rest of the Android market? Savvy buyers might consider the Chinese Huawei this year for $2,600. But for quality and cost, you won't find a better deal than the Moto G7. This will be a great opportunity for Motorola to start chipping into Apple and Samsung's market share as cost-conscious consumers look for cheaper alternatives.
If that's not enough, Motorola plans to bring back its historically popular Razr phone. Its steep $1,500 price tag may be justified, as it was once the best-selling phone of all time. The iconic Razr held a unique position as a fashion statement in the early 2000s, so if specifications don't lead the conversation around its revival, nostalgia will.
The details on the Razr's specs are still to be released, but the higher-end phone lends healthy diversification to the Motorola selection. It signals to competitors that Lenovo might be in for more than just the "affordable" market segment.
Plus, Motorola is just one of the pillars behind Lenovo...
Lenovo Is More Than the Sum of Its Parts