The 2020 Democratic primary is already making history - and not because of the number of candidates who've already jumped into race. This is the first time each of the presidential candidates supports legalizing marijuana at the federal level.
In just the last few months, 13 Democrats have announced their candidacy for president of the United States, while countless others are on the verge of jumping in the ring.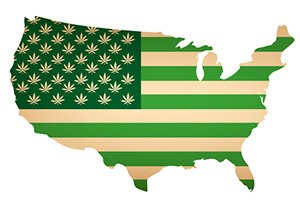 It's not surprising. The range of Democratic approaches to address everything from healthcare to the economy is as wide as it's ever been.
However, there is one thing every single person running for the Democratic ticket agrees on - marijuana legalization.
You see, widespread popularity for legalization is pushing some of the biggest names in Washington to throw their weight behind national legalization efforts.
And that even includes a few Republications who are stepping up to challenge U.S. President Donald Trump for the Republican ticket.
Ending the federal prohibition on marijuana is the next major catalyst that could send cannabis stocks soaring.
Today, we're taking a close look at where each presidential candidate stands on marijuana legalization and how that means major profit potential for you...
The Biggest Presidential Players Are in Favor of Marijuana Legalization
Leading the charge on federal legalization of marijuana is New Jersey Senator Cory Booker, who announced his candidacy for president in early February.
Just last week, Booker introduced the Marijuana Justice Act - a bill designed to end the federal marijuana prohibition and give money to states that legalize cannabis. While the federal government can't force states to change their laws, they can be persuasive. Ronald Reagan's administration famously required states to raise the legal drinking age to 21 in order to get transportation funds.
According to Booker, legalizing marijuana will allow the nation to take a step forward in rebuilding areas that were "hardest hit by the failed drug war."
Booker has long been a supporter of marijuana legalization. The bill he introduced last week is a sure sign that marijuana legalization will play a central role in his campaign.
However, Booker's opponents aren't letting him hog the limelight.
LEGAL WAVE: Barriers to marijuana could be tumbling in Mexico and Thailand, but it's here in the U.S. where legalization could spark a "Green Rush" in certain stocks. Click here to learn about three of them...
Four other presidential candidates sponsored Booker's initiative, including Massachusetts Senator Elizabeth Warren and California Senator Kamala Harris.
Despite their enthusiasm, both senators are recent additions to the legalization movement, having not supported past efforts to legalize marijuana across the nation.
Harris prosecuted hundreds of marijuana offences while serving as California's attorney general, and she opposed a 2010 referendum to legalize marijuana in California. But recent statements from Harris suggest that she intends to make legalization a central part of her presidential platform.
In comments made to reporters last month, Harris stated she believes we "absolutely need to legalize marijuana."
Warren followed a similar line of comment in early February, when she told reporters she does "believe in full legalization" and is more than willing to "work with Republicans to allow it to be legalized state by state, if that is the best way."
In addition, presidential hopeful Amy Klobuchar, a senator from Minnesota, also threw her weight behind legalization, telling reporters that "states should have the right to determine the best approach to marijuana within their borders."
However, the latest presidential hopeful to put his name on the ballot may well outweigh the recent efforts of his fellow senators to jump on the legalization bandwagon.
Vermont Senator Bernie Sanders announced his candidacy last week to enthusiasm, likely in part because of his trailblazing support for marijuana legalization.
Sanders was the first candidate to come out in favor of marijuana legalization during the 2016 election and has a long track record of supporting legalization. Both Sanders' political momentum and aggressive support of legalization are sure to play a key role in his campaign.
However, the action in Congress isn't limited to the Senate. Representative and presidential candidate Tulsi Gabbard of Hawaii has voiced her support for legalization by introducing a bipartisan bill that commissions a federal report on the state-level effects of marijuana legalization.
Meanwhile, Representative and candidate John Delaney of Maryland recently state that he supports legalization in an effort to adjust racial disparities in the justice system.
THREE STATES just legalized marijuana, and these three stocks could potentially see a 1,000% boost. Click here to learn more...
Off Capital Hill, several other democratic candidates have thrown their weight behind marijuana legalization in an effort to tap into growing national enthusiasm over the movement.
Democratic presidential candidate Mayor Pete Buttigieg of South Bend, Ind., recently told the Boston Globe that "the safe, regulated, and legal sale of marijuana is an idea whose time has come for the United States."
And entrepreneur-turned-democratic-candidate Andrew Yang said in December that federal "criminalization of marijuana is stupid and racist, particularly now that it's legal in some states," and said the United States should "proceed with full legalization."
While it is the case that a majority of candidates supporting legalization are running for the Democratic ticket, it's not limited to one side of the aisle.
Massachusetts' former Republican governor and 2016 Libertarian vice-presidential nominee, Bill Weld, announced on Feb. 15 that he will run for the Republican Party's nomination to unseat President Trump.
Weld supports decimalization of marijuana on the federal level. He's also on the board of Acerage Holdings, a marijuana investment firm focusing on cannabis cultivation and distribution in the United States.
But President Trump may be changing his opinion too. Not only did he fire his attorney general, Jeff Sessions, a notorious enemy of legalization, but he could back the movement too. Money Morning's own Tim Melvin speculates President Trump will cut his opponent's momentum next year by ending the federal prohibition during the campaign.
And that's why now is the perfect time to prepare yourself to cash in on the tidal wave of legalization coming to Washington...
These 3 Stocks Are the Key to 2019's Greatest Profits