When a company's CEO makes risky moves – especially in the public eye – a stock can quickly tank.
But the company we're trading today has always bounced back – and even climbed higher – after a drop, when its "fans" pile into the stock and drive up the price.
This time, though, the stock isn't likely to rebound for long from its recent fall, which has opened up your latest Fast Profits trade opportunity…
As Chief Investment Strategist Keith Fitz-Gerald is about to show you, there's one simple way to make money on this stock's change in direction. And it could be your next double.
Here's Keith…
Your Fast Profits Trade Details (and How to Gain Access to Our Exclusive Conference)
Keith Fitz-Gerald just showed you how to potentially double your money as Tesla continues to shock the media.
Remember – you should only consider taking advantage of this recommendation after Tesla's stock price sees a bump.
Here are Keith's exact instructions:
If TSLA trades up to $332…
Buy to open the TSLA Sept. 20, 2019 $330 put (TSLA190920P00330000) options for $46 or less.
Keith's planning to share even more recommendations and strategies like this at this year's Black Diamond Conference, which takes place April 4-6, 2019, in Delray Beach, Fla. (Reserve your seat right here.)
And as a Fast Profits Member, you are specially invited to attend.
In fact, we assembled this conference just for our most valued Members like you.
Once you're there, you'll see your Fast Profits experts – like Tom Gentile; D.R. Barton, Jr.; Shah Gilani; Chris Johnson; and Keith Fitz-Gerald – deliver live group training sessions.
Spots are filling up fast, so don't lose yours! You MUST RSVP now to confirm your spot at this exclusive event.
Act Now: Don't Let Someone Else Claim Your Spot
This year's Black Diamond Conference is going to be like nothing you've ever seen before.
One by one, each expert (many of whom you'll recognize from your panel of Fast Profits experts) will get up on stage and lead LIVE GROUP TRAINING SESSIONS. That's right… these experts – who have made millions in the markets – will share their wealth of knowledge directly with you.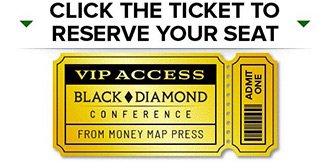 Some of them will even share special trade recommendations just for attendees – and that kind of opportunity is priceless.
Take it from a reader just like you who was smart enough to reserve his seat at our last conference:
"To get insightful information was very powerful right from the gurus themselves. I actually was able to make some of the trades during the conference and basically paid for the complete time there."
And that's not all…
There are amazing free VIP events, like cocktail parties, where you can shake hands with the guys that have helped you all along the way…
This offer expires soon, and spots are filling up. We'd really hate for you to miss out, so please don't wait any longer.
Go here now to get all the info and RSVP to save your spot.
Follow Money Morning on Facebook, Twitter, and LinkedIn.