We've uncovered a trend in stocks the rest of Wall Street is overlooking, and it could double your money if you play it right. We'll show you exactly how with today's trading strategy.
The economy might be slowing down from its peak, and there's no better evidence for it than in the transportation sector.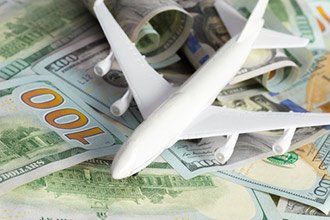 Last week's release of the February jobs report disappointed in a big way. With a mere 20,000 increase in total nonfarm payrolls, it was much lower than the consensus expectation for 181,000 new jobs. After a long string of jobs successes, this report made investors nervous that economic growth was truly slowing down.
However, for those who paid attention, one critical sector was already slowing down and foreshadowed recent numbers. Friday's report simply proved that it wasn't just a fluke.
The transportation sector is a favorite Wall Street bellwether for the economy - and the stock market by extension. It's also been one of the weakest sectors in the stock market this year.
The forecasting ability of transportation stocks, such as air freight, rails, tankers, and trucking, is no secret. After all, chartists have been following "Dow theory," named after The Wall Street Journal co-founder Charles Dow, for decades. They look for moves in the Dow Jones Industrial Average to be echoed in the Dow Transports. The theory holds that if the companies that make things and the companies that deliver those things are both doing well, then the economy should be doing well, too.
$1 Cash Course: Tom Gentile is offering a rare opportunity to learn how to amass a constant stream of extra cash - year after year. And he's going to teach you how to do it entirely on your own. Learn more...
Unfortunately for the bulls, the late 2018 market sell-off created a Dow theory sell signal that is still in effect today. What that means is the primary direction of the stock market is to the downside, and the rally we've seen since December is just a bounce. It's been a great bounce, but the transport sector suggests it will soon be over.
The good news is that we can still make plenty of money in this type of market. All it requires is creating a bearish strategy, and Money Morning Quantitative Specialist Chris Johnson has one.
His strategy could bag you a 100% gainer by going against this transportation titan while the rest of Wall Street overlooks it...
Double Your Money from the Transportation Slowdown
Just as a bullish strategy often relies on buying the strongest stocks in the strongest sectors, a bearish strategy relies on just the opposite.
That's why we're targeting the transportation sector. As we pointed out, it's been a laggard in the Dow index this year, and its fortunes worsened after the lackluster jobs report.
And to find a prime target in the sector, Johnson turned to his "Best in Breed" screener. His research pinpointed American Airlines Group Inc. (NASDAQ: AAL) as a dud set to drop the most as the economy slows down.
One way to make money off this stock's fall is to simply short it. But the risk here is too high, and we have a smarter play. Shorting a stock exposes an investor to potentially unlimited losses, should the stock move higher.
Rather, we can use stock options to accomplish the same result - but with much lower risk. Buying options risks only the small amount of money invested but has the potential to double your money or more in a short period of time.
American Airlines closed Thursday at $32.13 per share, and Johnson has a price target of $29 for the near term. Given the price and time frame, the AAL April 18, 2019 $32 put (AAL|20190418|32.00C) presents a great opportunity to profit as the stock falls. At $1.25 per option, these puts offer the opportunity to double your money over the next few weeks, as this laggard leads the transportation sector lower. This isn't even factoring in the Boeing Co. (NYSE: BA) scandal that's grounded all 737 Max aircraft. American Airlines owns 24 of them.
This put option contract, which gives the holder the right (but not obligation) to sell 100 shares of AAL stock at $32 per share will cost $125 per 100-share contract, before commissions. If shares of AAL fall to Johnson's target price of $29 before its April 18 expiration, the options price will be $3. This is the difference between the strike price ($32) and stock price ($29).
With the current options price $1.25, that is more than a double. And that's not a bad payday for a month's trade.
But you don't have to stop there. Chris Johnson is leveraging his quantitative research into even more lucrative trades...
Chris Johnson's New Trading System Unveiled
The stock market recently experienced its worst October since 2008.
But since late September, Chris Johnson has delivered a perfect 20-0 record in closed trades with the help of his brand-new Infrared Index.
And it's expected to continue to produce massive profit opportunities, like 157% in total returns in just 24 hours.
In fact, Chris has a new trade opportunity coming out tonight.
Click here to learn how you can take part...
Follow Money Morning on Facebook and Twitter.