The 5G revolution will be here in a matter of months, and to help you profit, we're giving you three of the top 5G stocks to buy now.
Last year, Verizon Communications Inc. (NYSE: VZ) made an announcement that it would open the first 5G telecom network, starting with four U.S. cities.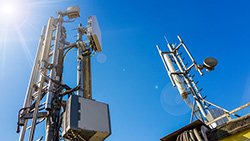 So, with 2019 begins our venture into a 5G world.
They aren't calling this a revolution for no reason, either. 5G will bridge our physical and digital worlds together like never before, providing faster data transmission and communications throughout a growing Internet of Things (IoT), driverless cars, and even artificial intelligence.
That's why analysts say these picks for the best 5G stocks could earn you profits up to 100%...
Top 5G Stocks to Buy Now, No. 3: Apple Inc.
If one company stands to benefit from the revolutionary potential of 5G, it's Apple Inc. (NASDAQ: AAPL).
Right now, AAPL makes the most popular smartphone on the planet. But sales of the iPhone have slumped. Sales have also softened in China, as preference drifts toward domestic phone makers like Huawei and ZTE.
Apple's January earnings report failed to meet expectations, with revenue of $84.3 billion for Q4 2018, a 5% decline year over year. Sales in March are forecast to drop up to 10%.
It isn't that sales aren't good; AAPL is still earning and has a lot of cash on hand. But Wall Street doesn't like missed earnings. In fact, an analyst at JPMorgan Chase & Co. (NYSE: JPM) points out that innovation is going to be imperative if Apple is to keep its market dominance.
5G Could Mint a New Wave of Millionaires: The greatest tech shift in generations could be about to create untold wealth for investors. To find out how you could capture a life-changing SIX-figure windfall, go here now.
5G gives Apple a chance to reinvigorate iPhone sales. But it also allows Apple to move into other industries. Current devices will be much faster with 5G. Plus, they will be able to do new things not possible on existing networks.
Apple is already working with longtime partner Intel Corp. (NASDAQ: INTC) to make sure the next-generation iPhone is a 5G phone.
It has also been working for five years on its autonomous car, Project Titan.
5G is important to that effort too. Self-driving vehicles need a constant Internet connection to navigate by sending a continuous stream of data to computers. But that can only be perfected once 5G is available nationwide.
AAPL currently scores a 4.45 on our proprietary Money Morning Stock VQScore™ system, making it a sure "Buy." Analysts on Wall Street think it could rise 40% in the next 12 months, but we think that's conservative, given the company's prospects with 5G.
Top 5G Stocks to Buy Now, No. 2: Micron Technology Inc.
Our second pick, Micron Technology Inc. (NASDAQ: MU), makes computers and semiconductors.
Micron will be a key provider of materials for the development of 5G infrastructure, too.
To that end, it is developing a multichip package, which is a tiny but crucial part of the modems used with 5G networks.
MU's latest multichip was developed to provide modem speeds as much as 20 times faster than current modems, faster than any other chip available now. And MU's chip could potentially be used in every sector that employs 5G: cars, home appliances, and industry.
Micron also has our highest VQScore at 4.75. We think it's one of the leading 5G stocks to buy now. Wall Street analysts expect shares to hit $90 as the company leads the 5G industry. That's a 125% gain versus today's share price of $39.76.
But our top 5G stock pick is the real sleeper...