At the National Institute for Cannabis Investors, we talk a lot about cannabis banking. That's because accessing loans and depositing money are still huge hurdles facing cannabis companies.
But the progressive financial firms that realize how much money there is to be made working with legal cannabis companies will be handsomely rewarded.
And I've found the perfect play...
Just like when we talked about Innovative Industrial Properties Inc. (NYSE: IIPR) - which is now up almost 100% since we launched the American Cannabis Summit on Oct. 23, 2018 - we wanted to add another way for you to try and capture an additional potential triple-digit return.
Of course, timing is everything, so you may have not seen when we first mentioned Innovative Industrial Properties and bought it at a higher price, or you may have simply chose not to buy its shares.
But if you missed out, that's okay. I wanted to share another play with you today that could offer a similar profit opportunity, and the timing is perfect.
I talked to my friend and banking expert, Money Morning Special Situation Strategist Tim Melvin, and he tells me that as of right now, there is only ONE publicly traded bank taking on cannabis customers - the rest are credit unions or privately held banks.
I've held off talking about this company too much before because it faced some significant challenges outside of its cannabis business. However, those challenges seem to be behind it, and we could soon see a quick jump in the stock price thanks to some positive headwinds.
So right now, I'm going to share with you hopefully another big winner to add to your growing list of cannabis investments...
[mmpazkzone name="in-story" network="9794" site="307044" id="137008" type="4"]
Why Severn Bank Makes the Cut
The company I'm talking about is Severn Bancorp Inc. (NASDAQ: SVBI), which is headquartered in Annapolis, Md. You may have seen me mention it recently.
Again, there are a lot of reasons to get excited about this pick. But first, I want to take a look at the challenges that I mentioned earlier. That way, it will give you a better idea of the pros and cons of owning Severn Bancorp as a type of backdoor cannabis play.
THREE STOCKS: Any one of these cannabis companies could potentially deliver a 1,000% windfall. Click here to learn more...
Recently, Severn Bancorp has transitioned from slow growth to faster growth after spending several years recovering from the financial crisis. Year-over-year growth in assets increased from only 2% in 2017 to 20.7% in 2018, with much of that growth in the second half of the year. Deposits showed a similar growth, from 5.3% in 2017 to 29.4% in 2018, mostly in the second half of the year once again.
Thanks to good management, the company has put that money to work profitably, increasing return on equity from 3.1% in 2017 to a more respectable 9% in 2018.
A big part of that was through controlling operating expenses. The bank's efficiency ratio (lower is better) is the lowest it has been since 2012. From an operating point of view, that makes Severn Bancorp a more desirable bank than it was just a few quarters ago.
The company also now has a full year of stable dividend payments under its belt, after suspending dividends from 2009 to 2018. It currently has a dividend yield of 1.39% - look for increases in the dividend sometime this year.
As a bank, the other ongoing challenge Severn Bancorp has faced is rising interest rates. The common thinking is that rising interest rates benefit banks, but that's a lot less true of smaller banks than larger ones, and Severn Bancorp is a small bank.
It even identified rising interest rates as a key risk to the company's growth, but there's good news. The U.S. Federal Reserve recently indicated that it would be pausing its interest rate increases until economic conditions justify another bump.
That means Severn Bancorp can continue to grow and profit without fear that rising rates will hurt the demand for the loans that are powering its growth.
The Boom in Bank Consolidation
One trend in Severn Bancorp's favor is an increase in bank consolidation. Analysts and many economists have been calling for larger banks to buy smaller ones for some time now, and it is finally beginning to happen.
In particular, regional banks want to become larger and are buying each other and smaller banks. The reason is consumer-driven. Consumers demand advanced services like mobile banking, fast mortgage turnarounds, and instant and personalized customer service. The technology behind all those services is expensive, and smaller banks have a hard time keeping up.
SIT THIS ONE OUT and you could miss an American economic revolution that could send three little pot stocks soaring up to 1,000%. Click here to see why...
Severn Bancorp is a logical consolidation candidate with only six branches, but it has a large market share in one of the richest counties in America - Anne Arundel County, Md.
Just from an acquisition offer, shareholders could receive a premium from where the Severn Bancorp stock price is trading today.
And that brings us to the cannabis business.
Severn Bancorp's Bold Cannabis Move
Cannabis has been a big part of the turnaround story at Severn Bancorp, particularly when it comes to profit growth. Cannabis-related deposits and loans were around 2% of the company's total deposits and loans as of Sept. 30, 2018. I expect that number to be around the same when the company makes its full regulatory filing for December later this month.
But cannabis companies also provided 16% of Severn Bancorp's non-interest income. Fees are very high in the cannabis industry, and this Maryland bank will continue to profit from them.
Below, you can see how the Severn Bancorp stock price has been slowly climbing thanks to the recent positive stream of news.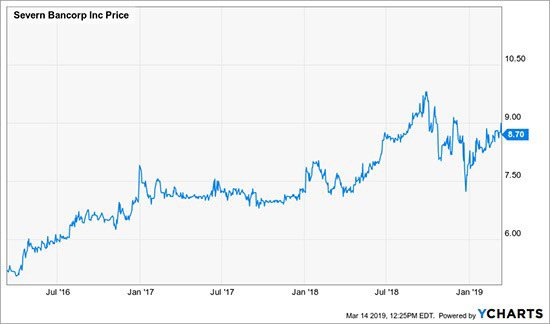 Looking at the chart now, I expect the company to grow at a more normal rate going forward.
I project the stock to make a run at the high seen in that chart of $9.80 per share fairly soon. From the opening price of $8.77 on March 14, that's a potential return of 11%, which doesn't include dividend payments.
Not bad for a potential quick buck, but the long-term potential is even better...
Over time, the company should bump up to near its all-time high of $21.14 per share, a level not seen since before the financial crisis. That would be a potential gain of 141%.
I hope bringing Severn Bancorp to your attention will help your cannabis portfolio in the long run, and as soon as I see other under-the-radar picks like this, you will be the first to know.
These 3 Stocks Are the Key to 2019's Greatest Profits
The 2018 midterm election was a turning point for the cannabis industry.
We expect nothing short of historic profits by the end of the year.
But not all pot stocks will hand you life-changing wins. In fact, often the companies making headlines are least likely to see the biggest gains.
These three stocks, on the other hand, are flying under the radar... for now. Each of them could see exponential stock price acceleration at any moment, and if you get in before that happens, you could turn a token stake into a lifetime of wealth.
I don't know of any other sector providing anywhere near this level of growth now.
Follow Money Morning on Facebook and Twitter.
About the Author
Greg Miller started working on Wall Street in September, 1987, just a month before the "Black Monday" stock market crash.
During his career there, he became an expert in just about every kind of publicly traded security - from blue-chip and small-cap stocks to municipals, junk bonds, and derivatives. As a portfolio manager, Greg was responsible for over $500 million of assets in mutual funds and insurance company accounts.
After leaving the Street, he designed a successful options trading strategy and made lucrative tech investments for a financial publication. He has also helped develop new products and worked with other editors to hone their strategies.  He's always been dedicated to deep, fundamental research - and he always will be - because he believes buying the very best companies at the right price is the best way to amass wealth in the stock market.