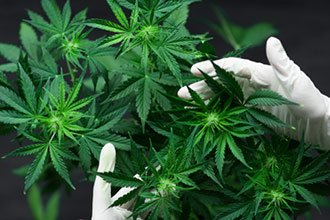 The biggest source of news for marijuana stocks in 2019 has undoubtedly been the rush of mergers and acquisitions in the industry.
Mergers and acquisitions can have serious benefits for investors. Companies being purchased can see their share prices skyrocket. The acquirers can benefit from the mergers, creating new synergies for their companies.
And the merger we're about to discuss could be one of the biggest catalysts yet for marijuana stocks in 2019...
What This Takeover Means for Marijuana Stocks in 2019
Aphria Inc. (NYSE: APHA) is among Canada's "Big Five" marijuana-based companies. It's been in a hostile takeover situation since late 2018.
Green Growth Brands Inc. (CSE: GGB), a company based in Nevada, wants to buy Aphria. GGB is best known to investors because of its success in placing cannabidiol-based products on a pilot basis in large retail outlet DSW Inc.
STAKE YOUR CLAIM: Three pot stocks in particular could be poised for rare, wild gains of up to 1,000%. Click here to learn how you could see a $2 million "pot payday"...
Green Growth Brands is headed by experienced retailers who have built retail giants. Case in point: L Brands Inc. (NYSE: LB), the parent of Victoria's Secret and Bath & Body Works, both well-recognized names in the retail sector.
Aphria believes the offer is much too low and calls the move to purchase it "highly conditional."
Green Growth Brands has offered 1.5714 shares of Green Growth Brands for every Aphria share. GGB indicates that the offer is worth CA$10 per share because it has new equity in place to buy GGB equity for CA$7 per share. (CA$1 = US$0.75 at press time).
But Aphria management counters with this: GGB shares sell for CA$4.93 per share now. Assuming that you can add the CA$7 from new investors, the offer should be worth at least CA$10 per share.
There are two difficulties with the argument Green Growth is making. First, shares aren't trading near CA$7. Recent trades were nearer to CA$4.93 per share. CA$4.93 multiplied by the 1.5714 shares results in just CA$7.74 a share.
And Aphria shares sell at CA$13.37 a share.
Second, even if GGB started selling for CA$7 a share, that only equates to $11 per share given the U.S. dollar/Canadian dollar rate of exchange.
It's a discount to the current price of APHA.
Current APHA shareholders would lose under the current offer no matter what growth may lay on the other side of the merger and no matter how optimistic future scenarios might be.
GGB has started to solicit proxies from APHA shareholders - a very hostile takeover move.
What should you do if you have Aphria or Green Growth shares -- or neither?