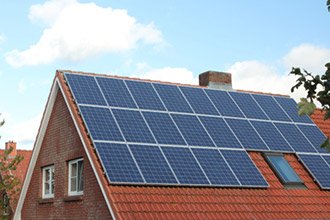 Don't look now, but the alternative energy market has changed dramatically.
Not too long ago, the success of alternative energy was entirely dependent on staggeringly steep crude oil prices.
That and tax credits made alternative energy competitive to fossil fuels.
The higher crude prices went, the better alternative energy looked by comparison.
This dynamic played out perfectly on Wall Street, where solar stocks would track crude oil prices almost in lock step.
In early 2016, oil prices collapsed. It didn't take long for solar stocks to follow suit.
For example, First Solar Inc. (NASDAQ: FSLR) traded for $70 per share in January of 2016. By the end of the year, First Solar was priced at $30 per share.
As crude recovered from those lows and peaked in the fall of 2018, shares of First Solar fought back to that $70 level.
In Q4 2018, amidst a rate hike cycle at the Federal Reserve and a strong dollar, crude prices fell below $50.
Free Book: Discover 61 ways to potentially triple or quadruple your monthly income. To learn how to claim your copy of "The Book of Crazy Big Income" at no cost, click here now…
Once again, down went First Solar.
By the end of the year, the stock had fallen approximately 40%.
But thankfully, we're finally in a place where solar stocks aren't completely dependent on the price of oil. The solar industry has matured in a way where the price of oil simply doesn't matter going forward.
In fact, as solar becomes more prevalent, demand for crude will conceivably fall. Of course, that would pressure oil prices.
The cost of producing solar energy has dropped dramatically too.
As volumes of solar energy increase, the pressure on crude will be immense.
This chart shows how solar prices have dropped dramatically in recent years, along with increased demand…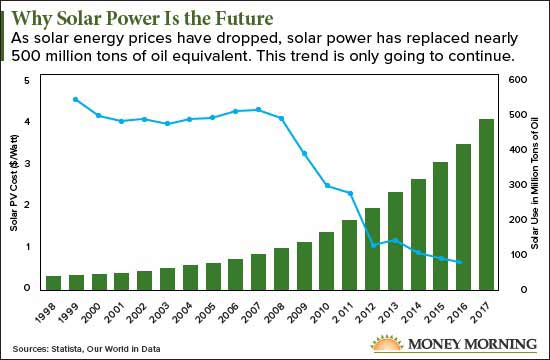 It may not matter much, but the U.S. Federal Reserve is also providing a huge tailwind to solar as well.
A dovish central bank takes the air out of the dollar. It also increases asset prices like oil.
The same cannot be said of solar.
In fact, if oil prices continue to move higher from here, the price of solar will further decline as demand for alternative energy increases.
And what happens to alternative energy stocks in that environment?
They skyrocket…
The Money Morning Stock VQScore™ system is well aware of this.
In fact, an alternative energy small-cap stock just received our highest rating, meaning it's poised for massive gains…
This Is the Best Alternative Energy Stock to Buy Today
[mmpazkzone name="in-story" network="9794" site="307044" id="137008" type="4"]
SolarEdge Technologies Inc. (NASDAQ: SEDG) is our recommendation today.
SolarEdge is a global provider of solar panels to both commercial and residential markets based in Tel-Aviv, Isreal.
The company did just under $1 billion in sales in 2018. Analysts expect the company to hit $1.14 billion in 2019.
Earnings in 2018 were massive for the company, coming in at $3.18 per share. Analysts expect a decline from that number in 2019 to $2.91 per share.
Wall Street has it wrong for good reason.
Analysts are focused on the wobbly global economy in estimating profits for the current year. In addition, the strong tie to oil prices leaves the analyst community thinking one-dimensionally with respect to SolarEdge's potential.
What's missing is the cost attractiveness of solar relative to oil no matter what the price.
The chart above shows the trend of lower cost taking demand away from crude.
If so, the numbers for SolarEdge will likely be higher than current expectations.
Even if Wall Street has it right, the expectation is for the company to grow profits by 17% from 2019 to 2020.
With the stock trading for 13 times 2019 expected earnings, SolarEdge is attractively priced, hence the high VQScore rating.
Looking at the rest of the market, that valuation looks incredibly rare.
Almost all stocks at the moment trade for multiples above their growth rates.
That is typically a recipe for disaster.
With SolarEdge, the opposite is true.
Shares traded for $66 just 10 months ago, when the Federal Reserve began pushing the economy toward a recession by raising interest rates. So investors holding SolarEdge right now have the potential to double their money or even more in a short period of time. Today, SEDG shares trade below $38 each.
With the cost of Solar declining and its use on the rise, this alternative energy source is becoming ubiquitous.
$100 per share is not unrealistic in a three- to five-year period.
For investors with a long-term time horizon, the time to buy SolarEdge is now.
Imagine What You Could Do with a Potential Annual Income Boost of $174,004
Travel to Europe and track down your ancestry… buy a fully furnished beach house on the Gulf Coast of Florida… bankroll a million-dollar business and sit back while other people make YOU money…
Or even just STOP WORRYING about outliving your savings.
These are the freedoms that people who have "total income security" enjoy – and one book could hold the key.
Containing 61 secrets that have the potential to double, triple, even quadruple your monthly income, it's called "Crazy Big Income" – and it could be yours FREE.
Click here to learn how to claim your copy today.