What do driverless cars, wearable tech, and the future of the medical industry have in common?
They will all depend on the superfast speeds of 5G networks. And that means your money will depend on the best 5G stocks to watch.
Investors looking to get in early on some huge profits in 2019 need look no further than one of the most exciting tech developments in decades. The best 5G stocks to watch now are the ones that will benefit from this monumental shift in how cellular data is transmitted.
5G stocks will also make stellar defensive plays. You can insulate your portfolio from uncertainty despite fears of recession as the market threatens to end its 10-year bullish streak.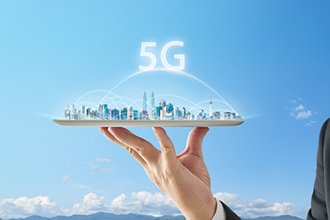 The changes stemming from 5G will be so fundamental to our infrastructure and economy that 5G stocks might be a staple in every portfolio by the end of 2019 - like computer stocks after the '80s tech boom.
Analysts project 5G will be a $1.3 trillion market, and our two 5G stocks to watch will be taking gargantuan bites out of it.
Here they are.
Best 5G Stocks to Watch Now, No. 2: Apple Inc.
Investing in a new market does carry some risk. If you want big upside potential with as little risk as possible, our first 5G stock to watch is a reliable blue chip: Apple Inc. (NASDAQ: AAPL).
The launch of 5G products will require massive time and resources. AAPL enjoys both.
Apple will also get a bump during its next cycle of phone upgrades when it upgrades to the 5G network.
Brace Yourself: The 5G Revolution Is Unleashing Your Next Potential TRILLION-DOLLAR Opportunity - Go Here Now
But Apple is also known for its constantly expanding array of services. The latest addition is the Apple TV+ streaming app set to compete with Netflix Inc. (NASDAQ: NFLX), Hulu, and Amazon.com Inc. (NASDAQ: AMZN). Apple has the cash to do it, and it's enlisted the likes of Steven Spielberg and Oprah Winfrey to help it dethrone the kings of content.
JPMorgan Chase & Co. (NYSE: JPM) recently suggested Apple should even buy out Netflix. This would not be unlikely, as the move would conveniently absorb the middleman between Apple hardware and consumers of content. Eventually, whether by its own original content or by incorporating current market leaders, Apple will take command of the streaming business.
If that's not enough reason to buy, the company is also looking to personalize healthcare, with wearable devices that monitor vitals, a platform allowing doctors, nurses, and patients to interface via smartphone or tablet, and much more to improve communication in the medical field.
CEO Tim Cook is even quoted saying healthcare will be "Apple's greatest contribution to mankind." He has yet to dive into the specifics, but it's still saying a lot, even for a CEO.
With 5G surely increasing the value of Apple stock - and Netflix possibly increasing it even more - Apple is among the best 5G stocks to watch now.
But our top 5G stock to watch could be even more fundamental to the 5G operation. Some analysts project its price could jump 129% by the end of 2019 alone.