The stock market hasn't seen a huge jolt in a while. But this could change with the introduction of 5G networks. Investors are looking to the top 5G stocks to buy in April 2019 for their next big pop.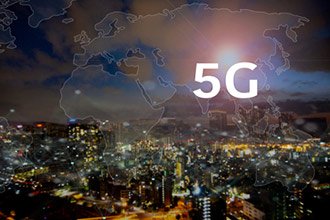 These top 5G stocks will bank on the expansion of 5G networks, a revolution set to take off this year.
With speeds up to 20 times faster than 4G, 5G will transform the cellular industry. It will also revolutionize other industries that use products and services connected by wireless. That includes technology, healthcare, automotive, entertainment, manufacturing, and more.
5G will be our next step in pushing the boundaries of the Internet of Things (IoT). Systems will be able to communicate with each other more quickly, whether it's between a smartwatch and an autonomous car or between a doctor's tablet and a patient's heart monitor.
Autonomous cars will have more room to evolve on 5G networks, as they are really complex systems needing to communicate with other vehicles and sense traffic and road conditions. 5G capability will make autonomous cars more reliable, and it will allow manufacturers to fine-tune and innovate their product lines, adding new autonomous cars to the market.
That's just one of the sectors behind the profitability of 5G stocks.
5G Could Mint a New Wave of Millionaires: The greatest tech shift in generations could be about to create untold wealth for investors. To find out how you could capture a life-changing SIX-figure windfall, go here now.
Devices that can sense blood sugar levels and other medical readings via wearables - and even ingestible products - are being developed for the medical field. 5G will make these seemingly sci-fi products a reality, able to sustain continuous readings of vital information like never before.
So 5G stocks will benefit the automotive industry, the medical industry, and various others to give the market its new boost.
Our top 5G stock to buy in April 2019 is set to lead the $1.3 trillion 5G market. In fact, 5G networks are nothing without its product.
Here's the best among all the top 5G stocks to buy in April 2019, whose price some analysts predict will explode 115% by the end of the year.
One of the Top 5G Stocks to Buy in April 2019