While the Dow is up about 10% so far this year, that isn't enough for most investors. But our pick for the top penny stock to buy this week not only has the potential for market-beating gains, but it could skyrocket by nearly 200%.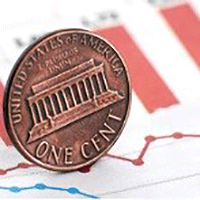 One of the benefits of penny stock investing is that you get the potential for massive price swings that can translate into double- and even triple-digit gains.
But choosing the best penny stock to buy at any given time can be a challenge. Not only are there thousands of penny stocks to choose from, but separating shell companies and scams from stocks with real growth potential can be a challenge.
The truth is that buying penny stocks can be incredibly risky, so having a winning strategy is essential.
But we're here to help.
Not only are we going to give you some safe penny stock investing tips today, but also our pick for the top penny stock to buy this week with the potential for triple-digit gains.
How to Buy Penny Stocks Safely
You can lose your entire investment with a penny stock if you don't know what you're doing. Before you buy any penny stocks, Money Morning always recommends that you understand the risks and set a budget for yourself. In other words, you should only invest what you can afford to lose. It's likely you don't want to dedicate more than 2% of your portfolio to penny stocks.
Beyond this, there are three tried and true tips that can help you steer clear of scam stocks and focus more on the better profit plays.
$1 Cash Course: Tom Gentile is offering a rare opportunity to learn how to amass a constant stream of extra cash - year after year. And he's going to teach you how to do it entirely on your own. Learn more...
First, limit your penny stock investment to companies that trade on the major exchanges. This means that you'll only look at stocks on the New York Stock Exchange (NYSE) and Nasdaq and avoid pink sheets or over-the-counter bulletin board (OTCBB) stocks. The major exchanges have strict reporting requirements that weed out scam companies.
Second, look for stocks getting attention from analysts and getting bullish price targets.
Specifically, there should be news coverage and analyst reports about these companies as well as 12-month target prices. Preferably, stick to ones that have more ratings of "Buy" and "Hold" and price targets that are above the current price. These are going to be stocks in companies with real business prospects, and not just a flashy name or gimmick.
Finally, seek out companies that are either in emerging markets or those that are in industries experiencing rapid growth. These are not only stocks that are going to outperform the broader market, but you might also locate some hidden gems that are ripe for a buyout from a bigger player. Look for biotech and technology stocks especially.
Now that you know how to buy penny stocks safely, here is our pick for a winning penny stock to buy now. This is one that is poised for triple-digit gains in the next year.
The Best Penny Stock to Buy This Week Could Jump Nearly 200%