The three best renewable energy stocks - all clean energy stocks - are swiftly taking on an ever-increasing slice of the energy pie.
In the next five years, the renewable energy sector will grow by an astounding 20%.
Electricity generation will enjoy the fastest growth, where nearly 30% of power demand will be met by renewable energy.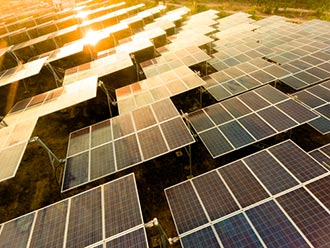 In fact, by 2023, fully 70% of the growth in worldwide electricity generation will come from renewables.
As technologies improve - and costs come down through scale - clean, green energy will become more and more economically viable.
That means green energy stocks are in for a pump.
Today, I'll show you exactly what's fueling the renewable energy movement.
Plus, I'll use the Money Morning Stock VQScore™ system to show you the three best alternative energy stocks to buy right now...
What's Behind the Renewable Energy Surge
The United States has undergone a remarkable change in the makeup of its electricity generation.
Below we have a look at that progress, according to the U.S. Energy Information Administration.
The first graph tells us that petroleum has diminished, and coal dramatically so. Meanwhile, nuclear has remained a more constant source, while renewables and natural gas have clearly gained.
Sign up for SMS so you never miss special events, exclusive offers, and weekly bonus trades.
Take a look...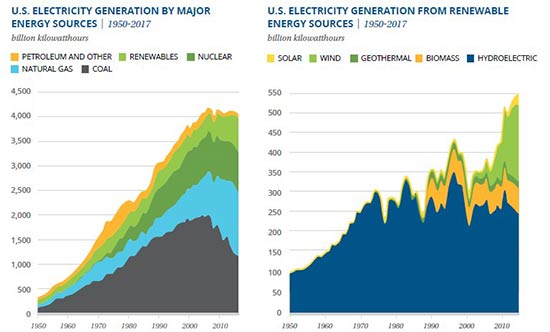 The next graph shows us that, since the early 2000s, wind and solar have both surged as U.S. electricity sources from renewables.
As you can see, coal has gone almost completely out the window, with a small sliver of natural gas being added to U.S. electric capacity annually.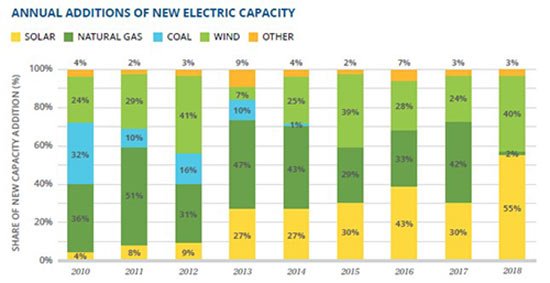 What's driving this growth? In an effort to meet renewable energy goals, large corporate electricity consumers seek low-cost renewable energy while hedging costs by implementing long-term power purchase agreements.
This is a mega-trend that's picking up pace as consumers continue to demand environmentally conscious management from industry.
So here are my three favorite picks to participate in the massive built-in upside for renewable power providers.
Best Renewable Energy Stocks, No. 3: Hannon Armstrong Sustainable Infrastructure Capital Inc.
Based in Annapolis, Md., Hannon Armstrong Sustainable Infrastructure Capital Inc. (NYSE: HASI) invests in energy efficiency, renewable energy, and other sustainable infrastructure markets.
Hannon Armstrong's assets typically fall into one of three classes. "Behind the meter" includes energy efficiency, distributed solar, and energy storage projects. "Grid-connected" refers to wind and solar projects connected to the electrical grid. And "sustainable infrastructure" includes projects involved in stormwater remediation, transmission and communications, and water.
The company has met its targets and experienced stable growth under its current management. Annual core earnings per share grew by 9% in 2018 to $1.38 per share, exceeding the targeted 2% to 6% annual core earnings-per-share growth. This allowed for a 2% increase in its dividend, which currently provides an attractive 5.2% yield.
SESSIONS OUT: Trump's anti-marijuana AG is history, and the potential path to massive pot stock profits is wide open. Click here to learn about three of the best...
Hannon fires on all cylinders, having close to $1.2 billion in transactions in 2018, while providing for 11.1% return on equity, up from 9.3% in 2014.
Current assets top $5.3 billion, with target markets expanding to further the company's revenue potential.
The renewable energy sector is on fire, and Hannon's success comes from its ability to meet the demands of the growing trend. 2018 investments alone will contribute to half a billion metric tons of CO2 reduction.
Right now, HASI has a VQScore of 2.75, which is a little lower than I'd like. Keep an eye on the stock and be prepared to accumulate if the score rises, especially if it hits our "Buy Zone."
This next pick is the reliable must-own of the three, a much larger-cap stock with a sweet dividend.
Best Renewable Energy Stocks, No. 2: NextEra Energy Inc.
NextEra Energy Inc. (NYSE: NEE) is a clean energy power provider based in Juno Beach, Fla. NEE has deep roots, providing power to consumers for nearly a century.
NextEra owns Florida Power & Light Co., serving over 5 million customer accounts, as well as Gulf Power Co., serving over 460,000 customers in more than eight northwestern Florida counties.
Beyond these, NextEra also owns NextEra Energy Resources LLC, which, with its affiliated entities, is the world's largest generator of renewable energy from the wind and sun. It also produces clean, emissions-free electricity from eight nuclear power plants in Florida, New Hampshire, Iowa, and Wisconsin. NEE boasts numerous acclamations in sustainability, corporate responsibility, ethics and compliance, and diversity.
At almost $92 billion in market cap, NextEra generates about 50 gigawatts and has over $100 billion in total assets. Adjusted earnings per share has grown by about 8.6% compounded annually since 2005, while dividends have grown by 9.2% compounded annually. With its current payout ratio of 32%, the company still generates a 2.58% yield for shareholders.
NextEra makes for a great cornerstone in any portfolio. Plus, it boasts a VQScore of 3.45, making it a great renewable energy stock to buy now.
But if you're looking to profit bigger and sooner, our next stock has a perfect VQScore, and analysts project the share price could surge nearly 70% higher.
The Best Renewable Energy Stock to Buy Right Now