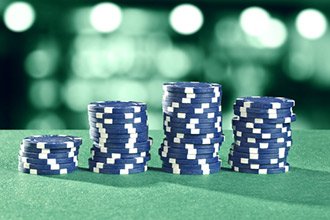 This has to be one of the most unloved market rallies of all time.
Since the market bottomed at the end of December, investors have enjoyed a V-shaped recovery that has lifted the market to previous highs. Just look at the S&P 500, which has rebounded more than 14% year to date.
Many professional investors are using the gains to lock in profits earned over the last decade.
Now that the yield curve is inverted, many investors are worried the end of the rally is near.
And yet, stocks are continuing even higher this week.
Are there any bargains to be had for those wishing to buy stocks today?
They may be more difficult to find, but thankfully we have the Money Morning Stock VQScore™ system, which identifies stocks to buy no matter the market conditions.
Now, more than ever, ignoring the noise is extremely important for profitable investing. Ignore the day-to-day nonsense of the market. Obsessing over the daily fluctuations of stocks is no way to manage a portfolio.
Free Book: Discover 61 ways to potentially triple or quadruple your monthly income. To learn how to claim your copy of "The Book of Crazy Big Income" at no cost, click here now...
The primary principal of owning stocks dictates thinking long-term.
Every share of stock is a share of future profits. The key word here is "future."
If a stock is owned at the right price and the company does its job properly, returns generally follow.
Finding a stock at the right price is the key - not what happens in the stock market today, or tomorrow, for that matter.
It's even better if you can find blue-chip stocks that are priced attractively...
It's well known that owning blue-chip stocks is historically less risky compared to other stocks in the market.
Interestingly, as the market has essentially traded flat over the last 15 months, many of these blue-chip stocks have become cheaper to buy today.
That's because their profits are growing, and in some cases, growing very nicely.
The VQScore system has noticed. This week, several blue-chip stocks have earned our highest score.
Here are the three best blue-chip stocks to buy today at bargain prices...
Best Blue-Chip Stocks to Buy Today, No. 3
[mmpazkzone name="in-story" network="9794" site="307044" id="137008" type="4"]
The current environment is perfect for blue-chip stocks. The economy is on cruise control, and the Federal Reserve has put a floor in the market.
The larger blue-chip stocks like International Business Machines Corp. (NYSE: IBM) can crush much smaller competition. Size alone helps keep margins at healthy levels and profits flowing.
We are not here to argue the merits of the deviation between large and small. We are here to make money, and IBM is making big money.
So much so, the company pays a dividend of more than 4%.
For the last year - and the two years forthcoming - analysts expect IBM to make a whopping $14 per share.
While profit growth in the near term is minimal, the potential is certainly there for IBM.
Specifically in the software and cloud space, IBM will get its share.
That's just what big companies do. They win, and so will you, buying this blue-chip stock at today's low prices.
Best Blue-Chip Stocks to Buy Today, No. 2
I've written previously about how oil prices are poised to rip higher.
With that appreciation comes the future gains of fully integrated oil and gas company Royal Dutch Shell Plc. (NYSE: RDS.A).
While most of the market is fully priced at the moment, Royal Dutch is trading at an absolute bargain level.
On top of that, the company offers a near-6% dividend yield.
Analysts expect profits to be flat this year, but in 2020, the expectation is for profit growth of 20%.
That number will be even higher if oil prices soar as we expect.
With the stock trading for only 12 times 2019 estimated profits, the time to buy Royal Dutch is now.
You just don't see a stock trading way below its expected profit growth rate in a market like we have today.
Such a valuation takes away much of the risk.
Best Blue-Chip Stocks to Buy Today, No. 1
Finding a blue-chip stock at a low price is one thing. It's an entirely different thing to find low-priced blue chips in a sector poised for growth in coming years.
The healthcare industry is one of the best sectors to buy in 2019.
An aging demographic and new drugs coming on the market to fight a host of diseases bodes well for Johnson & Johnson (NYSE: JNJ).
The proposed merger of Bristol Myers and Celgene also bodes well for the company.
Drug pipelines are hugely valuable, and Johnson & Johnson has a deep pipeline of potential drugs coming to market.
Even with analysts expecting profit growth in the near term of only single digits, the much longer term is what investors in Johnson & Johnson should be focused on.
The company does pay a healthy 2.6% dividend to keep investors satisfied while the long term plays out.
With the stock trading for only 17 times last year's earnings, Johnson & Johnson is a low-priced blue-chip stock to buy now.
These Secrets Could Set You on the Fast Track to Massive Gains (Every Month)
He's helped rich tycoons make money for the last 37 years.
But now, Keith Fitz-Gerald has compiled all of his most successful secrets into his new book, "Crazy Big Income."
These 61 strategies, loopholes, and techniques are the easiest, fastest route to living the life you've always dreamed of.
Click here for the full details...