Nothing beats a stock that pays a solid dividend and is on the verge of a share price breakout.
That's exactly the case with our top dividend stock today.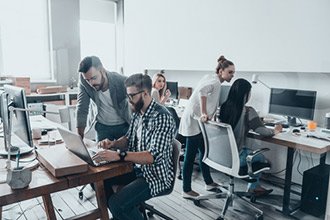 We're talking about a company that holds a No. 1 global market share in a field that has at least five major indicators pointing in its favor.
You probably wouldn't guess that it's office furniture.
It might not be the sexiest field out there. But try setting up an office without any furniture, and you'll easily see how important it is.
Office furniture is also a segment that responds to a number of different leading indicators. And here are five that are moving in an extremely bullish direction:
Sign up for SMS so you never miss special events, exclusive offers, and weekly bonus trades.
Corporate profits after taxes, which have risen 20% over the last five quarters, according to the Bureau of Economic Analysis.
Job growth, which continues its long-term strength with 196,000 jobs added in March, and an unemployment rate at just 3.8%.
Nonresidential investment in equipment, which has now risen in eight consecutive quarters and is up 16% in that time according to the Bureau of Economic Analysis.
The Architecture Billings Index for commercial and industrial construction, which has risen from just above the break-even point of 50 in mid-2018 to 53.9 most recently.
And finally, the total BIFMA Market Size, measuring sales of furniture for office, education, and healthcare in the United States, which has grown every year since 2013 and is projected to hit approximately $17 trillion in 2019.
All this is to say that companies are hiring and building more offices, which means they need to furnish those offices.
More than that, the available workforce is shrinking. According to the Bureau of Labor Statistics, 24% of the American workforce is nearing retirement, and only 13% is represented by young new entrants.
$1 Cash Course: Tom Gentile is offering a rare opportunity to learn how to amass a constant stream of extra cash - year after year. And he's going to teach you how to do it entirely on your own. Learn more...
In order to attract and retain those new entrants, 86% of CEOs told a survey by PwC that they are focused on modernizing their company's work environment.
That means lots of big orders for today's pick.
As if all of that isn't reason enough to buy, it's also been given a top score by our Money Morning Stock VQScore™ system.
That means right now is your best chance to buy your shares and lock in the dividend before the price takes off.
After 100-Plus Years, This Industry Leader Is Still a Top Innovator
Join the conversation. Click here to jump to comments…
About the Author
Stephen Mack has been writing about economics and finance since 2011. He contributed material for the best-selling books Aftershock and The Aftershock Investor. He lives in Baltimore, Maryland.