Nothing beats a stock that pays a solid dividend and is on the verge of a share price breakout.
That's exactly the case with our top dividend stock today.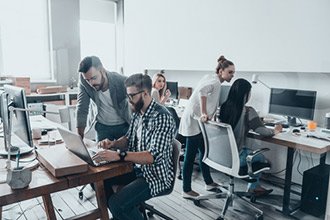 We're talking about a company that holds a No. 1 global market share in a field that has at least five major indicators pointing in its favor.
You probably wouldn't guess that it's office furniture.
It might not be the sexiest field out there. But try setting up an office without any furniture, and you'll easily see how important it is.
Office furniture is also a segment that responds to a number of different leading indicators. And here are five that are moving in an extremely bullish direction:
Corporate profits after taxes, which have risen 20% over the last five quarters, according to the Bureau of Economic Analysis.
Job growth, which continues its long-term strength with 196,000 jobs added in March, and an unemployment rate at just 3.8%.
Nonresidential investment in equipment, which has now risen in eight consecutive quarters and is up 16% in that time according to the Bureau of Economic Analysis.
The Architecture Billings Index for commercial and industrial construction, which has risen from just above the break-even point of 50 in mid-2018 to 53.9 most recently.
And finally, the total BIFMA Market Size, measuring sales of furniture for office, education, and healthcare in the United States, which has grown every year since 2013 and is projected to hit approximately $17 trillion in 2019.
All this is to say that companies are hiring and building more offices, which means they need to furnish those offices.
More than that, the available workforce is shrinking. According to the Bureau of Labor Statistics, 24% of the American workforce is nearing retirement, and only 13% is represented by young new entrants.
In order to attract and retain those new entrants, 86% of CEOs told a survey by PwC that they are focused on modernizing their company's work environment.
That means lots of big orders for today's pick.
That means right now is your best chance to buy your shares and lock in the dividend before the price takes off.
After 100-Plus Years, This Industry Leader Is Still a Top Innovator
[mmpazkzone name="in-story" network="9794" site="307044" id="137008" type="4"]
Steelcase Inc. (NYSE: SCS) was founded more than a century ago in Grand Rapid, Mich., where it still has its headquarters.
As its name - as well as its original name, Metal Office Furniture Co. - suggests, it specialized at first in metal products like filing cabinets and wastebaskets that were fireproof. That was important back when smoking indoors was a regular occurrence.
The company developed into a leader in the industry in the 1960s. But by the early 1980s, many thought it was on the verge of extinction. That's because the workplace culture was changing, and Steelcase's products weren't keeping up.
But then-CEO Jim Hackett's initiative to put emphasis on innovation and creativity - and the new product lines that followed - got the company back on track.
Today, Steelcase is back on top as the No. 1 manufacturer of office furniture in the world. With $3.4 billion an annual revenue, it beats out its top competitor by more than $1 billion.
The company has 45 primary locations in 17 countries, with more than 800 dealers in total. It has 15 manufacturing locations in North America, Europe, and Asia.
A big reason the company has been able to stay on top for so long - and will continue to do so - is its commitment to user-based research. Steelcase keeps a research network of more than a dozen institutions, including Virginia Tech, USC, University of Melbourne, and MIT.
That's how the company has been able to stay on top of trends in ergonomics and productivity and design its products accordingly. So in Steelcase's catalog, you won't just see some of the best-designed chairs and desks on the market. You'll also see sofas that are designed for workers to use their laptops and cubicle arrangements that achieve the ideal balance between privacy and collaboration.
The other competitive advantage Steelcase has is its willingness to establish partnerships and benefit from the assets of leading companies in related fields. Steelcase has teamed up with brands such as West Elm, Mitchell Gold + Bob Williams, and Blu Dot in order to bring a touch of home to the office.
But perhaps because office furniture is such a low-profile segment, the market has missed the value Steelcase brings to the table - pardon the pun.
That gives you a great opportunity to grab this stock at a discount.
Now Is the Time to Buy SCS
With shares trading around $15.60, Steelcase is up about 10% over the last 12 months. But there were a lot of ups and downs in that time, as the market seems to be wary of the company in spite of its fundamentals.
The most recent drop came after Steelcase's most recent quarterly earnings report in March - even though earnings per share (EPS) beat expectations and was up 52% from a year earlier.
For the fiscal year, EPS was up 40%. And according to FactSet, it's projected to rise in each of the next four years.
Sales for the year rose 13%, from $3.1 billion to $3.4 billion. And net income grew an eye-popping 59% to $126 million.
Consistent with that strong performance, Steelcase has hiked its dividend in eight consecutive years. Its yield is now at 3.78%.
Best of all, SCS's enterprise value to sales ratio comes in at just 68% of the industry average, suggesting the market has missed the company's value by a significant margin.
But the market's mistake is a gain for you if you buy Steelcase stock now.
Of course, if you want to learn how to bring in faster gains, week after week...
Follow Money Morning on Facebook and Twitter.
About the Author
Stephen Mack has been writing about economics and finance since 2011. He contributed material for the best-selling books Aftershock and The Aftershock Investor. He lives in Baltimore, Maryland.