Today's news about the Pinterest stock price shows the company will be playing it safe during the IPO.
But despite the attractive share price, the tech startup "unicorn" will still be a pass for now.
Just one week before Pinterest shares begin trading under the symbol "PINS" on the New York Stock Exchange, the company lowered its price range 21% to 30%. That's $15 to $17 per share for 75 million shares.
This would raise roughly $1.2 billion for the startup. And while that low price might sound attractive, it's a bit alarming if you look at the company's 2017 valuation.
In 2017, pre-IPO investors bought shares at $21.54 each. This put Pinterest's value at about $12 billion. But at its updated price range, the company will only bring in $1.3 billion at a valuation closer to $9 billion.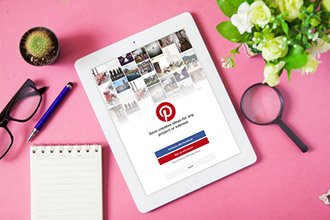 If you've been following along, you already know the upcoming Pinterest stock is riddled with red flags. It's in competition with internet giants, Facebook Inc. (NASDAQ: FB) and Amazon.com Inc. (NASDAQ: AMZN). And it's also operating at a $63 million loss.
Beyond that, as we've already seen with Lyft (NASDAQ: LYFT), there's no guarantee that the Pinterest stock price will remain in that range. Price fluctuations are bound to happen, and only time will tell whether Pinterest's IPO will suffer from the same issues as Lyft.
Some analysts believe this shift for Pinterest is a direct result of Lyft's rocky IPO launch. As the first big technology company that went public in 2019, Lyft set the tone for the rest of the highly anticipated "unicorns."
Banks had valued the Lyft stock at $62 to $68 per share. But with the sheer amount of oversubscriptions, it jumped all the way up to $72 for institutional investors.
By the time the stock started trading and was made available to retail investors like you and me, it was a little over $88. And since then, it has been hovering around $71 to $72 per share. This means anyone that purchased it at $88 is sitting at an 18% to 19% loss.
5G Could Mint a New Wave of Millionaires: The greatest tech shift in generations could be about to create untold wealth for investors. To find out how you could capture a life-changing SIX-figure windfall, go here now.
Because of Lyft's flop, a lot of everyday investors are anxious over these tech startup "unicorns." So, with Pinterest's stock debut following closely behind Lyft, the company has decided to take the conservative approach with its pricing.
As we've said previously, Pinterest still has potential. It's even growing quickly, with a 60% increase in revenue last year to $756 million. But as of right now, Money Morning cannot recommend buying the Pinterest stock while the firm is operating on negative equity.
However, we do have a company that can be your ticket into the Pinterest stock without all of the volatility early IPOs often see.
Avoid Pinterest Stock Price Volatility with This Stock
Join the conversation. Click here to jump to comments…
About the Author
Daniel Smoot is a Baltimore-based editor who helps everyday investors with stock recommendations and analysis. He regularly writes about initial public offerings, technology, and more. He earned a Bachelor's degree from Towson University.